Endeavour
The Odyssey of a Dutchwoman
Shudeepto Ariquzzaman
It was another hot day as Marjan van Lier arrived in Dhaka. Like many Europeans, van Lier has a long-standing fight with the scorching heat of this country. But whatever her feelings for the sweltering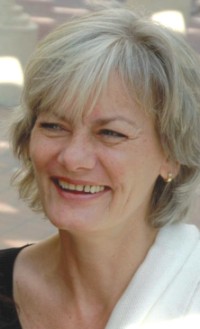 Marjan van Lier Photo: Amirul Rajiv
weather, she has a soft corner for the people of this country. It was 2006, when Marjan van Lier a management consultant of a Dutch micro credit firm came to Bangladesh for the first time. Since then she has fallen in love with Bangladesh, especially the children of this country. "Warm, friendly and good-natured", these are the compliments she uses to describe the people of this country. But what amazes her most is the uncanny ability of the Bengali to smile in face of the greatest hardships, the incredible resilience of the people.
When Marjan van Lier first arrived in Bangladesh, the all too familiar view of street children struggling for survival was a shock for her. Having come from the Netherlands, the very notion that children have to work like grown ups was unthinkable, let alone the vulnerabilities and all the dangers these little children face trying to scrap a living from the mean streets of Dhaka. This was when van Lier took upon herself a very difficult mission- she decided to shoulder the responsibility of alleviating the hardships of some of these children. Sparing some alms to a child in the street is easy, but taking responsibility for the welfare of a street child and ensuring his or her livelihood for the future is a very big challenge indeed, a challenge that most rich people would shy away from.
As the first step to realising her dream, van Lier organised a dance party, believing that all children regardless of their backgrounds should have the opportunity to enjoy themselves. Seventy children altogether danced the night away at the premises of Winter Garden, Hotel Sheraton. Marjan Van Lier comments, " Once they were dressed up in their white dinner jackets, nobody could tell whether they were street children." This is also intended as a message for people in our society, that fundamentally there should be no difference between one child and another.
Marjan Van Lier was however, under no illusions. She understood that one night of dancing was good enjoyment for these children, but it was no feasible solution for alleviating the daily hardships that they have to face in their everyday lives. The hard reality as she realised was that these children would never have been allowed anywhere near a five-star hotel.
Van Lier understood the best way to assist these children would be to provide them with skills that could help them attain financial solvency in the future. She decided to gather some of these children in workshops where they could learn skills on hairdressing, the ultimate objective being to provide the participants with the knowledge required to earn a decent income for the future.
The next time Van Lier was back in Bangladesh, Ekwin de Waal and Michael Tromp, two renowned hairdressers from the Netherlands, accompanied her. Their assignment was to instruct the children on hairdressing skills. They were supported by the Dutch embassy, Padakhep and Hotel Sheraton. Padakhep is an NGO that works for the welfare of street children, providing many of them with shelter. All the participants of the workshop were children from the Padakhep shelter homes. One such participant was Shumon. Before Shumon used to sleep on the streets, living a life of great adversity. But now, he feels a lot more optimistic knowing that he has people who genuinely care about him. " We are doing a lot better now after coming into contact with Padakhep," said the smiling boy as he picked up his scissors and tried to concentrate on his lessons.
Meanwhile, starting from May 10 2010 the hairdressing workshop was conducted for the third time. There have been some successes, although it is too early to judge. One of the previous participants had already managed to get a job at a beauty parlour where she earns a decent income, more than her husband who is a cab driver. Many of the participants have earned the relevant skills that are required for the hairdressing profession. "All the children have gained self-confidence; they have learned to believe in themselves, they can express their thoughts and feelings, they have become more educated and more creative." said Marjan van Lier. " Many of these children when they first came here were too scared to speak out. Now they have become very smart and communicate with others very easily."
However, Marjan van Lier needs to focus her concentration on how to provide the children with jobs in the future, otherwise all her sacrifices and the hard work might not bring the desired results. " We are trying to build up a relationship with some of the hairdressing saloons and beauty parlours so that they might provide our children with jobs. Also we have even thought about opening our own saloon, a place that can offer the latest trends of Western fashion, a place that can be frequented by fashion conscious boys and girls. Our children are familiar with the different skills of hairdressing. They are even versed in the art of communicating with customers." Currently she faces a big dilemma. " I am confused on whether to expand the workshop to include more participants because that would mean more expenses, more overheads and I am not sure whether we can manage the necessary finance."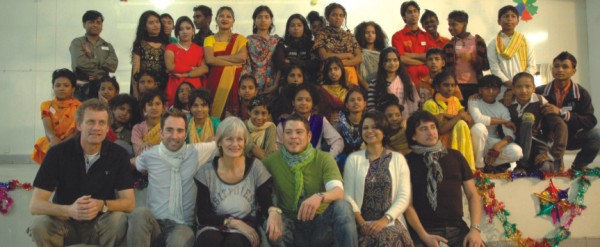 Participants and instructors of the hairdressing workshop. Photo:Amirul Rajiv
Van Lier is not the only one who worries for the future of street children. Kashfia Feroz, Focal officer of Protection of Children at Risk from the Padakhep comments, " If UNICEF stops funds for our shelter homes, all our hard work might be lost. We have been working with these children for many years, but they are still children."
Most city dwellers are so used to the sights of destitute kids defying the Dhaka traffic trying to earn nothing more than a meagre meal for themselves and their families that they hardly moved. Van Lier frequently tells the people who visit her workshop, " Look how well these kids are doing, there is so much talent that is being wasted in the streets of Bangladesh. If all these kids living in the streets were properly educated, imagine all the talent your country could have possessed." Many Bangladeshis feel a sense of guilt when they witness Marjan van Lier's determination and undying energy to achieve something worthwhile for the children of Bangladesh. " Why do we have to learn from foreigners on how to help our own children perishing in the streets," says a Bangladeshi visitor to the workshop.

Copyright (R) thedailystar.net 2010