Cinema
Rediscovering Ritwik

Siddhartha Banerjee
Ritwik Ghatak, one of the most talented and visionary filmmakers to have come out of world cinema,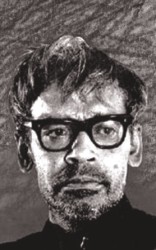 Ritwik Ghatak
was a man deeply rooted in the socio-cultural landscape of his own time. The partition of the subcontinent, resulting in one of the biggest human tragedies and cross-border migration in history, left a profound impact on him; it influenced the emotive backdrop of some of his most powerful movies. Like post-war Italy was to directors like Vittorio De Sica and Rossellini, Ghatak's canvas was a divided Bengal, swamped with millions of refugees on both sides of the border, who, though now deprived of home or identity, were yet not able to relinquish their hope for the essential human dignity. The power of Ghatak's movies flowed directly from the raw intensity of his own emotion, which he held up like a mirror for an increasingly uncomfortable bourgeoisie audience unable to live with stark reality around them.
Unlike his contemporaries like Satyajit Ray and Mrinal Sen, Ghatak was not fortunate enough, during his lifetime, to receive many international awards or recognition for his contribution to world cinema. In his widely disrupted career plagued with political sabotages, poverty, and alienation he managed to complete only eight full length features; each one of these, as most critics now claim, cinematic masterpieces. The pinnacle for Ghatak came when in the early seventies, he was invited by the then newly independent Bangladesh, his mythical homeland of rice-fields and rivers from which he could never have distanced himself, to make the now famous epic, 'Titas Ekti Nodir Naam' (A river called Titas). Towards the end of a long stretch of continuous location-based shooting running into days, an emotional and intensely involved Ghatak nearly collapsed on the sets to be moved to a hospital in Dhaka where he recovered slowly. Ghatak hoped to return to the land and language he wanted to call his own (where he was also born and belonged) a dream interrupted by his premature death. His last film, 'Jukti Takko ar Gappo' (Reason, debate, and story), financed by the National Film Development Corporation of India at the insistence of the then Prime Minister, Indira Gandhi (who, despite the obvious political differences, was one of his admirers) remains his most ambitious cinematic effort one probably too big and multidimensional for the medium itself. The film, highly autobiographical, evokes almost a personal conversation with the artist slowly and painfully dying within him. According to an essay published a few years back in Los Angeles Times, 'Jukti Takko ar Gappo' remains one of the greatest farewells to the cinema, '… right up there with Cocteau's 'Testament of Orpheus' and the Ray-Wenders' 'Lightning Over Water'.'
Among two of his most acclaimed works are Meghe Dhaka Tara (The cloud clapped star) and Subarnarekha (The golden line), films where he captured the existential dilemmas of people uprooted by the partition, living against a stark landscape thick with hopelessness, refugee camps, and unfulfilled dreams. Yet, Ghatak's movies, in perspective, are not about fatalism, but the essential human emotions which continue to define us, keeping us human in spite of the oddity of the circumstances. Even in the darkest moments of despair, his characters manage to bring forth the music of hope, the music of Tagore (as in 'Meghe Dhaka Tara'), the music of a united Bengal. They look across the river (as in 'Komol Gandhar'), across the partition with love and nostalgia, not hatred. Ghatak, a strong proponent of diversity, spent his whole fragmented life trying to rebuild the human faith which he thought had been lost by the invisible walls of partition.

A still from one of Ritwik's films, Meghe Dhaka Tara.
Has that faith been rebuilt? There may not be a definitive answer to this essential question. Yet, in pockets across the world, from small cine-clubs in Sydney to enthusiasts at UCLA, Ghatak's films are now being increasingly discovered, discussed, and appreciated. Through the disturbed celluloid legacy he had left behind (including a number of short films, documentaries, and unfinished projects), an increasingly appreciating international audience is reminded, not only of the universal tragedies of loss, rootlessness and yearning, but also the need to rebuild, to consider everything at a human dimension, to see life from a microscopic distance (instead of frameworks of political theory). In a world grappling with tragedies and displacement be it Rwanda, Bosnia, or the oil rich Iraq Ghatak's works and it's relevance in todays socio-economic space is slowly acquiring a new and unique dimension.

Copyright (R) thedailystar.net 2010