Tribute
Nazrul in Politics
Tamanna Khan
Moha-bidrohi rono klanto,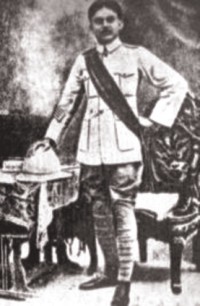 Ami sheidin hobo shanto,
Jobey utpiriter krondon-roll akashe batashe dhonibe na
Ottacharir khorgo krepan bhim rono-bhume ronibe na-
Bidrohi rono-klanto
Ami sheidin hobo shanto.
(Weary of battles, I, the Great Rebel,
shall rest in peace only when
the anguished cry of the oppressed
shall no longer reverberate in the sky and the air,
and the tyrant's bloody sword
will no longer rattle in battlefields.
Only then shall I, the Rebel,
rest in peace.)
The rebel is no other than our national poet Kazi Nazrul Islam, the ingenious, versatile, indomitable, controversial and heavily misunderstood literary figure of Bengali literature. The varying mood of his work was equally matched by his impulsive and adventurous life. Yet few would think that this exceptional writer and composer, who wrote romantic songs like "mor priya hobey esho rani, debo khopai tarar ful" (Come queen be my love, I will adorn your hair with star-flower) could ever be an election candidate. But such was Nazrul, always ready with surprises.
Nazrul grew up in a time when the gush of the Swadeshi Andolon (the pre-Gandhian self-sufficiency movement against the British government) was sweeping all over the Indian subcontinent through political activities like, processions and boycott of schools, colleges and offices. Being a school student at that time, he obviously felt the movement's force. The annulment of the Bengal partition put an end to the Swadeshi movement but a faction was created, who believed in armed struggle against the British and a permanent divide occurred between the Hindus and Muslims of India. Kazi Nazrul Islam embraced the first ideology but against the second he declared a life-long war.
Prof Dr Rafiqul Islam, Vice Chancellor of the University of Liberal Arts and an eminent Nazrul scholar thinks that Nazrul's decision to join the British Army in 1917, was not only because of his adventurous nature but also of the belief that men with military training would be needed in case armed struggle for Independence became a necessity. His admission in the army gave him exposure to the whole of India as well as the world outside especially the Middle East where the British Indian Troop was fighting against Turkey. Nazrul witnessed how the Turkish Empire shattered to pieces and became British colonies. "This had a permanent effect in Nazrul's mind and he became anti-colonial and anti-imperialist," says Prof Islam. His condemnation about British imperialism was immediately brought out in his poem Shat-el-Arab, where he glorified the only war that Turkey own against the British troops. While at the army, he received news of the Russian Bolshevik revolution and for the first time the socialist idea took up his attention. During the same period he, being a subscriber of the Bangiyo Musolman Shahitto Potrika (a literary magazine of Kolkata) came in contact with comrade Muzzafar Ahmed. The correspondence soon developed a friendship between the two.
According to Prof Islam, Nazrul's disdain against the British was evident in that fact that when he returned to Kolkata in 1920, he chose journalism instead of becoming a sub-register as a veteran. The memories of the Jallianwala massacre in 1919 were fresh in Nazrul's mind as well as his friends. They decided to start a newspaper to spread their political ideology and instigate the youth against British imperialism. With Sher-e- Bangla A.K. Fazlul Haq as the owner they started off "Nobojug" a daily newspaper. At that time two movements against the British were concurrent in India: the non-violent non-cooperation movement started by Mahatma Gandhi and the Khilafat movement, launched by the Muslims to reinstate the Ottoman Empire from British rule. Nazrul in accordance to his rebellious nature was a supporter of armed struggle and did not believe that Gandhi's movement could bring about India's freedom. He was against the Khilafat movement too. Prof Islam says, "Mustafa Kemal Ataturk, the architect of modern secular Turkey, was Nazrul's hero. He even wrote a poem named "Kamal Pasha" introducing military rhythm in Bengali prose for the first time. Yet, both Nazrul and Muzzafar Ahmed wrote in support of those ideologies, as those were the first Hindu-Muslim combined voices against the British rule. By 1920-21 Nazrul had developed a opinion in favour of anti-imperialism, anti-colonialism and a secular republic," says Prof Islam.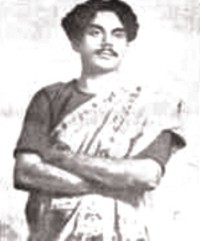 In 1922, Nazrul received a proposal to start a full-fledged political magazine and on August 12, the first issue of "Dhumketu" was published with blessing from Rabindranath Tagore, who Nazrul looked upon as his mentor. From the very beginning Dhumketu became popular among the educated Bengali middle-class youth. The leaders of the armed struggle considered as terrorist by the British government soon began to consider Dhumeketu as their spokesman, which consequently put the magazine under close scrutiny of the police. As a matter of fact the rebellious scripts of the Dhumketu was to a large extent responsible for the revival of the terrorist movement against the British during 1923-1924. The other incident that had put Nazrul in the blacklist of the British was his demand for total independence, the first of its kind in Bengali, in the October 13, 1922 issue of the Dhumketu. He wrote:
"Swaraj toraj bujhina, kenona, o-kothatar maney ek ek moharothi ek ek rokom kore thaken. Bharatborsher ek pomanu ongsho-o bideshider odhine thakbe na. Bharotborsher shompurno dayitto, sompurno swadhinota rokkha, shashon-bhar shomosto thakbe bharotiyoder hatey…"
(I do not understand self-rule, for different scholars define it differently. Not a minuscule part of the Indian subcontinent should be under foreign rule. The entire responsibility, sovereignty, administration of the Indian subcontinent; everything will be in the hands of the Indians…)
Soon copies of Dhumketu were proscribed and an arrest warrant was issued against Kazi Nazrul Islam on November 8, 1922 for two writings "Anandamoyir Agamon" (Arrival of Durga), a political allegory by Nazrul and "Bidrohir Koifiyot" (Rebel's Explanation) by Lila Mitra, a eleven year old girl.
Prof Emeritus Anisuzzaman, litterateur of Bengali language explained why Nazrul was the only popular poet to get arrested by the British for his writing. "Sharat Chandra Chattyapadhaya's 'Pother Dabi' was proscribed too, but he did not get arrested. The appeal of Nazrul's writings was very direct. While people had to read through the 500-page novel of Sharat Chandra to extract the message of freedom, one or two poems of Nazrul was enough to deliver the same message."
On November 23, 1922, Kazi Nazrul Islam was arrested from Comilla and brought to Kolkata for trial.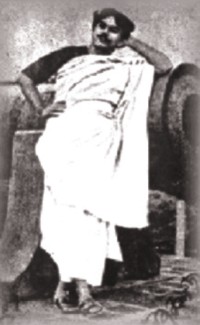 While the trial was going on his statement in self defence "Rajbondir Jobanbondi" became another important Bengali narrative. On January 23, 1923, he was found guilty under Indian Penal code 124 and sentenced to one-year imprisonment. Nazrul came out of jail on December 15, 1923 and soon after his marriage engaged himself directly in politics. In 1926, he started attending political meetings and conferences in different parts of Bengal often delivering speeches there. Soon he became a member of the Bengali Provincial Congress Committee. " In 1921, Muzzafar Ahmed had formed the Communist Party of India. At that time Nazrul was with him, but he did not join the communist party, " says Prof Anisuzzaman. "He went to Congress thinking that it was a mass party and may be something could be done from there."
Soon Nazrul along with three of his friends formed The Labour Swaraj Party of the Indian National Congress which was later changed to The Workers' and Peasants' Party of Bengal under the influence of comrade Muzzafar Ahmed. Unfortunately, the riots that started in Kolkata in 1926 began to create doubts in Nazrul's mind about the true agenda of the political parties. Yet he worked fervently at all the conferences that were held in that year, writing warning songs like the "Kandari Hushiyar" (Beware Captain!)
'Hindu na ora Muslim' ? oe giggashe kon jon?
Kandari! Bolo dubiche manush shontan mor mar.
(Hindu or Muslim? Who is asking so?
Captain! Say men are drowning, all my mother's offspring)
However his warnings fell to dead ear, the divided between the Muslims and the Hindus become more apparent after the conferences and communal riots became more frequent. May be as a last straw Nazrul decided to participate in the legislature council election. The other candidates were mostly influential nawabs and jamindars (landlords). To obtain Congress nomination Nazrul visited Kolkata on October 26. However he did not receive much help from Congress. Yet this lone fighter went ahead with the election even after repeated warnings from his friend Muzzafar Ahmed and as feared he miserably failed. After this incident, although Nazrul kept up the fire of his writing, his active participation in politics was not notable His last appearance in political conference with Muzzafar Ahmed was in 1929 at Kushtia. Realising the communal nature of most political parties, Nazrul began to lean towards the cultural world in the 1930s.
"Throughout his life he fought for Hindu-Muslim unity, communal harmony, but the famine, war and the increasing communal frenzy of the 1930s particularly after the demand for Pakistan, had shattered his dreams" says Prof Rafiqul Islam. "I think this immense mental pressure
could have been a cause of his illness," he adds.
Prof Islam related how Nazrul described himself in one of his essays:
"Ami hocchi bingsho Shotabdir Ovijan shenadoler turjobadok doler ekjon." (I am an adventurer, a trumpet player of the twentieth century).
Kazi Nazrul Islam was indeed an adventurer!
Translation of Nazrul's Poem: www.nazrul.org/nazrul_works/ s-kamal/poem_rebel.htm

Copyright (R) thedailystar.net 2010