Art - Off to the Hills
Off to the Hills

NADER RAHMAN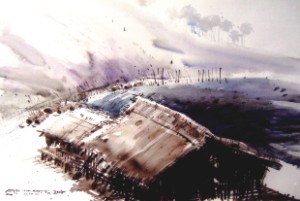 'Rangamati', water colour, 38cm x 50 cm 2008.
From the 3rd till the 16th of July the Alliance Francaise de Dhaka will be taken over by panoramic views of the Chittagong Hill Tracts and their people, the exhibition provides a snapshot into the lives and cultures of the indigenous people of Bangladesh. When one thinks of paintings of indigenous people, and generally their representation in the Bangladeshi art scene, one cannot really look beyond Kanak Chanpa Chakma. She holds a sort of monopoly over the representation of indigenous people in Bangladeshi art, but as such, she has always been viewed as an insider. While her work has been hugely influential in bringing the issue of indigenous people, their cultures and their plight into mainstream Bangladeshi art, she has always done so from the perspective of an insider. With his current exhibition at the Alliance Francaise, Shohag Parvez has become one of the few outsiders to dedicate an entire show to the pahari people. His delicate work captures the ethos of the indigenous people from the eyes of a young man.
At first sight the exhibition looks ordinary, a blur of watercolours interspersed with acrylic on canvas pieces, but then on closer inspection the watercolours really begin to stand out. The exhibition starts with a deftly painted landscape straight out of Rangamati, with a thatched roof hut in the foreground the picture is dominated by the violet hills and sky that tower over the houses. The landscape is not a typical one, the view is off-centre looking right to left in a way makes one look at the mountains and question what they have to offer us. To the indigenous people the mountains and the surrounding forests offer much more than natural beauty, they are the lifeblood of the tribes. Parvez's perspective on indigenous life is not one of an insider, in fact he views his works as a sort of documentation of his interest and love of indigenous people.
In the year 2000 Parvez travelled to the Banderbans for the first time and that trip proved to be a cathartic experience for him. "The first time I travelled there, I was spellbound by the almost untouched beauty of the place. The people were warm and welcoming and the place inspired me to such an extent that the only way I could express myself was through my paintings," he says. That need for expression took him to the Faculty of Fine Arts at Dhaka University, where he started his Bachelor's. Currently in his fourth year, his work is still a little rough round the edges, but that is only because as an artist he is still not a finished product. Having worked on indigenous peoples and cultures for the better part of a decade it is about time that he delved into a different subject matter and that is when one will be able to look at his body of work in a more complete way. But there is an obvious temptation to stay with his indigenous theme as his work has sold remarkably well for an artist as young and relatively inexperienced as him.
Parvez's watercolour landscapes are by far his best pieces in the show, while his large acrylic river scenes do not show the same dexterity he has with watercolours. His drawing and watercolour series that focuses on indigenous women shows great promise. While some of the scenes depicted have become hackneyed, his skill is hardly in doubt. It has become commonplace to see indigenous women carrying their children on their backs and while working, but he manages to add a personal touch to each piece. Parvez says, "I have talked and interacted with every single woman that I have painted, therefore to me they are not just paintings. They are real people with real lives and worries." Essentially for the artist they are more than just paintings on a wall, they are in fact human, all too human.
Interestingly for a show full of landscapes they hardly ever mimic each other. Normally when an exhibition has as many landscapes on a particular theme as his, there is some duplicity in the work, yet each landscape appears different in his exhibition. The premise may be the same, huts in the foreground and hills in the background yet each canvas is treated differently. At times the mountains are bright and full of life, while at other times they loom, darkly and broodingly over the indigenous peoples abodes. Parvez uses this duality well round off a good exhibit for a young and promising artist.
Copyright (R) thedailystar.net 2009