In Retrospect

Meeting Madam Sitara in Paris

Sayeed Ahmad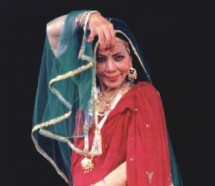 Sitara Devi
In the 50s when I was in London, I was very friendly with a Dr. Bose, who had been a Zamindar in Calcutta. He told me that in his college days, he earned a name as a tabla player. It came about that this activity led him to grow a fascination for a dancer who mesmerised people with her art. When he broached the subject of this girl to his father, his father ordered him to leave Calcutta, go to London and forget about her. In those days fathers were strict disciplinarians and orders were orders.
A month later, he was packed off by ship to England. His father had arranged for him to study law and become a barrister. However, he could not set his mind to this subject and went off to Sorborne, in Paris. Money was not a problem, so he started learning music and became qualified in this field. Finally he married a Spanish beauty from the film industry named Julia and settled in France. They had a daughter named Lucia Bose who became a celebrity in Spain's film world -this was a long time after her parents had separated.
Although much older than myself (he was then almost 50) we became good friends; I used to spend evenings at his house practising my sitar. I never knew where he was employed, as he never told me, but I believe he was attached to the Indian High Commission. Whenever I visited him, he would entertain me at dinner. He was a good cook and made "parathas' fried in butter and tasty meat curries. I was located in Euston and he lived in Hendon Central, quite a distance away; but his hospitality and cuisine compensated for the journey. He lived alone in a double storied mansion; he was a gentleman-at-large. Mr. Bose named his house Bagmari, after his Calcutta residence.
Through Mr. Bose I came to know that the exquisite dancer Sitara had come from Bombay. She was so talented and skilled in her movements that Tagore had given her the title of "Britta Shyam Ragini" when he saw her perform in Bombay in the house of Atiya Begum, as well known patron of the arts. I was thrilled when Mr. Bose took me to the Knight's Bridge residence of a nephew of the well-known film director Khawja Asef of Moghul-e-Azam fame. The event was my first taste of a Punjabi social gathering. Everyone was exuberant and friendly. Sitara sang a song from the film "Roti" in which she had starred. It had been directed by the famous Mahbub Khan of "Mother India" fame.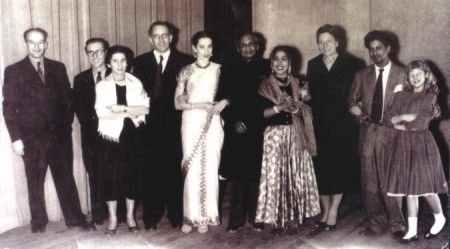 The writer (2nd from the right) with Sitara Devi (4th from the right), Dr Bose (5th from the right) Jean Cocteau (4th from the left) with others in Paris in 1955.
Mr. Bose took me over and introduced me to Sitara, saying I was a Bengali. She flashed her famous smile and started speaking in Bengali. Even though born into a conservative Brahmin family in Benaras, her father was a reputed musician and decided to teach his daughter dance and music. They moved to Calcutta where she was placed under the tutelage of Ustads. After a while she was trained in the Kalka Bindadin tradition which she fused with the sterner lessons of the Tandava Nritya. This added a unique quality to her style. Her sister Alaknanda was already acting in films as a dancer. Madam Sitara invited Bose and me to the Unity Theatre (which belonged to the Labour Party and was available on rent) for an audition. She said that, if I was up to the standard, she would give me a chance to play. At the audition I played a thumri-gat and she was happy. She asked me who my Ustad was and I told her it was Ustad Khadem Hossain Khan from Dhaka, and that I had also had the opportunity to learn at Maihar in India under Ustad Alauddin Khan. When we started the rehearsal I realised that I could not keep up with the intricacies of the sixteen beats rhythm (teen tall). It took me over three days to grasp the complicated beats. Madam Sitara's "laikari" was tremendous and the musicians had to follow her moves with deep concentration, otherwise the rhythm would be broken.
It was arranged that, two weeks later, a group of artists would be taken to the airport by an English chauffer of Madam Sitara's, on our way to Paris. I met a lady named Marianne Balchin who was also a dancer and friend of Sitara. I was excited at this great windfall that had come my way, as we were going to perform at the famous Musee Guiment in Paris in 1955. Our impresario was Madame Juillerat who was organiser of dance festivals in Paris. After arriving, we were met by her and her teenage daughter Dominique. Many years later I heard she had become a famous ballet dancer. Once we were settled down in the hotel more excitement was in the offing.
With Madam Sitara, I was enjoying every minute of my stay. We were shown around Paris by none other than Jean Cocteau's nephew Pierre, who was a dance critic in "La Figaro". Then we all went to a celebrated Moroccan restaurant in the Place Pigalle. It was a fantastic treat of couscous and Felfel, in the company of Madam Sitara, Bose, Marianne and Pierre.
However, one strange experience came out of this evening; I came to know later that Pierre Cocteau was the ex-husband of Marianne Baichin, and that they continued to be good friends. At that young age, I was astonished that the couple could be so friendly and meet without any embarrassment after divorce. I had much to learn about the west as I went along.
After three days of rehearsals we held our performance; it was attended by the elite and connoisseurs of Paris art circles. Besides playing as accompanist to Sitara's dance, I also played a solo piece in Raag Durga. Madame Sitara's dance was a roaring success and the audience was thrilled at her Tandava dance. Pierre Cocteau wrote about it in La Figaro and even praised us musicians. This visit proved to be a debut for me to the world of art in which I had such a deep interest.
Luck favoured me when Madam Sitara took me to the house of dancer Nyotai Nyoka, who belonged to French New Guinea and was a citizen of France. I was amazed to see her library and art pieces. While I waited, I began looking at some books. But when Ms. Nyotai entered the room she chided me about touching the books without asking; she said it was against French etiquette to do so. I immediately asked her pardon and learnt a lesson for the future. Later, I witnessed Madam Fodeba of French New Guinea, who was Nyotai's disciple, dancing merrily in the Palace Theatre of London in 1955. Madam Fodeba appeared bare breasted on stage, but the censor board raised no ban on her performance, as it was a traditional New Guinean dance.
During my week's stay in Paris, one of my favourite haunts was the Louvre. By a stroke of good fortune the Museum had mounted a fantastic exhibition of Etruscan arts. It was an eye-opener for me to view the obscure works of Italian masters. It was the first show of its kind in the Louvre.
I was to meet another famous personality, a Spanish painter Ruiz Pipo. It was a friendship that lasted many years and when I went to Paris decades later in the nineties, I came across a poster on a lamp post and stood shocked. Ruiz Pipo was holding an exhibition in Paris at that time.
Meanwhile, as a young student in Paris. It was a thrilling experience to meet Pipo, who was himself a struggling painter. In his company I met a vivacious and intelligent girl from Goa, India, named Kamala. Pipo was introspective by nature and Kamala struck a fine balance with her bright personality.
Our glorious trip ended, and we returned to London. Madam Sitara told me to keep in touch as a performance at the London School of Ballet was on the cards. I was able to meet the renowned Andrew Heskell, professor at the London School of Ballet which enriched my experience greatly. We held our performance with success. I came to know that Margot Fontyn the rising prima donna of ballet was performing at this school and was lucky to get tickets to see this outstanding and sensitive dancer.
I had another occasion to play sitar for Madam Sitara at BBC television's Shepherd Bush studio a short while later. It was at a lecture demonstration of the famous dancer in which she shared her mudra and laikari for the understanding of British audiences.
The great maestro Ram Gopal, Rekha and the sisters Lalita and Padmani, were also in London at this time and I was able to be in their company and fortunate enough to learn much from them.

Copyright (R) thedailystar.net 2009