Human Rights
The Disappearance of Kalpana Chakma
Twelve years after the abduction of Adibashi human rights activist Kalpana Chakma, the mystery of her disappearance remains unsolved.
Kajalie Shehreen Islam
The story has been recounted several times over the last 12 years. The demands have gone from "We want Kalpana back" to "Where is Kalpana?" to, finally, "Publicise the inquiry committee report -- if she is dead, let us perform her last rites". Twelve years after a shocking crime, all that the family and friends of the victim, a community, a people are asking for, is closure.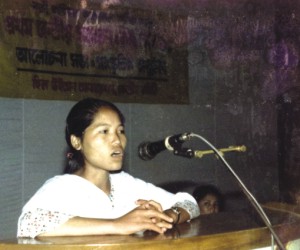 Kalpana Chakma
According to Ain O Salish Kendra, in the early hours of June 12, 1996, hours before the national elections to be held under a caretaker government, several security personnel in plainclothes from a nearby barrack entered the home of 22-year-old Kalpana Chakma, organising secretary of the Hill Women's Federation (HWF). They asked her and her two brothers, Khudiram and Kalicharan, to go with them. They were taken to a lake and, first, Khudiram was asked to step into it. As soon as he did, an order was given to fire. Khudiram jumped into the water and swam and took shelter at a neighbour's house. Kalicharan heard the firing and escaped, with Kalpana's cry of "Dada dada mahre baja" (brother, brother, save me) trailing behind him. Kalpana was never found.
Months of widespread protest ensued, in which four Adibashis -- Rupon Chakma, Sukesh Chakma, Monotosh Chakma and Samar Chakma -- were killed by Bangali settlers, the first at a protest rally, the other three on their way to one. Growing international pressure finally led the government to form a three-member inquiry committee in September 1996. The committee is said to have submitted its report to the Ministry of Home Affairs some years ago. The report, however, is yet to be made public.
On the anniversary of Kalpana Chakma's disappearance last week, two factions of Hill Women's Federation -- Jatiyo Samhati Samity (JSS) and United People's Democratic Front (UPDF) -- arranged different programmes to mark the day. At both the human chain organised by JSS in front of the Institute of Fine Arts on the morning of June 12, and the seminar organised by UPDF at RC Majumdar Auditorium at Dhaka University in the afternoon, demands were made for the inquiry report to be published. Speakers at the seminar spoke about Kalpana, about her keen political insight and about her fight for not only Adibashi women but for all Bangladeshi women and for the country as a whole. They also pointed out that only now, with the whole nation under emergency rule, can the people of the plains even begin to imagine the circumstances in which those in the hills have lived for over the past three decades.
Kalpana is remembered by those who knew her as a brave, driven and sincere woman, highly committed to her work. She played a key role in organising the Marishya branch of the HWF. She was vocal against the repression and harassment of Jumma women and men. She also favoured the independent candidate in the upcoming national elections of 1996.
"Kalpana's struggle was not only for the right to existence of the Jumma people but also to eradicate the gender discrimination between women and men and to ensure women's rights," says Kabita Chakma, the then president of the HWF. "She was very capable, which is why we quickly made her an integral part of the organisation. She was very sharp, had a lot of depth. She was a revolutionary."

Human rights activists demand the inquiry report into Kalpana Chakma's disappearance be made public.
Samari Chakma, cultural secretary of the HWF at the time, remembers Kalpana as being calm and organised. It was Kalpana who introduced the idea of saving a fistful of rice every day when cooking, storing up for the rainy days.
"She was very brave," says Samari. "It is not easy for someone from a remote village to adapt to life in the city so well, but this was never an obstacle for Kalpana. She was very sincere in her work and did it very efficiently."
Despite Kalpana's brave stance against the repressive system, she had no inkling of the tragedy that lay in store for her. According to Kabita Chakma, Kalpana never suspected anything.
"Even a couple of months before the tragedy, Kalpana was consoling me, because we believed I might become a target. I had gone into hiding at the time and it was Kalpana who consoled me that nothing bad would happen," says Kabita.
It is difficult to imagine how one can meet such a tragic end for standing up for a cause and fighting for a people. For a nation itself borne of repression followed by a bloody battle, we are surprisingly unsympathetic to the cries for justice made by our own ethnic groups. The cycle of power continues, only now, the oppressed have become the oppressors. But, as Prof. Anu Mohammed of Jahangirnagar University pointed out in his speech at the seminar on the anniversary of Kalpana Chakma's disappearance, the oppressed keep coming back.
Kalpana's abduction is not an isolated incident. In the late 1980s and early 1990s, there were numerous cases of Adibashi women being abducted and then forced to marry the abductors as a way of integrating them into Bangali society. Kalpana Chakma has become a symbol of the crimes committed against the Adibashis over the decades and for the justice not done them. But she has also become a symbol and will always be remembered for her spirit, strength and bravery, ironically, the effect of which has become even more powerful in her absence. Until and unless the inquiry report is made public and it is known what actually happened to Kalpana and others like her, they will keep returning to haunt us and jab at our conscience, until they find justice.
Copyright (R) thedailystar.net 2008