STAR DIARY

Made in Bangladesh

I recall an interesting story that our Ethics professor once shared with us during one of his classes. He was a favourite teacher of mine and was a man of great experience. What intrigued me was his way of taking the class and how he made them so amusing by telling us about his wonderful adventures during his stay in many countries.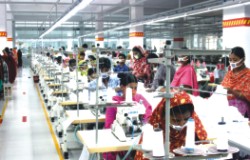 On one of his visits to England, after attending a brief seminar, he was heading for his dormitory. On his way, he came across a posh clothing store. While his eyes brushed through some of the intricately designed shirts laid on the display he decided to buy one for himself. After skimming through a wide range of shirts, he finally set his mind for buying one, which was made of cotton and had an exclusive finishing. The collar and the sleeves were delicately sown and the buttons were beautifully designed. Moreover, the piece of garment was of fine quality. Though he had to pay a high price of 100 pounds for the shirt he felt very happy to make the purchase.
Upon his return to the dorm, when he had settled in his own comfort, he thought of trying out the shirt. While doing so, his eyes surprisingly discovered a small label on it.
When he read what it said he was completely flabbergasted.
The label stated, "100% cotton, made in Bangladesh. "Our sir quickly understood that the British shirt company had its franchise in Bangladesh and the shirts were made in our country. He was amazed to see how well our country's products were but at the same time disappointed to make a fool of himself buying such an expensive shirt just because of its brand name when he could have brought such a shirt at a much cheaper price in his own country.
Naome Syed
Mohammadpur
An Honest Mistake

Last week, I was walking towards my office at Karwan Bazaar. I love walking and often I try to go to places on foot because when I walk I notice many things on my way that I miss when I go by car or rickshaw. That day when I was walking by a bank on Kazi Nazrul Islam Avenue near the Saarc Fountain, I saw a thin old man lying spread-eagled on the footpath adjacent to the bank. He was lying on his stomach with his hands and legs stretched on the walkway, his left hand grabbing a tattered gunny bag. He was wearing a shabby lungi and a Punjabi. I stopped short on my tracks, not knowing what to do. It came to my mind that he passed out on the footpath and now does not have any strength left to get up. People were passing by him and so did I. When I was passing by him the old man blinked his blurry eyes once at me. I felt a pang of conscience but walked on to the office. I tried to work but then got up and started pacing to and fro inside the small cubicle. My colleague, Rizanuzzaman Laskar, a strapping lad studying BBA at NSU, asked me if there was anything wrong and I told him about what was bugging me. He listened silently. I asked him whether there is any place where we can call and they will pick that man up and he said no. "Can we take him to DMCH?" I wondered aloud. He thought for a moment and then said, "Let's go." We grabbed our bags and ran out of the office. We crossed the underpass in a few seconds and saw that the man was still lying there. I stopped a CNG - autorickshaw and told him that we wanted to take an old man to DMCH. "If you want to go to the medical, I would have to take the next turn from Bijoy Sarani and that will take lots of time because the road is jam-packed," said the driver. "Ok I am talking to the police," I said. I went to the police and requested him to let the CNG - autorickshaw pass through the wrong side of the Saarc Fountain. The police agreed to let us pass and I told him to come with me to help the man get into the vehicle. Meanwhile, Rizan was lifting the man from the footpath. "He is light as a feather," he exclaimed. I took his worn-out gunny bag while the police was helping to get him in. At that time the CNG driver asked the old man, "Do you want to go to medical?" "Na baba, (No son) I don't want to go to the medical," the old man replied. "I am begging here." I stood affixed on the spot like a puppet unable to think for a few moments, holding the gunny bag used for keeping alms. The man was absolutely in the dark about what Rizan and I were planning to do for him and he probably did not have any other way to earn money because of his old age. Then, I saw Rizan, the CNG driver and the police laughing at me. I simply wanted to run away! They took the man out again and sat him down on the footpath. I gave him Tk 10 and apologised to the police and the CNG driver for my mistake. I was trying not to look at Rizan because he was still laughing. When I was near the underpass the CNG driver came to me and said "Apa, please don't lose heart. You did the right thing." I felt overwhelmed and said sorry to him again. I started walking towards the office with a heart that made a mistake but will not mind doing it again.
Durdana Ghias
The Daily Star
Karwan Bazaar
Copyright (R) thedailystar.net 2007