Event
Rekindling Old Friendships
Abdullah Al Sakib

Dewan had a long day. He had a meeting in Gulshan in the morning. The afternoon was equally hectic. Around 5 in the evening he found himself eyeing the watch nervously, thinking, "Am I going to make it in time?" He jumped off the seat and rushed through the door to catch a cab as soon as the meeting was over. A party of some old friends was waiting for him in Dhanmondi and he did not want to lose a minute of it.
There are three cadet colleges for girls

Young cadets in class
The experiences were similar for those who flocked the restaurant to join the party organised for Ex-cadets. Dewan is an ex-cadet of Rajshahi Cadet College and the party was for cadets of the '96 batch in all the cadet colleges, who gathered to celebrate the 12th anniversary of their joining in cadet colleges. Dewan now wants to enliven those moments of friendship they passed together during their times in the cadet colleges.
Cadet colleges in our country have a very enriched history. The first one of its kind came into being in 1958. Modeled after Public Schools in the UK, the first cadet college in this part of the world was known as East Pakistan Cadet College at that time. After independence it changed its name to Faujdarhat Cadet College. The college has now 300 boys aged between 12 and 18, who have been chosen through nationwide admission examinations. Containing four boys' houses, the college is headed by a Principal, who is appointed by the Adjutant General of Bangladesh Army.
More cadet colleges have been established later on, currently there are 12 cadet colleges in total, which contribute significantly to the talent pool of our nation. Of these colleges there are three girls cadet colleges. The first such institution for girls was established in 1984 in Charpara, Mymensingh, which for 20 odd years was the only girl's cadet college. Two more military schools for girls were established in 2001 and 2006 in the country's Joypurhat and Feni districts, of which the latter is near an abandoned British Airfield constructed in 1942 during World War II.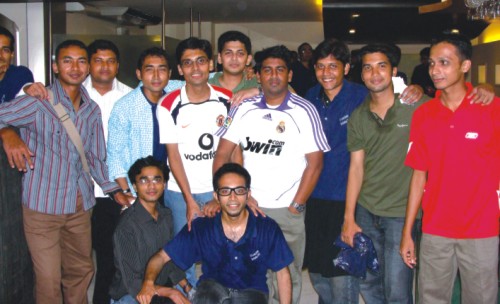 Brothers for life. Ex-cadets at the reunion
What sets the cadets apart from other comprehensive school goers is perhaps their belief in the strength of brotherhood. Even if they are not from the same batch or college, the word 'cadet' creates a sense of belonging among themselves.
.Copyright (R) thedailystar.net 2008