Current Affairs
Great Expectations
Known as Mr Cool, Finance Adviser AB Mirza Azizul Islam has proposed a budget of Tk 99, 962 crore, with Tk 16, 932 crore for social safety net, Tk 13, 648 crore for subsidies and Tk 10, 253 crore for salaries of teachers and doctors. What he does not explain is how he is going to do the most difficult of jobs--getting enough money to fund the most ambitious budget in the country's history.
Ahmede Hussain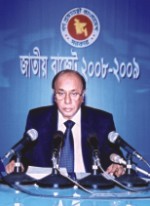 Finance Adviser AB Mirza Azizul Islam
This year's proposed budget very rightly tries to address three important areas of the country's fledgling economy: rising inflation, a slump in growth and generation of employment. It has indeed been of outmost importance for the world economy is going through a supply shock, especially at a time when inflation is spiralling out of control and economic growth has been stuck at 6 percent. To make it even worse, the country has gone through three natural disasters in a year--two floods and a cyclone. It is indeed surprising that the last fiscal year has experienced a growth of 6.21 percent, and it can fairly be said that it will circle around 6 unless and until new investments are made and employment is created.
The Finance Adviser has been trying his best to give an impetus to the farm sector through Tk 540 crore diesel subsidies, promising Tk 272 crore more for agriculture extension and research. The success of this budget will largely depend on how the sector reacts to it. In an economy of over $60 billion, agriculture is the driving force, if properly tended it will create employment and will be able to take the ongoing food crisis by the horns.
Even though agricultural employment is expected to increase, there is no prospect of it being replicated in its industrial counterpart. The Small and Medium Enterprises, which, if properly assisted, can generate growth in the country, has not been given the attention they deserve. That the Finance Adviser has shown no ways to generate power is not going to help the industries in any way. The energy sector has indeed got a raw deal. State-run exploration company Bapex has been given Tk 3, 200 crore for exploration in the next seven years, but the Finance Adviser has shown no light when it comes to generation of new sources of energy. He has said that the government will shortly declare a new coal policy and further explorations of the country's oil and gas resources are in the offing, but the speech does not give any direction as to how to grapple with the current energy crisis except for mentioning the fact that the International Atomic Energy Agency has proposed to give support to the Rooppur Power Generation Plant. Given that the demand power is going to increase to 5, 569 MW this year, industry will be hit the hardest if new sources of power are not created. The government's performance has so far been dismal when it comes to energy for only 124 MW has been generated in the last fiscal year.
This budget will not please the middle class for the Vat on private English medium schools has not been withdrawn and an increase of custom duty to 25 percent from 10 will make it even worse. Rising cost of essentials coupled with an impending increase in the price of fuel is going to make life difficult for them.
This budget tries to highlight the soft side of capitalism by introducing the first ever employment guarantee scheme, which will create 20 crore working days for 20, 00, 000 unemployed poor by giving them 'guaranteed' work. In fact, the social safety net has been widened by 48 percent, which is going to be 2.8 percent of the GDP.
The Finance Adviser here undoubtedly faces a dilemma. The proposed budget, huge that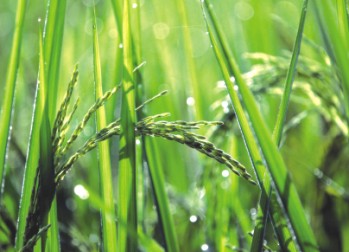 it is, means that a large deficit of Tk 30, 580, will translate into an 86 percent increase in bank borrowing, which runs the risks of drying out credit for the private sector which the adviser expects to increase to 22.6 percent. The adviser says that the borrowed money is going to be injected domestically, making a positive impact on the overall economy. But that remains an untested hypothesis. The revenue target of Tk 69, 362 crore remains less ambitious, if one takes into consideration the growth of the GDP. More direct tax, in fact, is needed; it will also narrow the gap between the rich and the poor a little. The stakes, actually, are even higher. If government borrowing continues like this macroeconomic stability will come under threat. On top of it all, more government spending will fuel inflation, which he wants to keep at a tolerable rate of 9 percent. Add to that a rising food inflation, about which the adviser has very little to say. Only time can tell how he is going to keep the balance, tricky that it is.
The corporate tax rates for listed and non-listed companies, however, have been reduced to patronise industrial investment. The budget also proposes a three-year tax exemption on incomes made out of computers, software and data processing, which will give a boost to the country's ITC sector.
A smaller ADP will harm growth, making the much-appreciated social safety net programme ineffective. It will turn into a tragedy if even this smaller ADP is not properly utilised, growth will be harmed and rural employment will be affected.
While scrutinising our Chancellor of Exchequer's speech one must keep this in mind that, like the government whose finance adviser he is, this is an interim budget. A new government is going to come into office at the beginning of next year, which has to shoulder the responsibilities of implementing this budget. Despite its drawbacks, given a recession-like scenario in the global economy, we, probably, would not have got a better budget than this. The uphill tasks remain in implementing this budget, keeping bank borrowing and inflation at a minimum level. A stable political situation will help to attract local and foreign investments, which, for its turn, will foster growth.
Copyright (R) thedailystar.net 2008