Remembrance
Debuda-The Fairy Tale Prince

Abdul Mannan

When the police finished playing the last post and gave the guard of honour to pay respect to our Debuda-Artist Devdas Chakraborty, many rushed to have a last glimpse of the body of the deceased artist lying in state in the Central Shaheed Minar in the afternoon of the fading winter on Thursday, February 7, 2008. Debuda had breathed his last on Monday at the age of 75. The aura was somber and I could see many friends and colleagues of Debuda weeping in silence.
It was in the summer of 1973 when I first met Debuda in the teacher's bus of Chittagong University. The eminent artist of the country Murtaja Baseer, whom I knew as Baseer <>bhai<> introduced me to Debuda sitting in the back seat of the bus. Debuda was one person whom you would like from the very first moment. He had a very fair reddish complexion. To me he seemed more of a fairy tale prince from 'Thakur Maar Jhuli', someone not from this part of the world. Later once I had humorously asked Debuda if he was a fairy tale prince? He smiled at me and said maybe. After the brief introduction phase was over, Debuda invited me to have lunch with him at Burma Raju Hotel. I had heard of Burma Raju Hotel so much but never had the chance of going there. I instantly agreed. Rashid Chowdhury, Murtaja Baseer, Devdas Chakraborty and Ronald Patra were also going to Burma Raju Hotel, an exclusive deshi restaurant in Firenghee Bazaar where you could have a good lunch at a reasonable price and could eat different varieties of shutki of Chittagong. It was Debuda's regular joint. Debuda believed life could be a burden if you did not know what to do with it.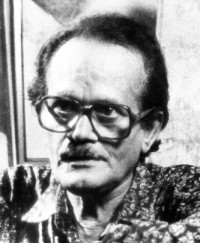 Debdas Chakraborty: 1933-2008
Devdas Chakraborty, Zia Hyder, Mizanur Rahim all followed Rashid Chowdhury to Chittagong University in 1969 when Rashid Chowdhury took up the task of building up the new department of Fine Arts. Murtaja Baseer joined the Department of Fine Arts and I in the Management Department in 1973. Rashid Chowdhury, Murtaja Baseer and Devdas Chakrabarty formed an inseparable trio. The department of Fine Arts of Chittagong University had a superb team of teachers who could inspire young graduates from Dhaka's Art College (now Institute of Fine Arts, Dhaka University) to come to Chittagong for a Master's degree in Fine Arts. In the seventies came a bunch of artists like Syed Abdullah Khaled, Monsurul Karim, Chandra Shekar, Abul Monsur, Alok Roy, Faizul Azim and others, all graduates of Arts College for their Master's Degree from Chittagong University. Debuda lived in Nasirabad with Saleha bhabi and their two sons, Gautom and Rousseau. There would be occasional addas in his house where Gautom and Rousseau would continuously run around. Saleha bhabi would tirelessly shout at her two sons and make sure Debuda's colleagues and friends got their cup of tea. It was obvious that Debuda loved Saleha bhabi very much and while sipping his cup of tea would ask 'what would life be without you Rani?' Saleha bhabi was Rani to Debuda. Towards the late seventies Saleha bhabi was suffering from cancer and was admitted to PG hospital. Debuda, who then was on a scholarship in Poland came to attend to Saleha bhabi. One evening when I came to visit bhabi in the hospital she wondered what would happen to Debuda when she would no longer be there to take care of him Debuda was standing outside and puffing away an one cigarette after another in quick succession and staring at the setting sun. Soon bhabi died. Debuda never went back to his teaching job in Chittagong University. Rashid Chowdhury and Murtaja Baseer retired a few years later. Rashid Chowdhury died soon. The department of Fine Arts of Chittagong University somehow lost its touch of excellence. I did not know that it was Debuda who had drawn the famous poster during our War of Liberation which literally translated says 'Hindus of Bengal, Muslims of Bengal, Buddhist of Bengal, Christians of Bengal, we are all Bangali.' When Chittagong University was celebrating 25 years of Independence in 1997, the University Museum put up an impressive exhibition on our Liberation War. What better testimony could one give about one's belief and commitment to Bangali nationalism!
Debuda had been bedridden since about the last 12 years. The last time I went to visit him in his residence was in 1998. He was lying in his bed, unable to move but very much conscious. We spent some time together. Debuda tried to remember the good old days of Chittagong University. He wanted to know if the Burma Raju Hotel was still there. I had no idea. Till the last day he was under constant care of Sumona Sharmin, his daughter-in -law, Gautam's wife. For the last few years we were neighbours in Uttara but I never had the heart to go to and see the adorable fairy tale prince I knew in such a debilitated state of health.
This winter saw the demise of some great souls of the country. First to go was Mahbubul Alam Chowdhury followed by Justice K M Sobhan, Selim al Deen and lastly Devdas Chakraborty. Every time I went to the Central Shaheed Minar to pay respect to a departed soul I prayed that I will not have to come again in the same place for a final farewell of another great soul of the country. On that Thursday when I stood in silence next to the coffin of Debuda I wondered whether it was time to say a final farewell to the winter of 2008. This has been a sad winter. May Debuda's soul rest in peace.
The author is a former Vice-Chancellor of Chittagong University. Now he is with the University of Liberal Arts Bangladesh. He can be contacted at [email protected]

Copyright (R) thedailystar.net 2008