Event

For the Love of the Language

Iftekhar Hassan
Eleven-year-old Adrita stands solemnly before the makeshift Shaheed Minar that she, along with her fellows, guided by a teacher have made on the school premises. Like Mastermind, where Adrita studies, there is a growing group of English medium schools, who have celebrated the Shaheed Dibash, contrary to popular belief that English Medium schools encourage superficiality or let their charges grow up oblivious of the culture of the ordinary masses.

A makeshift Shaheed Minar at Mastermind School
"Learning English is necessary," Adrita says, "but that does not mean that we will neglect our own mother tongue. In fact, the growth of English medium education in our country means that hundreds and thousands of students like Adrita need proper schooling so that they do not forget their own glorious cultural and national history. Neera Habib, director administration, Mastermind thinks students need to be taught about the country's history and culture from an early age. "Our history, our culture defines what we are, without it we will be lost in the labyrinth of modernity. We try to make sure that students do not grow up alien to the society and culture where they live," she says.
Like Adrita, twelve-year-old Farah, a student of Scholastica, thinks one must not forget one's past. "What Ekushey February teaches us is very important, it tells us that not to bow before injustice and oppression, no matter how difficult the situation is," she says. Asked if she and her friends listen to Bangla songs, Adrita says, "We have music in our curricula at school, we have a music teacher who regularly gives us music lesions."
"Though our medium of teaching is English, we make sure that our students learn Bangla as a language, we also have Bangladesh Studies in our school, which covers the entire social, political and cultural history of the country," Neera Habib says. Farah believes the idea prevalent in the society that all English medium students look at their culture with an eye of condescension is wrong. "I am sure, you will find students in other mediums too who think that Shaheed Dibosh is actually Bangladesh's independence day." She thinks that knowing about one's past is integral to becoming a good citizen.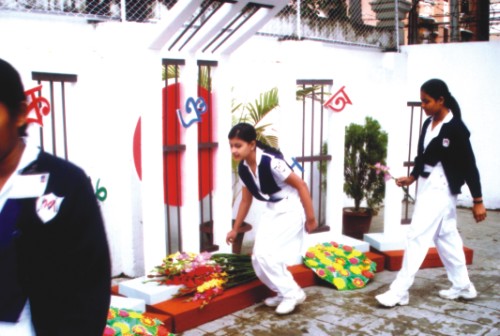 Students paying respect to the martyrs of 1952.
The queue in which Adrita stands on the school campus to place wreaths to the Shaheed Minar is actually long, the faces of the students who lined sombrely to pay their respects to the martyrs of 1952 beams with a certain pride. Adrita thinks an event like this is necessary to arouse patriotism in the young minds. "No matter what we do or what we learn we will remain Bangali, it will remain our mother tongue," she says. Of course we need modernity, she confesses, but that does not mean that we will forget our Bangali identity.
The problem of spreading Bangaliness, however, is that schoolbooks on the history of the country are still not readily available. There are quite a few textbooks written in English on our political history for school children. The government can initiate the process of printing such books so that the spirit of patriotism that burns in the souls of thousands like Adrita do not die down.
Iftekhar Hassan studies at Islamic University of Technology.

Copyright (R) thedailystar.net 2007