Books
Newcomers
Who Made Waves
Elita Karim
The beginning of every Ekushey Boi Mela is practically a war zone, where hundreds of publishers try to fight their way into the fair. The big names in the scene do not face the music; however, it is the new upcoming publishing houses find it a little difficult to fit in. Sometimes, it takes at least a couple of years before a publishing house is known and trusted amongst the readers. Some even do not manage to grab a spot even after waiting for two years in a row. This year, however, some of these publishing houses have actually managed to get book lovers to rush to their stalls with the variety of books they offered. Even though it is difficult to point the best one out, their sheer dedication and hard work is out there for all to appreciate them.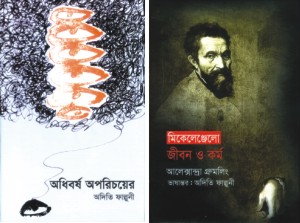 Covers: Shibu Kumar Shil
Pathsutro Prokashona Limited ,a wing of Jocsutro, an advertisement firm established four years ago, entered the boi mela premises for the first time this year and ended up launching around 47-50 books. "Last year we had plenty of launches as well," says Reza Ghatok, owner of the publishing house. "But we could not meet some of the rules and policies set by the Bangla Academy and this could not participate in the book fair." This year, says Reza, sales have been better than he had expected. "A good amount of marketing has been done which is why the books have been selling quite well," he assumes. Some of the most popular books which were sold were the series of detective books for young boys and girls written by Mustafa Mamun, namely "Lottery'r Number", "Cricketer Araale", Mustafa Kamal's Aguntuk, Abid Shahrier's Mukhorotay Nishongo and many more.
Cover: Shahinur Rahman

Cover: Mukul Biswas
Specialising mostly in translations, Banglayan happens to be very popular amongst young readers. Launching at least twenty books this year, Austik Aarzu, the owner of the publishing house says: "Even though we had started to publish books back in 2005, we could not meet the policies set by the Bangla Academy to participate in the Boi Mela," he says. Some of the books that have been launched at the mela this year are Adity Falguni's Adhiborsho Aporichoyer, a translation of Alexander Groomling's Michael Angelo (Michael Angelo: Jibon o Kormo) by the same author and many more. It was not very easy to win a stall this year, informs Aarzu. Even though Banglayan had met with all the requirements to finally enter the mela, certain barriers to set up a stall came up right at the beginning of the mela, "thanks to some of the internal politics between a few publishers in Bangla Bazaar," says Aarzu.
Yet another publishing house that has sprung up in recent times is Zonayed Saki's Samhati Publications. Described as an organisation coming up with innovative and radical ideas, this young publishing house could not manage to get a stall at the fair this year. Starting out in early 2007, according to executive officer of Samhati, Rana Raihan, the house had published not enough books to meet the number set by the academy. "According to the Bangla Academy, every publishing house has to publish at least 15 books to participate at the Boi Mela," he says. "We could not do so and could not apply for a stall this year. However, the books that we published this year are being sold by Jatiyo Shahityo Prokash, who have a stall at the fair." Even though, he adds, a good number of publishers did get to put up stalls at the fair this year, despite not meeting the number of published works set up by the authorities. "This is probably because of years of personal relations," says Raihan. Samhati has launched around 15 books this year at the mela. Some of the books that have gained a lot of popularity are "Kothay Geche Bangladesh" by Anu Mohammad, Azfar Hussain's "The Wor(l)d in Question: Essays in Political Economy and Cultural Politics" and "The Politics of Subjects, Sites, and Scenes: Micronarratives and Other Essays" and "Bangla Desher Nod Nodi O Porikolpona" by Kapil Bhattacharya who passed away in 1989.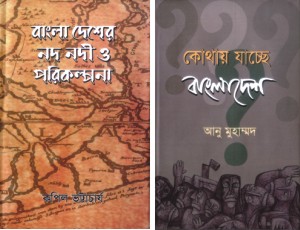 Covers: Amal Akaash
Onnesha Prokashok is another prominent name in the list of upcoming publishing houses in the last few years. Mohd. Shahdat Hussain has been running this house for the last four years and entered the Boi Mela arena three years ago. This year Hussain claims that sales have been a blast at the mela. "Right after Annyo Prokash, customers have been hounding my stall for Humayan Ahmed's "Himur Ekanto Shakkhatkar O Onnano"," he says. Amongst other popular books that have been sold from his stall, Kabir Chowdhury's "Goethe O Rabindranath Ebong Onnano Probondho", Ahsan Habib's "Noi Bo Noi Bo Cha", Humayan Ahmed's compilation of stories and Anik Khan's SMS poetry "Bhalobashay Doctorate" have been in demand from the very first day. Even though Onnesha has been doing a very good job publishing and selling books, the whole process has been very mela centred. "This year, we have sold at least 30 books at the mela," informs Hussain. "But for the rest of the eleven months, we have practically no activity. We have noticed that most of our books do well during not only the Ekushey Boi Mela, but other book fairs as well. This is probably because of lack of proper promotion and advertising. For instance, the newspapers usually give us an affordable rate during the mela times to promote and advertise our books. However, for the rest of the year, it is not possible to go for the normal advertisement rates in the print media. If our readers are not informed of the upcoming books, there is no point in publishing them either."
Cover: Sabyasachi Hajra
Cover: Anik Khan
Cover: Mahbub Kamran
The Ekushey Boi Mela 2008 has come to an end, but thanks to these publishing houses, a wide range of writing and Bangladeshi writers have been introduced to readers. As Christopher Morley had once mentioned, "There is no mistaking a real book when one meets it. It is like falling in love."

Copyright (R) thedailystar.net 2008