Special Feature
A Charity Ball for Survivors
Louise Russell
At first glance, former fashion model Bibi Russell and survivors of acid violence might seem an unlikely pairing.
Last monththe internationally renowned designer gave her first fashion show in Bangladesh in two years, for the Acid Survivors Foundation (ASF) Ball.
"I don't do that many shows," Bibi says. "I'm a self-funded project, my main work is to save and revive the crafts people; get the villages going.
"Of course I love to show my work but I can't rob a bank; but when I see it's important, a beautiful cause like this, how can I say no? I really have a soft spot for the survivors, they are so inspirational."
Bibi, who during her 20-year career as a model paraded for fashion houses such as Georgio Armani and Yves St Laurent, says the survivors' beauty shines through in their daily struggle, in their dignity and their bravery.
"You have to have courage to do that, and they do it year on year. More than courage, they have confidence. Is there anything more beautiful than that?"
The Bibi Productions show and proceeds from the ASF Ball will help survivors like Ayesha, who was just 14 years old when she refused to marry her mother's maternal uncle. He threw acid on her. Dolly was also 14 when she refused a suitor, who then attacked her with acid.

The ASF Ball was organised to raise funds for acid-survivors
Earlier this week Ayesha and Dolly met with Bibi, as the survivors were designing their garments. Ayesha and Dolly are part of a team that creates custom-made pressure garment bandages to help treat fellow survivors.
As the survivors show Bibi around their small studio, they explain the process of how they make the bandages, and import the special material from Spain. Bibi gives them specialised tips to make their jobs easier, asking questions about their patterns, sewing techniques and orders. They are trading shoptalk and all but one of the differences between them fade, along with Ayesha and Dolly's initial awe of one of Bangladesh's most glamorous faces. The difference that remains is in their productivity and orders.
The motto of Bibi Productions is "Fashion for Development", and productivity and orders are the crux of Bibi's business. More than that, it's a means of survival for thousands of weavers and other crafts people.
But for Dolly and Ayesha, more work means there have been more attacks. It means more lives have been shattered in an instant by a rebuffed suitor, neighbour or political opponent. In 2005, 268 people were attacked with acid in Bangladesh, making it the country with the highest incidence of acid violence in the world.
Two-thirds of the survivors are women and girls; one in every five survivors is a child.
Nearly one in every two acid attacks was prompted by land or property disputes. Another one in every three attacks was caused by marital problems, dowry disputes or a refusal of marriage, love or sex.
Acid attacks are one of the most vicious forms of violence. It causes skin tissue to melt, and can even destroy bones. If acid gets in the eyes it can cause permanent blindness.
Survivors' dreams are often shattered and they have to readjust their sense of identity. Their physical scars and medical rehabilitation can take months, if not years, they face social stigma and can even be isolated from their families.
It was against this backdrop that the Acid Survivors Foundation (ASF) was established in 1999. ASF supports survivors with their medical, social, psychological and legal rehabilitation. ASF also helps with economic survival in terms of vocational training, job opportunities and microfinance credits.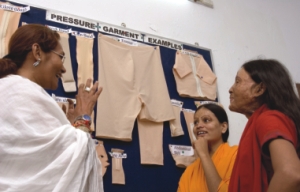 Fashion designer Bibi Russell inspired by the courage of acid-survivors
Dolly and Ayesha are just two of some 2000 survivors who have benefited from ASF over the years. When it first opened, only the most badly burned survivors could use the garment pressure bandages because they were so expensive to import. Now every new survivor gets pressure bandages, made at ASF by Dolly, Ayesha and fellow survivor Azma. Sadly they have had to make thousands of garment bandages since they began.
But Dolly and Ayesha, with ASF support, have rebuilt their lives. Dolly is now married, and a mother. Her son is 16-months old. Ayesha has been married since 2004. Azma is the most educated in all her village.
They still struggle with strangers' perceptions. Dolly and Ayesha told Bibi they catch the bus home from work, and sometimes people disturbed them.
"Some people don't want to sit beside us; often we wear burkha," Ayesha says.
"That's very sad," Bibi says, who in the past has made brightly coloured burkha a part of her line, to make sure women who are pressured by men into wearing the burkha do not miss out on the beautiful colours of Bangladeshi clothes.
This is Bibi's first visit to ASF even though she has supported the cause for many years. She has even seen the changes ASF has helped bring about, particularly in lobbying to make it more difficult to obtain acid.
When Bibi returned to Bangladesh in 1994, she says she spent "99.9 percent" of her time travelling through villages, speaking to weavers and other crafts people.
"My mother said it was better when I used to come home for holidays, at least they would get to see me," she laughs before turning serious.
"But in every crafts person's house I went into I would smell, in the morning and in the night, I would smell the strong smell of acid.
"The weavers would use acid with their dyes. Carpenters would use it, painters, can you imagine? Acid was such an accessible thing.
"They have small houses and you could feel the strong smell of acid. Now you have to have a special licence. But for the most part they don't need acid anyway."
It was in 2002, after strong lobbying from ASF, the Government of Bangladesh enacted the Acid Control Act, to limit people's access to corrosive substances. This, together with the Acid Crime Control Act, also enacted that year, has played large roles in the steady decline of attacks since 2002.
Bibi says she rarely sees weavers or other crafts people using acid for garments now. She hopes in the future that she will rarely see survivors bearing the scars of acid violence.
The ASF Ball 2006, sponsored by Grameen Phone, was held on August 31 with the Daily Star editor Mahfuz Anam giving the key note address to a crowd of more than 450 at the Sheraton Winter Garden.
The Ball was expected to raise about 5 lakh taka for survivors of acid violence, to help with their medical, social, legal and psychological rehabilitation. It would also help with creating job opportunities and other economic support. ASF hopes that one day its fundraising Balls will become a retrospective event, celebrating that yet another year has gone past without any acid attacks. For now though, there is still much to be done.
Copyright (R) thedailystar.net 2006