News Notes

More Matter and Less Art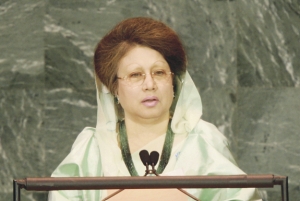 Anyone who has been following Khaleda Zia's speeches in the last few years must admit that the targets of her diatribes have changed significantly. In the opposition, she blamed India and Sheikh Hasina for all the troubles she said the country had been plagued with. As soon as she has got power, she has dropped India from the list of public enemies, and, things that had once threatened to make Bangladesh "a subservient state like Sikim", suddenly became as amorphous as a ghost. In her lingo Hasina retains the role of Public Enemy No One, but, all on a sudden we realise that, as Khaleda is the Prime Minister now, no-one is going to take the trouble of making Bangladesh a subservient state any more.
People must have stopped taking these seriously. Must we remember how after some grisly bomb-blasts she has seen the perpetrators in those who want to tarnish the country's image abroad?
Khaleda has changed her tune lately; she has started seeing ghost enemies everywhere. To the army men she is saying that there are some people in the country trying to divide the armed forces so that the next elections do not happen in a free and fair environment. And for the rest of the populace she has a free-for-all theory at her disposal: "Elections will be held in due time, caretaker government is going to take over in October".
Creating division in the army is a serious issue, and it should be dealt with seriously. It is not something that can be said on the spur of the moment, just to catch the next day's newspaper headline. As the Prime Minister, Khaleda Zia must know that it is her job to nab any such criminals, if they are for real. If she fails to do so, she must admit failure before she opens her mouth again on such a matter in the future.
But, with alarm we observe that Khaleda has not acted in that direction as yet; and there are reasons to believe that this is mere rhetoric she is chasing a wild goose that does not exist, and she thinks we are fool enough to join her in the chase.
One thing is for sure, the bearer of this idea, preposterous, as it is, mistakes ordinary citizens for fools. Someone at the height of arrogance can only do something so barefacedly, and we all know that the dustbin of history is full of names whose holders had thought they were indispensable.
Biman's Day Long Strike
Officials and employees of Bangladesh Biman on September 3 called an indefinite strike at airports across the country. The strike was to take effect from Sept. 7 to demand measures to make the national carrier solvent. Ten trade bodies of Bangladesh Biman joined to form Biman Sammilito Sangram Parishad (BSSP) to protest its suffering financial condition and bad reputation. "Our only demand to the government is now for immediate allocation of the funds Biman needs to bail itself out of the acute financial crisis," said leader of the Bangladesh Airline Pilots Association (BAPA). The leader also suggested that a conspiracy might be about to introduce foreign airlines in the country at Biman's expense. The strike, however, was suspended the following day after the state minister for civil aviation and tourism assured them of solving their problems. The minister had gathered some funds and a committee had been created to ensure best utilisation of the fund. The committee is comprised of Biman managing director, director (finance), director (planning) and the BSSP convenor. He also assured the Sangram Parishad leaders that Biman would soon be paid the money they are due for hajj flights and for carrying VIP passengers. Some funds will also be allocated for buying new aircraft. ''We asked for Tk 1200 crore and have been promised a sum. But for some strategic reasons we won't disclose the amount, '' said Helal, another leader of BAPA. Last year, Bangladesh Biman incurred a loss of around Tk 1,000 crore. Faced with severe financial crisis, it is now unable to pay salaries to its employees. Sources say that the finance minister Saifur Rahman blasted the Biman authorities for not having a cost-reduction strategy and contingency plans to get through financial difficulties. Blaming the current situation on mismanagement, Rahman said, "They have long been in the crisis, yet they didn't bother to take any meaningful initiative." On the other side of the coin, the employees of Biman say that the current state of the airline is due to massive corruption of some top officials. While everyone is engaged in the blame game, some serious measures need to be taken to solve Biman's problems once and for all as it continues to bleed Bangladesh's finances dry.
Welcome, Insaf

Religion-based politics seems to be quite the "in" thing now. With Jamaat-e-Islami and Islami Oikyo Jote already part of the currently ruling coalition, Ahle Hadith Andolon Bangladesh, fondly called Ahab, says it's on its way to defeating the alliance in the next elections. Its party, called "Insaf", is yet to be floated, but it has ambitious plans of putting up candidates for 60 to 65 seats, mainly in the northern districts of the country. It hopes to win 20 to 25, defeating the BNP-Jamaat candidates.
The members of Insaf (meaning justice), apparently voted for Jamaat in the last elections, but are feeling rather betrayed as an Islamic state has not yet been established. To add salt to the already festering wound, the party's general secretary, Nurul Islam, claims they (Jamaat) had their (Ahab's) ameer, Rajshahi University teacher Muhammad Asadullah Al Galib, arrested. (Former Ahab arrestees also include Nurul Islam himself, along with Shaikh Abdus Samad Salafi and ASM Azizullah, President of Ahab Jubo Sangha. They were arrested on suspicion of being the masterminds behind the suddenly-surging Islamic militancy in Bangladesh.) According to Nurul Islam, however, Galib was arrested for writing against Jamaat, who, if he kept at it, would have revealed the dirty deeds of the party, committed in the name of Islam. Thus the party's 3 crore followers are out to seek revenge against the traitor alliance come election time.
Chanting and slogans against the coalition's misrule marked the pre-party-launching parade and procession of Ahab earlier this week.
BNP Rally Creates Havoc for Commuters

From noon to evening on September 3rd, commuters all over Dhaka City were faced with the enormous task of trying to reach their destinations. As if the traffic wasn't bad enough on a normal day, the ruling party BNP brought out a huge procession to mark their 28th founding anniversary from Nayabazar all the way to Gabtoli, and in between created havoc for commuters.
Many people did not come out on the streets in anticipation of the rally, which was publicised heavily for quite a few days. But those who had to come out were held up for hours on end at different points in the city. Many people were seen getting off their transportation to take a faster route by walking.
As late as 9pm people were seen either walking home from work or waiting for transport which was rare because many rickshaws and CNG auto-rickshaws remained absent from the roads.
One good thing to come out of all this was perhaps that Dhaka City Corporation (DCC) removed all the garbage containers from the procession routes and a large number of cleaners were employed to sweep the roads.
BNP Secretary General and LGRD and Cooperatives Minister Abdul Mannan Bhuiyan tried to appease the city dwellers by asking them to excuse the ruling party and its front organisations for the traffic jam resulting from the procession.
Copyright (R) thedailystar.net 2006