Venture
Leading Bangladesh's Retail Revolution

SRABONTI NARMEEN ALI
Throngs of people assembled on Rd. 27 in Dhanmondi on Friday, June 24th for the launching of Etcetera's second outlet. The 20,000 square foot Dhanmondi outlet comes complete with books, perfumes, clothes from local distributors and chains such as Yellow and Artisti, home furnishings and appliances, gift items such as watches from a range of international brands including Tissot, Pierre Cardin and Rado, music and much more.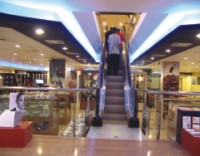 Although Etcetera originally started out as a bookstore it expanded into one of Dhaka's first non-essential commodity retail outlets.
"The reason for the expansion into other items was honestly just a sheer desire to prove that Dhaka could actually have and sustain a lifestyle store with very affordable commodities that are not essential to every-day lifestyle," says Maher Murshed, Managing Director of Etcetera Bangladesh (Pvt) Ltd. "I feel that these commodities should still be available to the people. People may think that we are catering to a niche market, but our market is not as small as people think. I think this lifestyle category market is a fairly large and growing segment of our society. A lot of the products that we sell fit in to a certain lifestyle, which include middle income, dual earning families."
However, despite this expansion, Etcetera's best selling item still remains books. There is a special children's section, called the Kids corner, which provides children with a comfortable reading environment.
The bookstore also holds launches and book signing events, the most recent being the launching of Farzana Shakil's book titled, "Looks." Shakil is one of Bangladesh's top-notch beauticians and her book launch took place on June 25-26 in both the Gulshan and Dhanmondi outlets. After an open discussion session, Shakil gave free make-up sessions.
"Some of our most popular books are self-help and home remedies," says Murshed. "We first started the bookstore with the idea that we wanted to develop and encourage readership in Bangladesh. We also offer books from over 20-30 different Bangladesh publishers because we want to promote Bangladeshi authors and books from the country. Our readers are still our best customers and for that reason we have catered to our readers in whatever way we can. We have taken suggestions made from them and implemented them into the structure and the environment of the Dhanmondi building"
As a special treat for Etcetera's book lovers, the new outlet provides seating arrangements on the first and second floors for people (due to popular demand) as well as a quaint coffee shop situated on the second floor of the building. This all adds to the pleasant atmosphere that the Etcetera management is gearing towards.
"The thing that sets Etcetera apart is our enjoyable
shopping environment," says Murshed. "It is not as if we are selling products that are exclusively found only in our store. In fact, most of the products that we sell in the store can be found in many other stores in Bangladesh. What we wanted to see was whether a nice shopping environment would make the consumer avoid the corner store and go to a big shopping outlet instead."
Judging from the turnout the turnout on Friday, it seems to be safe to assume that quite a lot of people will be avoiding that corner store and instead, spend a leisurely afternoon reading a book on the chairs near the shelves, shopping for gifts and clothes, meeting friends at the coffee shop and generally enjoying the experience of shopping at Etcetera's new and improved outlet in Dhanmondi.
Copyright (R) thedailystar.net 2005