Endeavour
Classics Revisited
Hameem Muhammad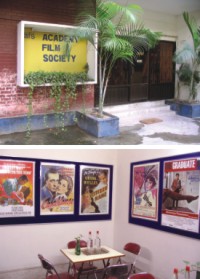 Poster of Hollywood classics adorn the walls giving the place an aura of the world of good cinema.
At a time when Dhakaites are becoming increasingly dependent upon personal computers, DVD players and satellite channels for entertainment, the Academy Film, Bangladesh at 21/C Jigatola, Dhanmondi is a pioneer among a few societies that have made a valiant attempt to revive the age-old movie going culture.
It wasn't so long ago when most middle-class families in Dhaka used to turn to movies and theatres as their prime source of entertainment, especially on weekends. But that culture started to fall out with Dhakaites largely due to the decrepit condition of cinema halls, poor quality shows, and last but not the least, listing of tasteless and vulgar movies. The decline in the culture itself has brought in some constraints onto the society in terms of far less scope for quality evening outs in the city.
Academy Film Society (AFS), Bangladesh, a solo endeavour of Shafik Rehman started its journey back in the latter half of 2002 with the promise of providing quality entertainment. What's really special about this society is that it brings in a wide array of films ranging from exclusive documentaries from South Africa to independent films from the Sundance Festival, classics from the French New Wave and award winning movies from the rest of the world. Each movie is prefaced with a short discussion on the backdrop and the impact of the film. Many of the rare films being showed come from the personal collection of Shafik Rehman, Director of AFS, also the founding editor of Jai Jai Din, a Bangla periodical. The auditorium hall, though equipped with a 9' x 6' feet LCD screen, Dolby sound system and Bose speakers, is a bit too small with a maximum capacity to accommodate around 40 people at a time. But the overall ambience is what an avid movie aficionado would crave for.
Now in its third year of journey, the society already boasts a member base of over 800. To become a member, one has to be at least 18 years of age and pay a yearly subscription fee of Tk 200. If you're already a member you'll be able to enjoy the privilege of bringing along non-members to the shows. For each show, the AFS charges Tk 25 and Tk 35 per ticket for members and non-members respectively. All the shows usually start at 6 in the evening and continue till 9 at night on working days, and on most government holidays the timing is rescheduled from 3:30 pm to 6:30 pm.
The film club also has a small but neat cafeteria and two rooms named after eminent film personalities Alfred Hitchcock and Marilyn Monroe for open discussions on films. Aside from the main objective of showing movies, Academy Film Society arranges get togethers all round the year to celebrate different cultural events like Borsha Boron, Chaitra Songkranti etc.
"One of the reasons, for which I prefer coming to the AFS to other places is that the collection of movies over here is more varied," says Oyon who is a frequent visitor at the society. "Many of the films screened over here are largely non-marketed items in our country. Being a regular visitor has invariably confounded the preconceived notion I had had that good movies are churned out only by Hollywood and a handful of European countries; it's amazing to see so many exceptionally good films coming from other parts of the world as well."
"I think the place is cool for hanging out as well, I often come here in the company of my friends to enjoy a brief hiatus," says Priyanka, another regular visitor at AFS.
With hardly any respite from the mundane, hectic schedule of city life, an evening out at the movies could be something both your body and mind is yearning for. So why not take the opportunity to enjoy the long due break within the comfy confines of the dimly lit hall? Happy movie going!
Copyright (R) thedailystar.net 2005