Cover Story
Fighting a Disabling System
Kajalie Shehreen Islam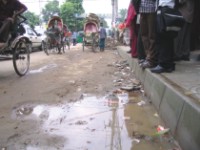 The streets of Dhaka are hostile towards the disabled
In many western countries -- in Canada and the US, for example -- everywhere you go, you come across wheelchair signs demarcating separate areas for the disabled. From doors and washrooms to parking spaces, whatever the mainstream have access to, so do the disabled. This is the basic demand of the physically disabled in our own country -- to be included in the mainstream. Not to be favoured with special treatment but to have access to what everyone else does.
Tahmina Rahman suffers from a disease of the nervous system which has weakened her arms and legs. She has trouble climbing stairs, walking long distances and on uneven roads. She could not go to school or college in her home village near Feni. More than the physical difficulties of getting to school and back, it was the teasing by fellow students that Tahmina could not take. She studied at home and only gave her exams at the school. She later went on to do her Bachelors from Dhaka University but discontinued her Masters degree at Eden College because, she says, "the system hasn't changed at all." Tahmina writes slowly and cannot continue after writing for some time. When she was doing her Masters, there was no provision for an attendant who would write down what she would dictate in exams. When she went for a short course to the United Kingdom, however, Tahmina was allowed an attendant during her exams. She was also able to take some exams orally.

Numerous steps make going to the mall a formidable prospect for the disabled
Tahmina is currently working as a project officer in the gender equity programme at Oxfam. She has made arrangements for herself regarding flexible timings, travel facilities and so on. Besides work, however, her social life, entertainment, etc., are limited.
"
Our mobility is very limited," says Tahmina. One reason is the transport system, she points out. "Where I would take rickshaws to travel short distances, rickshaws have been banned," she says. "So even though I have big malls and movie theatres within walking distance of my home, I can't go to them because it's not possible for me to walk that far. And if I do somehow get there, it's not possible for me to climb the steps."
More than the system, the problem is the mentality of our people, says Tahmina. Rickshaw-pullers, CNG auto-rickshaw drivers, all ask for more than double the fare from disabled passengers. As for asking someone on the street to help her climb a few steps or cross the street, Tahmina has to think twice. "Most people don't want to help," she says. "Some take advantage of your helplessness and try to sexually harass you, and others, like a police sergeant I asked to help me cross the street recently, say things like, 'Why do you come out of your house?'"
Instead of helping the disabled, people actually exploit them and put them at a further disadvantage than that from which they are already physically suffering.
Even freedom fighters rendered disabled during the Liberation War do not have access to the Shaheed Minar or Sriti Shoudho
According to World Health Organisation (WHO) statistics, 10 percent of the 14 crore population of Bangladesh are disabled. Shahidul Haque, chief executive, Social Assistance and Rehabilitation for the Physically Vulnerable (SARPV) estimates the figure to be at around 7.5 percent. That leaves almost -- if not more than -- some one crore people disabled. Of them, 50 percent are below 15 years of age, says Haque. But when you go out on the street, you hardly come across any disabled person -- except those who beg on the streets. There is no law banning disabled persons from leading normal lives, but this is essentially what our social system does.
There are no rules against admitting disabled students into school, for example, says Shahidul Haque, but school authorities themselves hesitate because they don't know how to deal with it or how other students will deal with a disabled child. Haque mentions a child with a cleft lip who was refused admission in a Mohammedpur school even after coming first in the admission test. "Once journalists got on the case and started questioning the school authorities, they wanted the child back but this time we refused and sent the child to a different school," says Haque.
"You won't find even two physically disabled students attending classes at Dhaka University (DU)," says Haque, "simply because they can't. DU has 12 blind students, but when you think about the fact that there are no Braille books, you wonder how they came this far."
"We don't want separate schools, institutions and facilities for the disabled," stresses Haque, himself affected by polio and a bullet injury in the legs during the war. "We simply want fair access to what everyone else has access to." He mentions how a disabled freedom fighter could not visit the Shaheed Minar because his wheelchair could not go up the steps. Such monuments do not even symbolise the bloody war we fought, where so many people lost their limbs and gave their lives, says Haque. "It's as if independence was simply handed over to us."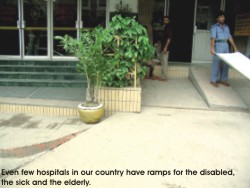 After this was brought to the attention of the DU authorities, they promised to have a ramp installed by next Ekushey February. In the meantime, after much lobbying, a ramp has been added to the Sriti Shoudho in Savar. But, says Haque, it is way at the back, out of sight and almost useless. "It's like an eyesore, something that shouldn't be seen," he says.
"We don't want a separate pathway for the disabled," he continues. "We want one which we, as well as regular people, can use. We're not asking for a separate Shaheed Minar or Sriti Shoudho. We simply want access to what already exists."
This is, basically, the demand of the disabled: to be able to equally avail of facilities. They feel the need for inclusion, for mainstreaming, to not be held back.
Haque emphasises four areas in which mainstrea-ming is necessary for the disabled: education, employment, movement and marriage. By mainstreaming Haque refers to bringing the disabled into the mainstream, not by providing extra facilities for them, but by providing equal access and opportunity to the disabled.
The government's "education for all" and "education for girls" schemes, though not theoretically excluding disabled children, do not include them either. Haque conducted an experiment of sorts in Gazipur where he found no disabled students going to school. Only when he specifically mentioned that disabled students would be given an additional 100 taka as conveyance (along with the government stipend of Tk 200), did many disabled students begin to come to school. When asked why they did not come before, they said they did not know that they were included in the programme.
"In our country," says Haque, "a disabled child is not a boy or a girl. He or she is simply a disabled child." Disabled people are not considered, and thus do not feel, a part of the mainstream. "Education for all" cannot exist when 10 percent of the population are excluded, says Haque.

"In our country, a disabled child is not a boy or a girl but simply a disabled child," says Shahidul Haque
The same goes for employment, where the disabled should be given equal opportunities to prove their worth. The prime minister recently announced that a one percent quota would be reserved for the disabled in the Bangladesh Civil Service (BCS), mentions Haque. But this has not been advertised. "People do not even know about this provision, let alone make use of it," he says. "Such moves must be announced in circulars, in employment advertisements in order for people to know about them."
With regards to movement and access, special provisions will be needed. For example, rickshaws carrying disabled or elderly passengers should be allowed on otherwise rickshaw-free roads. Entrances to parks that have revolving gates should be wide enough to let in passengers on wheelchairs. Shopping malls which have elevators all the way up to the top floor become inaccessible for the disabled when they cannot climb the first few steps to the ground floor. Buildings should be planned in such a way so as to be accessible to the disabled. In our country, not even all hospitals have ramps for the disabled or the sick.
It is Haque's firm belief that facilities for the disabled, the sick, the elderly and pregnant women are a common denominator as facilities for everybody. "If you keep these people in mind," says Haque, "you will automatically be including every member of society. If these people have access, so does everyone else."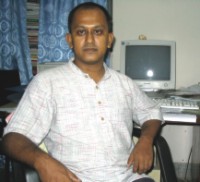 Mayeen became demoralised when he could not study surgery because of a slight dislocation of the arm
Haque gives the example of village schools where toilets are quite a distance away from the main building. "Not only can disabled students not go to the toilet," he notes, "but many regular students don't go either. They are reluctant to stand in long lines in the rain to go to the toilet. Thus they don't drink enough water so they will not have to go and often they fall sick."
"We have the resources," says Haque. "Tk 25 crore has been allotted for the disabled. But this is spent in the form of monthly stipends of Tk 200 for each disabled person." While this may help the elderly or those unable to work, it is not enough for everyone. For those who can work do not want charity. What most people need is support -- both social and logistical. Haque believes that with the existing resources, simply the presence of disability-sensitive people at every decision-making level could bring about useful changes.
"When an office or a shopping mall is being designed," says Haque, "the presence and input of one disability-sensitive person can make that building accessible to the disabled."

Getting on the bus, which is a challenge even for the able, is almost an impossible feat for a disabled person
But creating this sensitivity is at the root of everything. Where fellow classmates make fun of you because you "walk funny" and where you're questioned why you venture out of the house with your disability, awareness of the problem is key. Even in this day and age, many people regard disability as a curse, a punishment for bad deeds. Many people also regard any sort of disabled person as unable to bear children. This is also where the problem of marriage comes in, where a physically disabled person is automatically struck off the list, unless compensated for with higher dowries which can include everything from greater cash to the promise of a job to a marriage with a more severely disabled partner. Some people even divorce their spouses if they become disabled after marriage.
There are many myths and misconceptions about disability that need to be cleared. And this knowledge and attitude formation must be done at the most basic stages, says Tasnim Siddiq, also struck by polio in childhood. "It has to start from the home and school," she says. "Developing this mindset is more important than framing policies."
Tasnim cites the example of a friend who uses a wheelchair. "Bus drivers never want to take him just because it would take an extra minute or two to get him on the bus," says Tasnim.
Tasnim's husband, S M Mayeen Ahmed, executive director, SARPV, suffers from a slightly dislocated arm. He still remembers a scouting expedition in his younger days in which one of the teachers had commented that where the team leader (Mayeen) was "baka" (bent) how would the team be "shoja" (straight)? Tasnim herself went for a job interview in which she was asked whether she could do field work, and though she said she could, she was refused the job because the prospective employers simply assumed that she couldn't. Today Tasnim is a deputy programme officer at DFID.
Obstacles at every bend -- from crossing the street to getting on a bus, from going to school to getting a job -- get in the way of every disabled person. They begin consciously to avoid people and places in order to avoid the humiliation and hassle of being "different". This also makes counselling necessary, something that is hardly available in our country. People like Mayeen, who get frustrated after not being able to become a surgeon because of their physically disability, feel the importance of counselling to help them recover and guide them forward. "It is important that you don't feel excluded," says Mayeen, "that you come out into the world and do what you can do. Lack of this education is probably the biggest barrier for a disabled person." Many a physically disabled person could do much to contribute to the society through the work they can do but society and the system get in the way.
Facilities for the disabled should not be seen as an additional development issue but as a core one, says Tahmina. "We are citizens of this country!" But more than developing new facilities and framing new policies, utilising and implementing the existing ones is what is important, she believes. She cites the example of the auto-rickshaw driver who asks for exorbitant fares or refuses to go short distances. "If these service-providing agencies were sensitive to our needs or even just simply doing their jobs, there would be no problem," she says. "If this sensitivity existed, we wouldn't even need to enforce policies."
For Shahidul Haque, it is not nature that discriminates against the disabled but development. "When classes were held under trees in village schools, I didn't have trouble attending them," he says. "It was only when buildings went up, stairs were built, classes were held on first and second floors that I couldn't climb them or I feared that my crutches would slip on the shiny floors."
There are a lot of things disabled people cannot participate in, says Haque, like sports. But there are also many things in which they can, whether it be singing or reciting the Quran at school functions. The attitude of teachers or whoever is in charge must be to include everyone in whatever they may be able to do. This includes the disabled, who should not be seen as a sore thumb but as one of the whole group.
Whatever the programme, whatever the objective, every member of society must be addressed and have access. Sex education, for example, also needs to be addressed to the disabled. A deaf person may very well be sexually active, says Haque, but he/she must be informed about safe sex. There are fancy hospitals, diagnostic centres and doctor's chambers, says Haque, but a person in a wheelchair or on crutches can't even reach them on the upper storeys or across slippery floors.
Haque cites another example of currency notes which, after the Pakistan era, were all made into the same size. "How can a blind person tell the difference between a 50 taka note and a 500 taka note if they're all the same size?" questions Haque. Again, after much lobbying, a system of dots on the different denominations of notes has been started. But, according to Haque, they are so smooth that a blind person will not be able to feel them and tell the difference.
Development is based on power and not on needs, says Haque. Which is why we go around constructing roads and buildings and taking rickshaws off the streets so that a certain class can benefit. The needs of the disabled are not addressed as a core issue in any major development programme, not even the Millennium Development Goals. "There cannot be true development where 10 percent of the population are not even considered," says Haque.
Shahidul Haque dreams of a Bangladesh where the able and the disabled live, work and move together on equal footing. This is what he means by mainstreaming -- where a crutch or a wheelchair will not hold a person back but where the social structure and infrastructure will enable them to avail the same opportunities as everyone else. This could easily become a reality with simply a ramp in each building, wheelchairs for hire in public places and, most importantly, sensitivity toward the less advantaged. Considering the changes that could come about in society from such small adjustments, it really is not asking for much.
Copyright (R) thedailystar.net 2005