Art
RealityBitest

Mustafa Zaman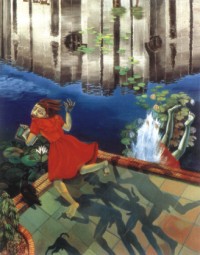 Louis Kahn's Dreams, acrylic on canvas.
Nazlee Laila Mansur started out as an observer of social contradictions. In her tableau modern day realities got depicted in their stark directness. She used to highlight the contrast between rich and poor, women and men. The place of the middle-class woman too had been a mainstay in her canvas for more than a decade. Her transformation from the witness to the social phenomena to the disillusioned artist who is ready to renounce her own past artistic efforts by showing them as bed covers or curtains, was a slow one. "My recent works question the very idea of art as a social criticism. In the matrix of market economy even a significant artwork can be transformed into a usable commodity," says the artist who took a decade or so to come to this realisation.
Nazlee's works can be catagorised in three different phases. She picked her best works for this fourth solo exhibition at the Bengal Gallery of Fine Arts. "It is almost like a retrospective, there are works that date back to 1993. I have accumulated works of the three phases, yet I had this theme at the back of my mind, which is 'agony'. I tried to pick the ones that is expressive of this theme," Nazlee explains. She calls her exhibition "Metaphor of Agony" and in it her best efforts of the last 12 years has been encapsulated.
As for the three phases that she went through, the first one brings into view the social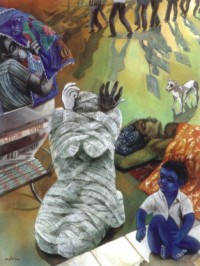 Bandaged Bondage (city), acrylic on canvas
spectrum where outdoor scenery becomes the means to shed light on the contradictions that seem natural to most of us. The artist seems to have been a silent witness, one who sees all and chooses a segmented view to bring the reality to the fore as it happens. "whereabouts" is a work of this nature, where a girl in red, probably a prostitute, sleeps in a median while a man looks on from his car. A boy on the left and a crow on the top makes the scene look like a commonplace happening.
Uncommonness in commonality is harped on in another work titled "The Flute Player." Here, a dark-skinned flute player takes the centre stage, and a middle-class lady on a rickshaw turns to have a look at this lower-class denizen of musical inclination. The girl on a swing and boy at the see-saw are the usual phenomena put in to make the unusual look natural. In these works of the nineties, Nazlee engages in story-telling that sometimes even borders on the critical. "Poverty, and the place of women in our society was what used to incite my emotion back in the 1990s. It still does, only now I employ imagination to make the commentary more poignant," clarifies the artist. Such poignant commentary is to be found in the diptych called Luis Kahn's Dream. "Tisha, a little girl who was chased by young men and drowned while the men looked on is shown in the work 'Luis Kahn's Dream (Girl).' Here I've put the reflection of the famous parliament building by the famous architect to bring the irony to the fore. There are women in the highest seat of law. They rule the country but the irony is that the common women's lot has remained unchanged," laments Nazlee.
In her other picture of the parliament building that she calls 'Louis Kahn's Dream

Usable Painting (on sofa), acrylic on canvas.
(Rupanzel)' a man hangs on to the long hair of a red-sari clad women, while on the foreground a lady on a boat mourns her child's untimely, unnatural death. It is a sarcastic as well as a serious attempt at bringing the futility of having a parliament and its 'law-abiding', 'elected' denizens to light.
The Louis Kahn pictures, painted in 2002, are a diversion from the phases her other works adhere to.
In the paintings that belong to her second phase, Nazlee depicts herself wrapped in bandage. "I call this series 'Bandaged Bondage' as I imagine that since we are able to discern the social ills but are unable to do anything about it, it resembles something like a state where we are in a bondage which produces an anaesthetic state," says
Nazlee whose works of the second phase stand proof of her diligent detailing of trees, humans and even grass.

Whereabouts, oil board
It is in the third phase that the artist has finally woken up to the fact that "no matter what we tackle or criticise in our pictures as an artist it has no repercussion in the real world. My works, in this era of consumerism art is nothing but another item which can easily be transformed into a commodity -- a means to decorate the homes." This realisation has prompted the artist to do a series where she drew on her early works, turning them into bed-sheets tablecloths, or even curtains in plush interiors.
Through gripping visual story-telling paintings Nazlee has successfully made a lot of Dhakaites gallery-bound. As for her artistic achievement, one telling sign is that her works grow in accretion. "It takes me two to four months to finish one painting, so it was practically impossible to arrange a show of only my recent works." The artist confesses that the process of coming up with an idea even takes a longer period of time. "I do several sketches, too many in fact, to find out the perfect composition to convey the message clearly," relates the artist. Few of her sketches ended up on the wall of the Bengal Gallery, where her solo exhibition was inaugurated on June 23. The show will last till July 6.
Copyright (R) thedailystar.net 2005