Jogo Bonito, The Beautiful game. It is a phrase that will always be associated with Brazil. The five-time World champions have had some great sides in the past and while their style faltered in recent World Cups, Tite has revived Brazil for the Russia World Cup.
After disappointments in the last few World Cups, Brazil it seems are once again out to please their fans as they managed to form an incredible side for the Russia World Cup.
What will Brazil look like at this World Cup?
In terms of team composition, this is a classic Brazil side with good overlapping fullbacks, midfielders who can run from box to box and attackers who can create.
'Style of Playing'
Brazil's preferred style, known simply as Jogo Bonito is a style that involves short passes into space from where players can destabilize opposition defences with dribbles or quick one-twos.
Brazil likes to flow through their attacks and their technical ability on the ball allows them to build swift effective counter-attacks with ease.
Movement, trickery and one-touch passes combined with the team moving in unison are some of the trademarks of Brazil attack.
Biggest strength
Their biggest strength is that unlike 2014, Brazil will not be overtly reliant on Neymar as the sole creative force.
Weakness
The only thing that could stand in Brazil's way is overconfidence. However Tite is a manager who focuses on the collective rather than the individual and he will ensure that overconfidence does not get the better of his side.
Brazil in Group E
Brazil were pitted against Serbia, Switzerland and Costa Rica in Group E. Tite's team are expected to ease through to the top of Group E with relative ease.
Formation and Tactics
The Selecao will line up in a 4-1-4-1 with Jesus up top and Casemiro in front of the back four. Neymar and Willian will be the wide players on the left and right side respectively.
For Brazil, every player has a defined role both in offensive and defensive phases. Without the ball, they form compact structure to deny spaces to opposition's most threatening players. Tite saw what happened to Brazil in that fatal 7-1 defeat to Germany at the 2014 World Cup and to cure that particular condition, he ensured that Selecao play a higher defensive line. The compactness of the defensive and the midfield lines mean there is less space to work with for the opposition.
The midfielders mark opposition players zonally and will only 'step out' when an opponent player is near their zone.
This has meant that Brazil take fewer risks while defending without being too defensive minded or reactive out of possession. So when pressing is good and they can take the ball away from the opposition, there are more opportunities to attack on transition.
Tite likes to see his side play direct football whenever possible. The vertical aspect of their attack cannot be understated. Brazil like to draw in the opposition before catching them off balance with lighting penetration and quick vertical passes from Marcelo into Jesus and Neymar. Tite's Brazil are also good at holding onto the ball and it is one aspect which will be crucial in the latter stages against the big sides.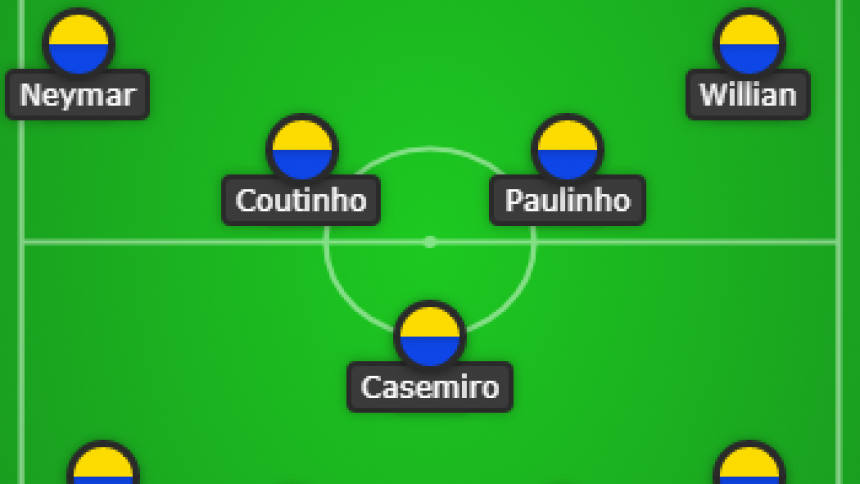 Key Players
Brazil have star players strewn across the pitch. You look to the left of the pitch, there is Neymar, the wonderkid capable of turning a match on his head. A little further up the pitch towards the centre? There is Gabriel Jesus who will keep the defenders quiet and focused on his off-the-ball movements.
A winger who can also come inside to provide options with dribbles and direct runs into the box? Roberto Firmino can do just that and is another player who can excite at the World Cup in Russia.
Positioned slightly behind Neymar, Brazil have Philippe Coutinho, a midfield playmaker who is apt at taking on opposition players with quick feet and trickery in small spaces and free up the chief playmaker Neymar with space to attack. Give him enough space and time to shoot? The Brazilian has a great long-range shot on him and he likes to pull the trigger from distance -- as was evidenced by his strike against Real Sociedad in Barcelona's last La Liga match. A gem of a player, Coutinho is a quick mover off the ball, capable of running between the lines and channels to provide option to passers. No wonder Barcelona got him for a whopping 160 million euros, making Coutinho the third most expensive footballer in history.
Brazil have trickery, flair and pace on the right side of the pitch as well, something that makes them a truly fearsome side. 
Chelsea's Willian has shown that he can drift in from wide positions to score goals. While his final ball is lacking, when he can connect with players like Coutinho and Neymar he will provide serious flair to Brazil attack. If that is not enough, there is winger Douglas Costa with pace to burn. He is another player who is really good on one-on-one situations.
When it comes to defensive midfield positions, Brazil have quality and depth. Real Madrid's Casemiro, the destroyer in midfield is not only capable of making the short and quick sensible passes under pressure, he is also very handy at man-marking jobs. Casemiro will provide balance to the Brazil midfield and was pivotal to Zinedine Zidane's Real. He will be the wall in front of the back four at Russia. If the stars upfront get overzealous in attack and lose possession, Casemiro will be there to clean up the mess and he will have help in that regard in the form of Paulinho.
A box-to-box midfielder, Paulinho has played under now Brazil coach Tite at Corinthians and the coach has called on his former midfield man once more. He formed a deadly partnership with Lionel Messi early on in the season with FC Barcelona and ended up as the highest-scoring midfielder in Spanish La Liga.
He has important technical and physical qualities. He arrives in the area from deep and breaks through lines with well-timed runs. With playmakers like Coutinho and Neymar in the side, Paulinho will be crucial. If Paulinho and Casemiro start for Brazil, they will still be able to call on the services of Manchester City's Fernandinho to add depth to their defensive midfield – someone who can come off the bench to close off games.
Fernandinho is another versatile player who has improved significantly, playing for Manchester City's Catalan manager Pep Guardiola. He has been used as a ball-playing centre-back on a couple of occasions by the City manager.
Renato Augusto was Brazil's hero of the World Cup qualifiers and the China-based midfielder was the cornerstone of Tite's success. He will give the other midfielders serious competition for a starting berth at the World Cup.
Brazil just are not Brazil without flying wingbacks and on the left-hand side, they arguably have the two best left backs playing the game right now. Real Madrid's Marcelo has become the best left back in the world. His array of skills and his hunger to drive forward with the ball and link up with Neymar will see Brazil stretch opponents' backlines at the World Cup. Atletico Madrid's Filipe Luis is a steely left-back who can play as back up to Marcelo or be used otherwise according to Tite's wishes.
While Brazil will be missing veteran right-back Dani Alves in their ranks, they will have Man City's Danilo to move up and down the Brazil right flank. He has the ability to play in both flanks and many would argue his left footed crosses were equally as dangerous as his right footed ones.
Young Corinthians right-back Fagner was called up to the squad following Alves's injury and he would compete with Danilo for a spot in the starting lineup.
Alisson, who features for Serie A side AS Roma has been the regular first-choice keeper for the last two and a half years. He is assured of his responsibility, never letting Brazil down. Ederson will be back-up goalkeeper for Tite. The Manchester City goal-keeper is very adept at playing the ball out from the back and that is something that Brazil could use at the World Cup.
Up top Brazil have Gabriel Jesus, who was the top-scorer in the World Cup qualifiers for Russia 2018. Most importantly, he formed an organic partnership with the Neymar and Coutinho – a partnership that has already given Brazil fans much joy.
Neymar is Brazil's jewel in the crown. Their main man. The 26-year-old saw from the stands as Brazil were humiliated by Germany four years ago. Now with an Olympic gold and a number of silverware on the club level added to his trophy-cabinet, 2018 could prove to be the year for the mercurially talented forward.
The backline is comprised of the experienced Thiago Silva and PSG teammate Marquinhos. However, Inter Milan's Miranda has been the undisputed starter for Tite's Brazil. What the Selecao's coaching staff like more than anything about the experienced central defender is the energy, agility, and commitment he brings to his game, and his ability to win 50-50 balls.
From the ashes of that historic 7-1 defeat to Germany, Brazil have become a fascinatingly brilliant side and connecting all these dots is their coach Tite. A disciple of Luiz Felipe Scolari, Tite has managed to transform a seemingly fragile and clueless group of players under Dunga into a winning machine over the last 22 months. He too is a believer of the beautiful game but not one to duel in only aesthetics, he has added steel and assurance at every level in this fascinating Brazil side.
Brazil Squad
Goalkeepers: Alisson (Roma), Ederson (Manchester City), Cassio (Corinthians).
Defenders: Miranda (Inter Milan), Marquinhos (Paris Saint-Germain), Thiago Silva (Paris Saint-Germain), Geromel (Gremio), Marcelo (Real Madrid), Fagner (Corinthians), Danilo (Manchester City), Filipe Luis (Atletico Madrid).
Midfielders: Casemiro (Real Madrid), Fernandinho (Manchester City), Paulinho (Barcelona), Renato Augusto (Beijing Guoan), Philippe Coutinho (Barcelona), Willian (Chelsea), Fred (Shakhtar Donetsk).
Forwards: Neymar (Paris Saint-Germain), Gabriel Jesus (Manchester City), Firmino (Liverpool), Taison (Shakhtar Donetsk), Douglas Costa (Juventus).