Seven candidates running with the "sheaf of paddy" electoral symbol were attacked allegedly by ruling party men yesterday while 130 supporters of the Awami League and the BNP were injured across the country in polls violence.
In Khagrachhari, minutes after a campaign office was attacked about a kilometre away, two people were shot dead at a market in Panchhari upazila in broad daylight. It could not be confirmed immediately whether the killings were election related.
Late last night in Nawabganj of Dhaka-1 constituency, at least 12 journalists were injured when they were attacked by masked men at a guest house.
BNP candidates Moudud Ahmed was attacked in Noakhali-5, Miah Nuruddin Apu in Shariatpur-3, Shaheed Uddin Chowdhury Annie in Lakshmipur-3, Lutfar Rahman Khan Azad in Tangail-3, Sabina Yesmin Chhobi in Natore-2, Sunsila Jabrin Priyanka in Sherpur-1, and 20-party candidate Monir Hossain was attacked in Narayanganj-4, reports our correspondents.
Annie and Apu were hurt in the attacks.
A clash erupted between supporters of Annie and AL men at Shantirhat Bazar area of Lakshmipur Sadar. Annie and around 25 BNP and 10 AL men were wounded.
Kushakhali union parishad AL President Nurul Amin said that it was the BNP men who attacked the AL supporters.
Officer-in-Charge (OC) Abul Kalam Azad of Chandraganj Police Station said law enforcers went to the spot and fired shots in the air to disperse the feuding groups. He claimed that two policemen were injured.
In Potti area of Shariatpur's Goshairhat upazila, Apu and 25 of his supporters were injured when attacked by allegedly AL men.
Syed Nasir Uddin, general secretary of Goshairhat AL, claimed that ruling party men were not involved and speculated that it could have been the result of BNP's internal conflict.
Moudud in a press conference yesterday alleged that AL men carried out the attack in Notun Bazar area of Kompaniganj. Five of his supporters were injured and two vehicles were vandalised in the incident.
Noakhali AL organising secretary Mizanur Rahman in a separate press conference at Kompaniganj claimed that Moudud was lying to get favours from the administration.
Kompaniganj OC said he did not know about any attack on Moudud.
At least five BNP men were injured when alleged AL men attacked BNP candidate Chhobi and her supporters when they were campaigning in Tebaria Bazar area of Natore.
Natore AL Joint Secretary Mortuja Ali said they did not know anything about the attack.
Abul Hasnat, additional superintendent of police (sadar circle) of the district, said law enforcers went to the spot and brought the situation under control.
BNP candidate Priyanka yesterday alleged that 19 of her supporters were injured when AL men attacked them in Ghughurkandi Bazar area of Sherpur.
AL candidate of the same constituency Atiur Rahman Atik claimed that it was the AL men who were attacked by BNP supporters.
OC of Sherpur Sadar Police Station said a running battle was fought by the two groups but no one filed any complaints.
Around 10 BNP men were injured and a vehicle was vandalised when the motorcade of BNP leader Lutfar was attacked allegedly by AL men in Atharodana area of Tangail's Ghatail upazila.
Dilruba Ahmed, assistant returning officer and UNO of Ghatail, said she had sent police to the spot after hearing the news of trouble.
Shahidul Islam, coordinator of the local AL candidate's campaigning team, denied the allegation of AL men's involvement and said the BNP candidate was spreading rumours to tarnish the image of his party candidate.
In Narayanganj, alleged AL men attacked Monir Hossain when he was campaigning near the main gate of Rupayan Residential Area in Fatullah upazila.
Narayanganj city AL Joint Secretary Sha Nizam said no AL men attacked Monir.
Mohammad Shajalal, inspector (investigation) of Fatullah Model Police Station, said he did not get any complaints.
Meanwhile, in Narsingdi, two people beat up Bahauddin Milton, personal secretary to BNP standing committee member and party nominee for Narsingdi-3 Abdul Moin Khan on Palash upazila nirbahi officer's office premises around 12:30pm.
In Pabna, at least 10 people were injured when AL and BNP men clashed over electioneering in Sagarkandi Bazar area of Sujanagar around noon.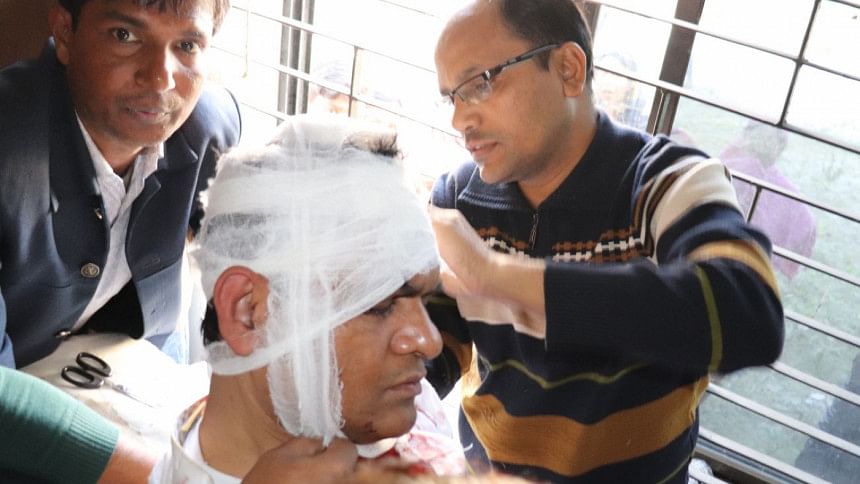 In Chandpur, another 10 were injured in a clash between supporters of he AL and the BNP in Haimchar upazila.
In Barishal, 10 AL men were injured in an attack allegedly carried out by BNP men in Pouroshavar More area in Banaripara upazila.
So far, motorcades and campaigns of at least 45 candidates of Jatiya Oikyafront and 20-party alliance have been attacked allegedly by AL men, according to media reports. Over 1,050 people, mostly BNP men, have been injured in the electoral violence since campaigning began on December 10.   
The army was deployed across the country yesterday to help ensure a peaceful atmosphere and maintain law and order for the December 30 polls.
Our correspondents in Chattogram, Mymensingh, and Jhenidah reported that Jatiya Oikyafront candidates and their supporters were gearing up their campaign activities after the army was deployed.
KHAGRACHHARI
Minutes after the election camp of Nutan Kumar Chakma, an independent candidate backed by United People's Democratic Front (UPDF), was vandalised and torched, gunmen opened fire at Pujgang Mukh Bazaar just a kilometre away.
Chikko Chakma, 24, a tea-stall owner from Lendia para, and Sohel Rana, 35, a road construction worker of Dohazari in Chattagram, were killed.
The UPDF claimed that Chikko was its supporter and in a statement to the press alleged that the attacks were carried out to "unleash a reign of terror in the hills and influence the polls by panicking people".
The UPDF blamed Parbatya Chattagram Jana Samhati Samity (reformist) for the killings and the attack on the election camp.
Tawhidul Islam, assistant returning officer and the UNO of Panchhari upazila, said regional groups trying to establish supremacy was the reason for the gun attack.
He told The Daily Star that the incident was not related to the upcoming polls. "I am not aware of any vandalism or torching of any camp in another area since I only visited the place of the gun attack."
Locals said seven to eight armed men went to market around noon and shot Chikko from close range killing him on the spot. Sohel, who was working on the road nearby, was shot during that time and he died of his injuries later.
Minutes before the shooting, another group of 10 to 15 men, some carrying firearms, attacked the election camp and torched it. They fired several shots during the incident, said a local wishing anonymity.
Nurul Alam, officer-in-charge of Panchhari Police Station, claimed that the killings were not related to the election. He said it was due to conflict between groups.
The OC said police reaching the spot found nobody there. They recovered the bodies from the scene.
Conflicts of regional political parties led to 43 people being killed in Khagrachhari and Rangamati in one year.
JOURNOS ATTACKED
About 12 journalists covering the election and campaigns were injured and 16 vehicles they were using were vandalised in Nawabganj when unidentified criminals attacked them at a guest house close to the Nawabganj Police Station.
At least 40 journalists and support staffers of Jamuna TV and Bangla daily Jugantor were staying at Shamim Guest House in Kolakopa Bandura area, said Jugantor's Senior Reporter Sirajul Islam.
He said around 10:30pm, 30 to 35 people covering their faces with scarfs stormed the guest house and attacked the journalists and staffers of Jamuna TV and its sister concern Jugantor.
In the 20-minute attack, they ransacked several rooms on the third floor and later vandalised about 16 parked vehicles, he said.
He claimed that the journalists were confined to the guest house and that Shamim Khan, Dhamrai correspondent of Jugantor, was missing since the incident.
Sushant Sinha, special correspondent of Jamuna TV, echoed Sirajul. Sinha, who was at the guest house, said they called the local UNO and the OC for help which did not arrive.
Jugantor staff reporter Yasin said the attackers were armed with iron rods, hockey sticks, and sharp weapons.
The Daily Star called the superintendent of police of Dhaka and the OC of Nawabganj Police Station for comments but they did not pick up their phones.
Quamrul Hasan, sub-inspector of Nawabganj Police Station, was seen on Jamuna TV to have arrived at the scene later to collect evidence and was heard saying that they would look into the matter.