THURSDAY, MAY 28, 2015
World
Yahoo will face a US class action lawsuit for allegedly accessing the content of emails sent to its mail users from non-Yahoo Mail accounts.
Malaysia detains 12 policemen suspected of human trafficking, two of whom are said to be connected to recently discovered jungle graves.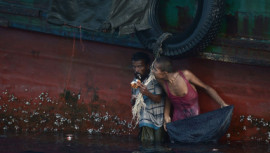 Governments gathering in Bangkok tomorrow, to discuss the Southeast Asia boat people crisis should reach binding agreements to save people at sea, permit them to disembark without conditions, and
Middle East
The Islamic State jihadist group shot dead at least 20 men in the ruins of Syria's ancient city Palmyra yesterday, accusing them of fighting for the government, a monitor said.
Kurdish forces have driven the Islamic State group from more than a dozen Assyrian Christian villages that the jihadists had captured in northeastern Syria, a monitor said yesterday.
Iraqi forces closed in on Ramadi yesterday and launched an operation aimed at cutting off the jihadists in Anbar province before a major offensive to retake the city.
A court in New Delhi yesterday ordered authorities to unfreeze Greenpeace India's local bank accounts in a partial victory for the
Former British Prime Minister Tony Blair on Wednesday resigned as envoy of the Middle East Quartet diplomatic group after eight years in