A Palestinian toddler was burned to death and four family members wounded in an arson attack by suspected Jewish settlers on two
The Taliban named Mullah Akhtar Mansour as their new chief, a historic power transition that raises hopes a more moderate
Indian Union home minister Rajnath Singh yesterday asked all political parties to present a united front to the world against terrorism.
Middle East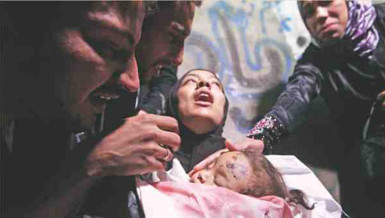 Amnesty International has accused Israeli forces of war crimes during a day of "carnage" in the Gaza Strip that has been named Black Friday.
Israeli Prime Minister Benjamin Netanyahu yesterday approved the "immediate" construction of 300 settler homes in the occupied West Bank as his government
The ISIS is preparing to attack India to provoke an Armageddon-like confrontation with the US, according to an internal recruitment document of the feared group which also seeks to unite the Pakistani and Afghan Taliban into a single army of terror.
The Israeli parliament yesterday approved a law allowing prisoners on hunger strike facing death to be force fed, a spokesman said,
Investigators yesterday scrambled to study plane wreckage that washed up on a tiny Indian Ocean island, fuelling hopes that one of aviation's greatest enigmas could finally be solved: the mystery of missing flight MH370.