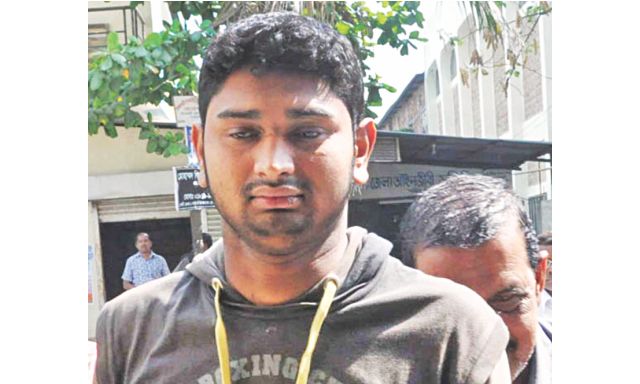 Arrestee Rifat
Police have arrested a youth in connection with the murder of student Tanvir Mohammad Toki in Narayanganj.
The arrestee, Rifat bin Osman, 20, of Kalirbazar area in the town, was placed before the Senior Judicial Magistrate's Court in Narayanganj yesterday. Judge Monowara Begum granted them remand for seven days.
The body of Toki, who had recently completed his A level, was found on the bank of the river Shitalakkhya on March 6, two days after he had gone missing.
Manjur Kadar, officer-in-charge of the Sadar Model Police station, who is the investigation officer of the murder case, said Rifat was arrested early yesterday at Amlapara in Narayanganj.
Rifat, however, told reporters at the court premises that a team of Detective Branch of police had picked him up from the area on March 10.
Meanwhile, Rafiur Rabbi, father of Toki, submitted a letter to Narayanganj Superintendent of Police (SP) Syed Nurul Islam yesterday afternoon, demanding that seven people, including former lawmaker Shamim Osman and his son Ayon Osman, are restricted from leaving the country.
In his statement, Rabbi cited his earlier letter to the SP, saying he had accused 15 to 17 people, identifying seven, including Shamim and his son Ayon, of the killing.
"I have heard that some of the alleged killers have already left the country and the rest are trying to do so within a day or two," Rabbi said.
The SP confirmed that he had received a letter from Rabbi, convenor of Narayanganj Gonojagoron Mancha demanding death penalty to war criminals.
The other suspects named in the letter submitted on Monday are publicity and publication secretary of the district unit Jubo League Jahirul Islam Parvez, vice president of district unit Chhatra League Rajib Das, its general secretary Mizanur Rahman Sujon and Ayon's associates Saleh Rahman Simanto and Rifat.