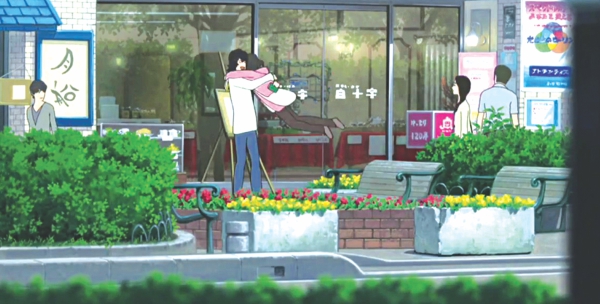 GENRE: SLICE OF LIFE
DURATION: 2 HOURS
This is one of those movies that pass under most people's radars. I recommend giving this a watch if you are in one of those situations where you just need to turn off your brain. The plot will just sink in at it's own pace. The movie is narrated through Yuki's reminiscence. Here's how it starts:
This might get laughed off as merely a fairy tale. As a fantasy that couldn't possibly happen in the real world. But believe me, this is most definitely the story of my mother's life. The man she fell in love with was a werewolf.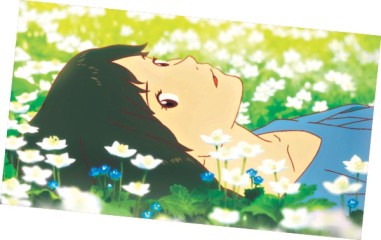 The story starts with Hana, who is a 19 year old college student paying her bills through scholarships and by working several part time jobs. One day, in class, she notices a man who stands out from the rest. He was earnestly making notes of the lecture to the best of his ability despite missing a textbook. She talks to him after class and takes a liking to him. Slowly their relationship progresses as they begin to spend more time with each other.
In time, they marry and start a family with a baby girl, Yuki, and a baby boy, Ame. They live without drawing attention to themselves to conceal the existence of their wolf children. One day, the father does not come home. He had died. Hana now has to raise the two children by herself. She decides to move to the rural countryside to allow her children to be themselves, far from the eyes of any prying neighbours. She wants to give them the freedom of choice. Whether to be a wolf, or to be human.
Based on the manga, this movie covers 13 years in total, from when Hana meets the wolfman to when her daughter, Yuki, goes off to middle school. In that time, the different characters develop separately, each blossoming into unique individuals. They all overcome their own difficulties and it feels good to watch each of them mature.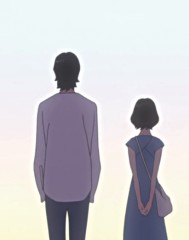 To better convey the story the movie uses montages. The music playing in the background for the duration of these scenes are fitting to the events that are being shown. Sometimes they subtly drop hints at what sort of emotions are meant to be felt at certain stages in the movie. Actually, the music isn't so much leading us on as is it accentuating the relevant emotions we are already feeling.
The art and sounds in certain scenes during the movie will suck you in. During the torrential downpours, you will feel as though you are there in person, living out the storm. It is not only that. While watching this you will not feel the need to move or even twitch, because mentally you will be somewhere else, comfortably viewing the events slowly unfolding on screen.
The werewolves in this movie are different from the werewolves in western culture. So if you are reluctant to watch an anime Twilight, then don't fret, you aren't. If you are going to watch this then you have to be in the mood for some possibly touchy stuff. It's not exactly romantic; There are happy moments, there are sad moments and then there are those moments where you think 'they grow up so fast'. All in all, I would say this is a good movie that is definitely worth the watch.
Rating: 7/10