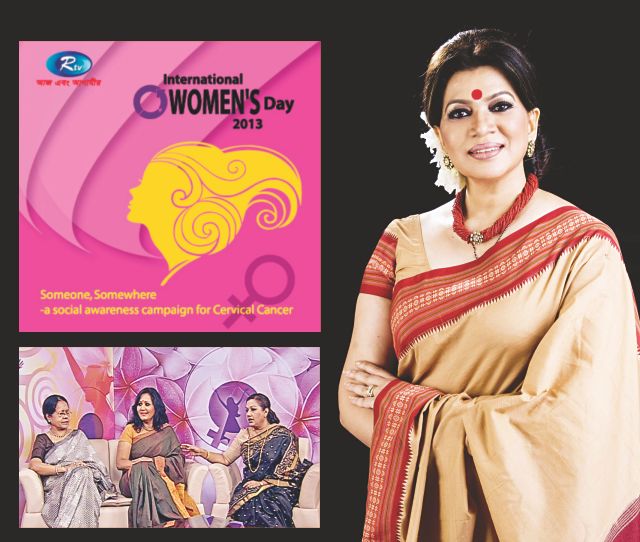 Several TV channels have taken special initiatives to mark the International Women's Day this Friday.
Ekushey Television has chalked out daylong programmes on the day. Beginning the day with special TV play "Gontobbyo Jana Nei" directed by Nuzhat Alvi Ahmed, ETV will air talk shows, special TV shows, films, musical programmes and live studio concerts -- all featuring successful women in various fields. Other programmes of the day are "Shompurna", "Nari Apon Alo-e", "Nari Tomake Obhinondon", "Gaaner Opare" and "Phono Studio Live" featuring singer Putul.
Rtv, meanwhile, will honour eight women from different fields on the day with the 'Rtv Alokito Nari-2013 Awards'. The recipients are Geeti Ara Safia Chowdhury for entrepreneurship; Hamida Ali for education; Sabina Yasmin for music; Selina Hossain for literature; Nurjahan Begum for journalism; and Nishat Mazumdar for courage. The programme, to be telecast live from 7:30pm, will also feature musical and dance performances by noted artistes, including Shakila Zafar and Fahmida Nabi.
On the other hand, Boishakhi TV has also decided to have women at the forefront of all their programmes on March 8. Starting 10:45am, all programmes will be hosted by women, while a number of successful women personalities will also arrive on the station for welcome addresses. Recitations, talk shows, celebrity chitchat, dance and special TV plays featuring women will be on the menu throughout the day, coming to a close through live musical programme featuring performances of Nashid Kamal and Aditi Mohsin.