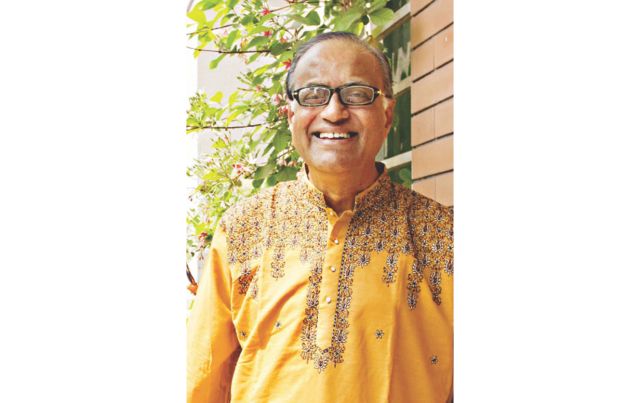 "Now the youth is taking over the charge of leading our theatre to global standards."
Jamaluddin Hossain is an eminent theatre activist, and the founding general secretary of theatre troupe, Nagarik Natyangan Ensemble. He is one of the pioneers of the Bangladeshi theatre movement after the Liberation War. He was recently honoured with the Ekushey Padak 2013 for his contribution to the country's cultural arena. In an interview with The Daily Star (TDS), Jamaluddin Hossain talked about his career, achievements and the present state of theatre in Bangladesh.
How did you start out as a theatre activist?
Jamaluddin Hossain: I started acting when I was a child; my father was a theatre artiste. When I was a student of Chittagong College I used to take part in plays, and after my admission to BUET, I continued to take part in theatre activities. In 1975, I joined theatre troupe Nagarik Natyangan and worked with them for 20 years. In 1997, I started my own theatre troupe Nagarik Natyangan Ensemble.
What drives you to stay in the world of theatre after so many years?
Jamaluddin Hossain: Though I'm an engineer, my passion lies in cultural activities. Theatre is in my blood; it's an indispensable part of my existence. Apart from acting, I've directed many plays and organised several theatre events -- both in Bangladesh and abroad.
Do you consider theatre more organised than other forms of art?
Jamaluddin Hossain: Theatre is a combination of all art forms. Theatre activists have to be familiar with singing, dancing, recitation and they have to read a lot about all forms of art.
Tell us something about the evolution of theatre in Bangladesh?
Jamaluddin Hossain: After the partition of India in 1947, theatre artistes started migrating to Kolkata; as a result, theatre practice here almost collapsed. It began flourishing following the Liberation War, as a movement called "Nobo Natyo Andolon" (Neo Theatre Movement) began. The movement is still on, so theatre will continue to develop.
What is the present theatre scenario in Bangladesh? Is it on a par with the rest of the world?
Jamaluddin Hossain: Theatre has developed much over the last 40 years, even though facilities were not adequate. At present there are some facilities that we get from the government, but in the past these were only dreams. I think our theatre can compete with international standards. Now we are strong in amateur theatre, but professional theatre in Bangladesh is still in its infancy.
What can the authorities do to make theatre more professional?
Jamaluddin Hossain: First, the government has to develop infrastructure, then provide financial assistance and promote this sector. Theatre can be a part of education as it can generate mass awareness.
What is your opinion of young theatre activists?
Jamaluddin Hossain: The new blood is greatly talented and they are doing very well. But I think the problem with them is lack of patience; if anybody wants to succeed in theatre, he/she has to wait for at least five years and has to work hard.
Recently you have received the Ekushey Padak 2013. How did that feel?
Jamaluddin Hossain: Every artiste wants recognition of his work. Prior to the Ekushey Padak, I've received many awards but this is totally different. It is an honour from the state, from the people. I was on top of the world when I received the award. I want to thank all my colleagues and well-wishers for helping me as theatre is a group effort.
Are you working on any project at the moment?
Jamaluddin Hossain: I am currently working with my troupe. I'm going to New York in April, I'll stage some plays and organise theatre events there.
What do you expect from Bangladeshi theatre?
Jamaluddin Hossain: We have already established our name in the international arena. Now the youth is taking over the charge of leading our theatre to global standards. Theatre is a medium for changing society as it reflects life. It has played a key role in the movements for a better Bangladesh; it has always been instrumental in unveiling the truth, in standing against injustice. Theatre will continue to contribute as a voice of society and civilisation.