Lurking around in Dhaka city, one needs to be brave; one needs to be confident, bold and 'in-your-face'! If you are one of those who will cave, give in and just walk away, moping -- then roaming around the streets is not for you, at least not alone.
Mugging, popularly termed as 'Hijacking' in Bangladesh, is a common dilemma that people face everyday. Nowadays, the prime targets seem to be young students. But much to the disappointment of the muggers, the new generation has more to them than expected. There are people, left, right and centre, fighting for their rights and freedom. One such incident caught my attention, when a close friend of mine, completely out of instinct, did something he never thought he would be able to do. "I was minding my own business on my rickshaw. I was carrying my camera -- a very expensive 5D Marc II," says Tanmay Halder, a student of Media and Communications at a private university in Dhaka. "Suddenly an arm came from behind me and grabbed onto my camera bag. The man ran forward, still holding on to my bag, turned towards me, then running backwards, and screamed 'chhaaar! (let go!)'. Out of instinct, I raised my foot, aimed for his nose and kicked with all my might. The man flew away in the middle of the road. Right then, I saw another man approaching me and I could tell he was in on the mugging as well, since they usually work in packs. The rickshaw puller, for some odd reason, seemed reluctant and did not move much. I held my phone against his back making him think it was a gun and asked him to pull his rickshaw as fast as he could. He hurried me out of that road. I don't know what had happened to me. Any other day, I would have been mugged. But I was on my way back from the Shahbag protest. I think the spirit lit a fire within me and urged me to fight back. It felt great!"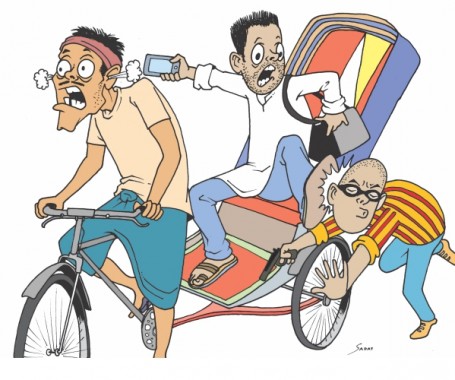 One thing to remember is that there will never be one alone in on the crime. Nazmul Rahim, an 18-year-old, got mugged fourteen times so far, of which only three times the muggers succeeded. His way out -- run for your life! And it has worked remarkably for him. "The first time I got mugged, I was fifteen years old. Since it was the first time, I didn't even know I was being approached by a mugger. I was on the phone when he approached, and then tried to create conversation. And then another one came along and they tricked me into giving my phone to them. Eventually, I started becoming more aware of my surrounding and realised that I got attacked by muggers most often when I would be on the phone."
And sometimes you can find your way out, if you just have a gutsy mouth. Fahmim Ferdous says, "When I was approached by a mugger, it was near my office and I asked the mugger to accompany me to the building while I have a word with him. The mugger got scared and left."
It is always good to have courage on your side, but always beware of the muggers with weapons. Different muggers have different approaches, and you can never be too careful. Some muggers are cowards, just playing the part, while some are actually dangerous. Once you face them, you will know which is which and now, hopefully, you will know how to act accordingly. Stay safe.