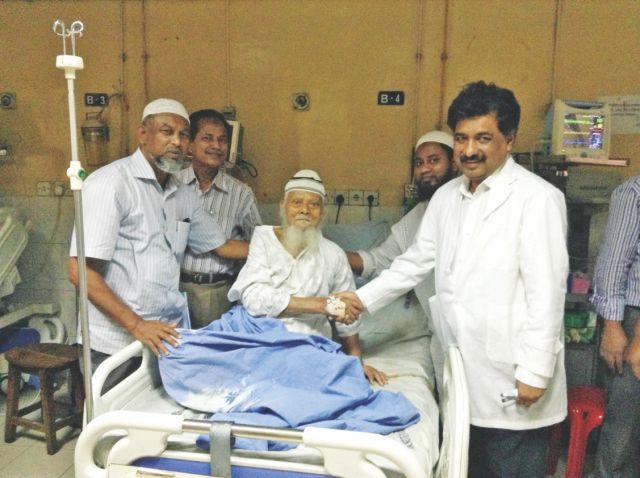 Prof Afzalur Rahman (right) with the patient Hazi Md Ahsan Uddin (middle) who had angioplasty.
Coronary angioplasty or stenting is done to help prop the blocked or narrowed coronary artery (vessel that carries blood to heart) open. Although it has now become a common procedure in Bangladesh, it is very challenging in many cases specially if the patient is old.
Recently, renowned cardiologist of Bangladesh Prof Dr Md Afzalur Rahman has successfully performed such a challenging complex coronary angioplasty (unprotected distal left main PCI) in a very elderly patient aged 108 years. This is the highest age so far reported in the world at which angioplasty was successfully performed amid several life threatening risks and challenges.
The patient Hazi Md Ahsan Uddin Bepary from Munshiganj was suffering from chest pain with minimal activity; even sometimes with rest. He was evaluated by Prof Afzal with several tests to see activity of heart and percentage of blockage to the heart vessel. He had several risk factors like high blood pressure, smoking history, chronic kidney disease, advanced age and Parkinsonism. Amid considerable risks, Prof Afzal was confident enough to do this landmark angioplasty and his hard work and vast experience was paid off. He has done some other challenging cases before that was awarded by international cardiology faculties.