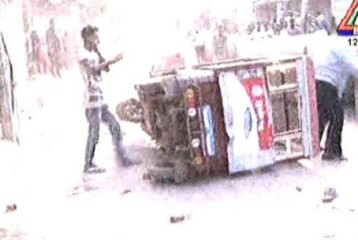 Pro-hartal activists vandalise an auto rickshaw in Mugda area of the capital on Wednesday during BNP-led 18-party alliance enforced 36-hour shutdown. Photo: TV grab
Pro-hartal activists exploded several crude bombs and resorted to vandalism at different points in the capital on Wednesday as the country passes through the second day of a 36-hour hartal (shutdown).
The BNP-led 18-party alliance called the shutdown protesting a Dhaka court order denying bail to seven top BNP leaders.
The opposition however withdrew its shutdown in Dhaka district and metropolitan area to help the rescue operation at a Savar building which collapsed in the morning.
During the hartal, the pro-hartal activists brought out a number of processions at several points.
The incidents of blasts were reported from Paltan, Tejgaon and Mohammadpur areas of the capital.
Pickets vandalised vehicles in Mohammadpur, Hatirjheel, Bijoy Sarani and Dania of Jatrabari.
The pro-hartal activists brought out processions at Tejgaon, Mohammadpur, Dhanmondi and Jatrabari areas.
Law enforcers rounded up four pro-hartal activists from Mohammadpur area.
The pro-hartal activists set fire on road in Bijoy Sanari in the morning.
Police fired in the air when some activists of Jubo Dal activists brought out a procession in Dhanmondi.
BNP CENTRAL OFFICE
Pro-hartal activists blasted two cocktails in front of Ananda Bhaban near BNP's central office at Nayapaltan at about 12:15pm.
None was injured in the explosion.
Law enforcers like other hartal days remain on guard the BNP's central office since early morning.
Shamsuzzaman Dudu, an adviser to BNP Chairperson Khaleda Zia, along with some leaders and activists of the party went to the head office early morning.
Talking to reporters around 11:00am, Dudu said BNP-led 18-party alliance have relaxed today's hartal in Saver as a building collapsed there.
He also expressed his condolence over the incident.
Asked about the oath-taking ceremony of president-elect Advocate Abdul Hamid, Dudu said BNP did not receive any invitation card of the function till Wednesday morning.
BACKGROUND
The 18-party alliance announced the shutdown on Sunday immediately after the court ordered bails to three BNP lawmakers but denied bails to seven other leaders, including BNP acting secretary general Mirza Fakhrul Islam Alamgir.
The opposition alliance would also enforce hartal on Thursday if the government obstructed its hartals and kept harassing opposition leaders, Hamadullah Al Mehedi, secretary general of Bangladesh Labour Party, a component of the alliance, told The Daily Star earlier.
Meanwhile, pro-hartal activists torched 12 vehicles in different parts of the city on Monday on the eve of the shutdown, creating panic among the city dwellers.