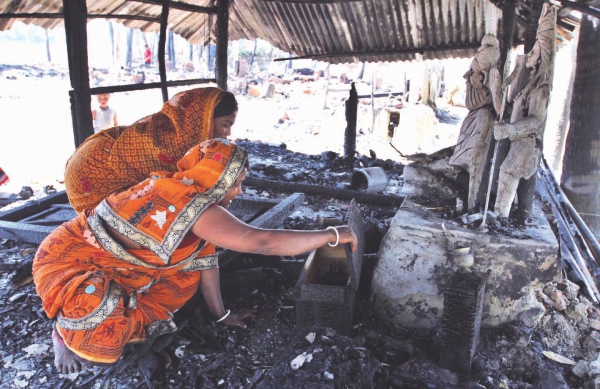 Photo: Anurup Kanti Das
Throughout the 24 years of Pakistani rule the people of Bengal experienced the failure of the two-nation theory of dividing nations based on religion. So they fought for Bangladesh — a land which would belong to everyone — atheists, Budhhists, Christians, Hindus and Muslims, Bengalis and non-Bengalis. Though our Constitution considers every citizen equal, a section of people could not get rid of the stamp of being a minority. From the Pakistani period to Bangladesh, the fate of religious and ethnic minorities hasn't changed much. Apart from being victims of socio-economic clashes, at times they have been subject to state-sponsored violence.
Referring to the 'Enemy Property Act' of Pakistani period which in Bangladesh became the Vested Property Act, Dr Mizanur Rahman, Chairman, National Human Rights Commission says that a self-seeking class has developed in the country and it always finds an excuse to torture members of religious minorities. "They have only one objective and that is if these people can be expelled from the country then their property, business and wealth can be grabbed," he notes. He also refers to a research by eminent economist Dr Abul Barakat, which shows that a silent exodus of the Hindu community has been continuing since 1947. 'Sometime it was slow at other times it expedited. But it never completely stopped," he observes.
Dr Meghna Guhathakurta, Executive Director of Research Initiative Bangladesh says: "A silent exodus already exists in this country among minorities. This is mainly due to violence perpetrated against them for possession of land and property as well as for personal security. There needs to be more proactive strategies of protection by the state in order to stem this tide. So far this is seen to be missing especially in the light of the current attack on minorities by the political right."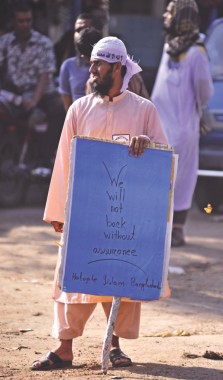 We cannot curtail the rights of other
faiths in the name of protecting Islam. Photo: firoz ahmed
It is not only the self-seeking class or religious extremists who carry out attacks on minorities. Dr Amena Mohsin, professor of International Relations, University of Dhaka, points out the involvement of the two mainstream major political parties in the violence perpetrated against the Hindus after 2001 election. "We usually assume that religion-based political parties are involved in such activities but it is not necessarily so. It shows that minorities are looked upon as vote banks. This is absolutely demonisation and dehumanisation of politics, when human beings cease to be humans and turn into numbers and vote banks for the political parties," she says, "We have a system of a majoritarian democracy where there is no representation of minorities. Even when members from the minority communities get elected it is under the banner of a majoritarian party. In this arithmetic of politics the minority voice hardly gets voiced." She adds that attack on minorities took place usually during the election period but this time it has started way ahead.
"After the transition back to democracy we thought things would be better. But we saw that not only the Hindus, who had been the traditional outcasts of the society and targets of all kinds of atrocities in the past, even the Buddhists became targets of religious bigotry and zeal of religious fanatics. For no fault of theirs, their places of worship were looted, gun downed and set ablaze," says Dr Rahman referring to the attacks in Ramu in September 2012.
He further adds that before Ramu victims could get over the wounds of the September attacks, a spree of violence was unleashed upon the minorities surrounding the issue of trial of the war criminals. "The magnitude and destructive nature of the attack on the religious minorities in different parts of the country and the continuing demolishing of their places of worship and gods and goddess and deities has reached a totally different level this time. This is not something spontaneous. Rather everything is pre-planned. This is designed to create a total communal disharmony within the country and give rise to restlessness. There is an ill-motive behind this," he opines.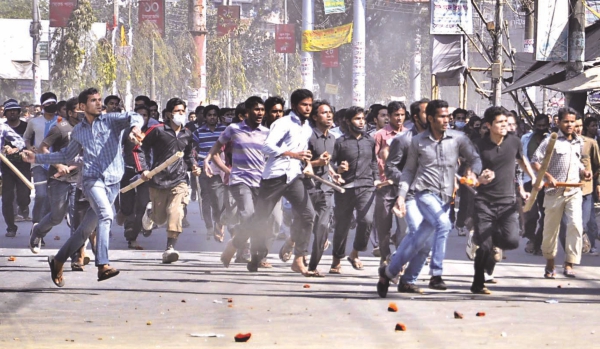 The demonisation and dehumanisation of politics in Bangladesh has made
public life a living hell. Photo: Anurup Kanti Das
Mentioning the devastating effect of these series of incidents, Dr Rahman says that minority communities can no longer rely on state's mere promise to protect their interest. "In some areas where minorities have been attacked the public representatives have not come forward to carry out their due duties," he informs, " this allowed the miscreants- the hooligans, goons and fanatics - a freehand for the other parties , to continue with their madness. As a result, the minorities are in deep anxiety."
"If this continues and if the state and the government do not employ all efforts to tackle the situation, then I am afraid, in the next twenty years or so, there may not be any Hindus left  in our country," Dr Rahman shares his concern. In fact, based on previous experiences, Dr Mohsin believes that many Hindu families have already started sending their female family members to the neighbouring countries to ensure their safety. Dr Rahman agrees that women of minority communities are more vulnerable and suffer from constant insecurity.
Whether the rise of religious extremism will also lead to a brain-drain is another concern for the future of Bangladesh. According to Dr Guhathakurta some pre-conditions such as possession of financial or human capital, needs to be met for brain-drain. "Minorities in Bangladesh no longer largely belong to the middle-class. According to our study, 70 percent of the minority belongs to the lower-middle class or the marginalised community. They do not meet the conditions for brain-drain. At best they can migrate to India, but even there they need social capital (help from relatives and friends in that country). So their future lies in this country," she says adding that it is more likely that minority community will be trapped if they do not get any state protection.
The volatile political scenario and escalating violence has also created anxiety among the educated and liberal Muslim middle and upper-middle class. They too perhaps will become another 'minority' group because of their liberal values. Dr Mohsin feels that this group of people too will consider immigrating if they can afford it. "This is becoming a very insecure place. Considering the three indicators of human security --freedom from want, fear and hunger, fear is emerging as the most paramount factor. Nobody would want to live in a country where you are constantly facing fear and rapture of a normal life. You will think of your children and would not want them to live in such a country," she says.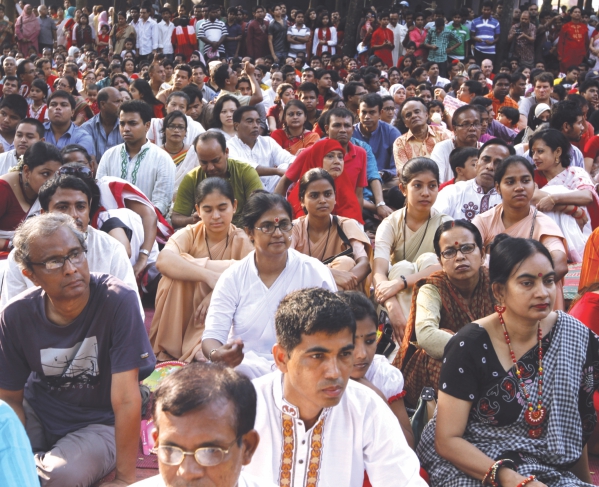 Our country is for all — atheist, Buddhists, Christians, Hindus and Muslims. Photo: Prabir Das
Dr Guhathakurta however is more optimistic. About this class of people, she says, "They will feel unsafe but the state belongs to them. There is less opportunity for jobs due to the global meltdown and increased competitiveness plus the phenomenon of Islamophobia. Even research in foreign universities about the Shahbag movement indicates that the present generation tends to believe that its future lies in this country. There is a hope that Bangladesh with its seven percent economic growth rate will soon become a middle-income economy. In that case possibilities of Bangladeshi business will grow in Bangladesh, not abroad. So their future is here.  So in the long term perspective, depending on political stability, there may very well be increase in incoming traffic of Bangladeshis rather than an outgoing one"
If Dr Guhathakurta's prediction is to become a reality, we need a society which can accommodate people of differing opinions and faiths and ethnicity. Though the abuse of religion is one of the main reasons for the current anarchy in the society Dr Mohsin opines that the issue is much more complicated. "The value system that we have embedded in our young generation also matters. I am not negating any perception rather there should be a value system to respect other's views," she concludes.