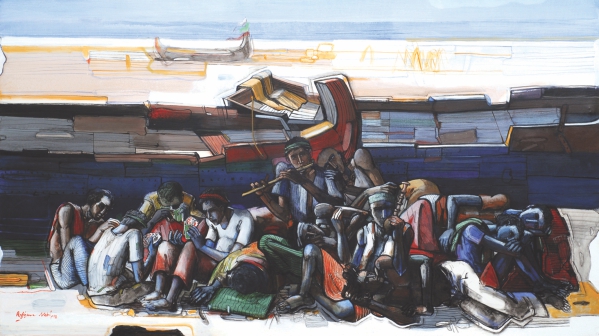 Few painters have been able to give such childlike wonder to images of Bangladesh's rural beauty. Whether it is a lone bird, a goat grazing on the grass or the bandor wala (monkey man) making his monkey play tricks, Nabi's expert strokes and soothing hues, never fail to delight. Famous for his 'Tokai' series (under the name of Ranabi), the artist this time at Dhaka Art Centre (DAC) displays his works of rural Bangladesh, with the finesse and grandeur of his years honing a God-given gift.
Rashid Chowdury, Aminul Islam, Kazi Abdul Basset, Anwarul Huq were among the teachers who served as "friend, guide and philosopher for 70-year old Rafiqun Nabi. He has presently a massive exhibit at Dhaka Art Centre, Rd 7A. Earlier he had Zainul Abedin, Qamrul Islam, Shafiuddin Ahmed and Mohammed Kibria to tell him right from and egg him on in the Fine Arts Centre of Dhaka University—earlier known as the Dhaka Art College. Muslim Bengali students—who had excelled in India, came to East Bengal to set up a fine arts centre for the then East Bengal.
His father, a police officer, loved drawing and painting and he had no qualms about his sons Rafiqun Nabi and Rezaun Nabi in turning to art rather than any other profession at that time. His mother, a conventional home-maker, had gone into intricate kantha making with boats, animals, birds and human beings in an almost tapestry form. Thus art ran in his blood and he took to paints as a fish to water. Readers of the daily "Jonokontho" know him as the creator of the lovable "Tokai" who summed up the deep economic divide of Bangladeshi society. These were done in water-colour and ink—and this character is included in this exhibition – which contains more passion and inspiration than the earlier solo at Bengal Gallery. The colours and lines have more energy and are done more in details; he has brought in his favourite delineation of Nietzsche's return to nature of all ills of mankind.
He has shown crows and buffalos as well as goats and done them in such graphic detail that they leave an indelible mark on the mind. His hills, valleys, clumps of trees, thatched huts, the depiction of grey sky-scrapers of the concrete jungles of the cosmopolitan cities are there too. Meanwhile, he separates his figures by leaving a lot of white or egg-yellow, with faint inter twining lines of brilliant orange. The greens that he uses for the main tree clumps are jade and emerald. The mauve that we find in the sky that merges with seas and land are in variations. When he portrays people he remembers the colour of their headbands, headband and "lungis" or sarongs.
As for the boats and barges that have been cleverly depicted in the backdrop, their inmates, the details of the planks and nails of the space inside have been shown with dexterity. The river scene reminds one of the great works of Turner and Constable, the English painters who knew their elemental surroundings within such depth – using inimitable powerful strokes and colours. The works also brings the Dutch Ruisdale to mind. Having done his higher studies in Greece, he is west-ward looking. He is surely a master painter who does credit to his teachers, Mohammed Kibria, Shafiuddin Ahmed, and S M Sultan—apart from his other caring and fastidious teachers and guides.
How did he feel at the passing away of the great artists within the last year?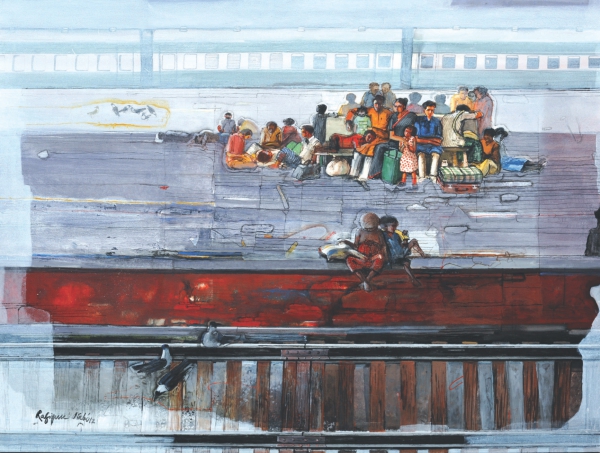 All these artists, says Rafiqun Nabi, were his favourite teachers. Their sudden passing away, says Nabi created a shocking vacuum in the art arena. He feels their absence greatly—as do painters near his age and experience.
Does he feel that the present authorities have made an effort to preserve their work? Nabi says that Abedin and Qamrul Hassan, Mohammed Kibria and Shafiuddin Ahmed have not been given their due appreciation. Not even in the Shilpakala Academy are there separate rooms for the works of SM Sultan. The giants of our time have not been venerated as they should have been. Only in the National Museum can one find some of their work, he says. "These were my colleagues when I began my career as a teacher in 1964,"the master painter, Nabi, says.
Asked to talk about his learning of print making in Greece, Nabi says, "It was a different experience. Culturally, Greece had an Asian touch. It is not as we see in the well-known sculptures. Those belong to lost days of the past—many centuries back. Modern Greece is something like us – they are just growing. As for us he says, when asked to do so, says that if we climb five steps, we stumble down ten steps, the economic and social trouble in Greece began during his stay in that country. However his teacher was encouraging and opened up new horizons for him. Is it not difficult for creative people to go ahead during such socio economic turmoil — In the Bangladesh context, there should be some light at the end of the tunnel the nonpareil painter Nabi feels. "We are not growing by leaps and bounds. Temples of the Buddhists are being ruined and those of the Hindus robbed and broken. This ruination of culture cannot be condoned. When trouble begins, the attack on art and culture begins, and it is in a ruthless and mindless manner. Socio-economically and culturally we are only going back," says the winner of many national awards including the Ekushey Padak.
The exhibition ends on April 22.