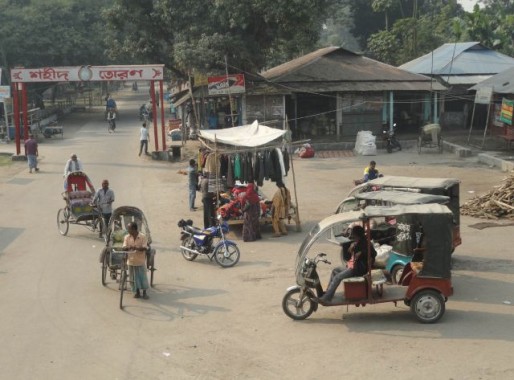 Witness to the gruesome killing of about 600 innocent Bangalees by Pakistan occupation army on April 5, 1971, this place beside Lalmonirhat railway station now has no sign of cognisance. Photo: Star
Today is Lalmonirhat mass killing day.
On this day in 1971, Pakistani occupation army with the help of local razakars and Urdu-speaking people (Biharis) killed around 600 Bangalees at the rickshaw stand near Lalmonirhat Railway Station.
Of them, many were railway officers and employees, said Abu Bakkor Siddique, commander of Muktijoddha Sangsad in Sadar upazila.
The deceased include railway hospital doctors A Rahman, A Moktadir, M Rahman and AG Mostafa, railway engineers Anim Ahmed, Karim Bux, Yiar Ali and Abul Kashem.
Pakistani forces and their collaborators picked up railway officers and employees, school and college teachers, businessmen and cultural activists from their residences and offices on April 3 and 4 and took them to the railway officers club.
The occupation army then tortured the victims brutally and shot them dead at the rickshaw stand beside the railway station in the morning of 5 April, 1971.
The victims were buried near the railway office at railway colony. Over 200 skeletons, bones and skulls were recovered from the mass graves in the area soon after the independence, said commander Bakkor.
Different programmes, including placing wreath at the graveyard, have been chalked out to mark the day today, he said.