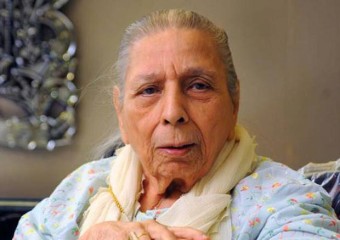 Shamshad Begum. Photo: Internet
One of the first playback singers in the Hindi film industry and legend for many hit songs Shamshad Begum has died on Tuesday, April 24 at her Mumbai residence, NDTV, an Indian news portal, reported. Shamsad was 94.
She was the voice behind popular tracks like 'Mere Piya gaye Rangoon', 'Kabhi aar kabhi paar' and 'Kajra mohabbat wala', 'Saiyaan dil main ana re'.
She was not keeping well for past few months and was admitted to the hospital, the news portal added. The funeral was a solemn affair with a few friends present, her daughter Usha told PTI news agency.
Shamshad Begum was born on April 14, 1919 in Amritsar, Punjab. She made her debut on Peshawar Radio in Lahore on December 16, 1947, captivating the hearts of her listeners with her enchanting voice.
Her other hit tracks include 'Kahin pe nigahen kahin pe nishana', 'Boojh mera kya naam re', 'Saiyan dil mein aana re', 'Leke pehla pehla pyar' and 'Chod babul ka ghar', widely popular to the news generation for the remix versions of the songs.