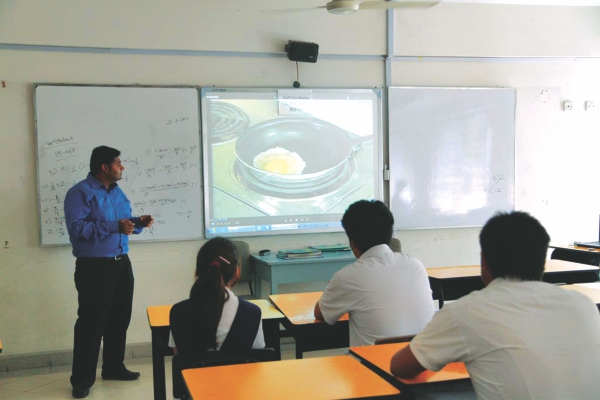 Kazi Tahsin Agaz Apurbo
As we step into 42 years of independence this year, we hope to see changes in our country. Particularly, with the advent of technology, our generation is keener on materialising the concept of 'Digital Bangladesh'. The revolutionary digital learning and smart boards, has made us the denizens of 21st century Bangladesh, reach greater heights and compete in the global market. Not only does it make learning easier, interactive and fun, but it also enables the students to grasp the subject better.
According to a report by FutureGov Asia Pacific, on Multimedia Classrooms in Bangladesh, in April 2012 under the care of Access to Information (A2I) Programme of Prime Minister's Office, a US$1800 multimedia classroom was to be installed in each of the country's 32,000 secondary institutions. The government of Bangladesh planned to introduce one multimedia-equipped classroom in 20,500 secondary schools each across the country by the end of this year. The use of technology would help change the mindset of teachers and students.  The view was to explain contents of a textbook in a more student-friendly manner with the help of pictures and animations.
Compared to computer labs, this technology is more efficient. Computer labs with 20 computers each would require a hefty budget. Whereas, in a multimedia classroom each student can benefit from a laptop, projector and professionally- trained teachers. In addition, since electricity and broadband internet connections are still major challenges in Bangladesh, multimedia classrooms would require a lesser amount of electricity.
Teachers can customise the content as per requirement. Photo: Kazi Tahsin Agaz Apurbo
Established schools like Udayan Higher Secondary School have implemented this system. Asir Faisal Dipro, a student of Udayan states, "I was first introduced to it in the year 2011. A team from British Council came, and the students had to prepare a project on the topic-how to be fluent in English. We had to use the projector and had to give a presentation in front of the team. Not only did the students get first hand experience of giving presentations using a technical device, the multimedia interface also helped other students understand lessons better."
Jaago Foundation also introduced digital learning, but the attempt was rather unique. Since, the foundation's main aim is to reach out to people from the grassroots level and funds are scarce, the school decided to train a teacher, who would teach students outside Dhaka. The teacher would engage in an interactive e-learning process, where students would see the teacher via webcam. Currently, the school is providing e-learning to underprivileged students in the areas of Banani and Gazipur, but they plan on expanding to Chittagong, Rajshahi, Gaibandha, Bandarban, Madaripur and Sylhet.
Apart from multimedia classrooms and e-learning, another revolutionary change making a positive impact is the smart board, a technology which is an upgrade to the standard of teaching. Smart boards are a combination of a whiteboard with the power of a computer. It connects to a projector to display the desktop on the interactive whiteboard. One can then control applications on the screen, write notes in digital ink and save work to share later. In Bangladesh, smart boards have recently been introduced by Core Knowledge (Core-K), a new initiative of Rahimafrooz Group. According to their website, Core Knowledge Limited in partnership with Pearson, (world's largest education company) introduced DigiClass - an ICT-based solution that combines state-of-the-art hardware with syllabus-compliant, multimedia-based interactive content. DigiClass solution empowers teachers to transform traditional blackboard-and-chalk classrooms into interactive sessions. Core-K started in 2009 with the aim to support the country's vision of education for all.
As mentioned above, online schooling can be an expensive venture as it requires high speed internet and well developed software, but a device like this makes everything much easier. It is often very difficult to find trained teachers outside Dhaka, and training a teacher to teach a subject might take an extensive period of time, whereas, training one to learn this technology will consume less time. In addition, the risk of knowing the exact information and producing it correctly always remains, but with a device such as the smart board, that problem seems non-existent.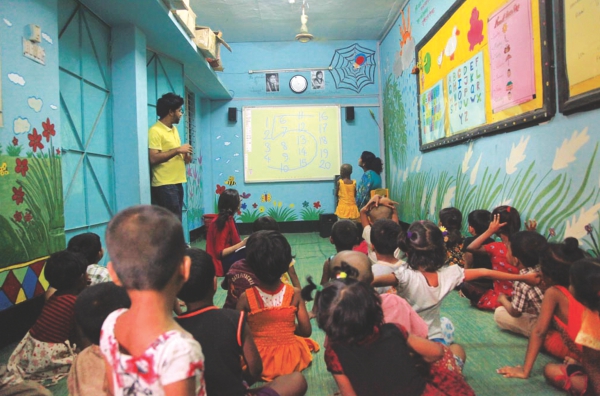 Teachers using smart boards to engage students in an interactive learning process. Photo: Kazi Tahsin Agaz Apurbo
Yet another well known school, Scholastica, has also introduced smart boards from grades 8 and onwards. According to the principal, Brigadier General Kaiser Ahmed, "We began to use smart boards around September last year," he says. "It is extremely useful for both teachers and students. These are mainly interactive boards with 3D animations. The technology gives students a real life exposure. Our teachers can customise the content as per requirement, since we follow the Cambridge International Examination's curriculum."
E-learning provides education to students outside Dhaka city. Photo: Kazi Tahisn Agaz Apurbo
The motto of Core-K was to provide education for all, so they decided to donate a smart board to Jaago Foundation. The smart board has been introduced at the play group level at Jaago Foundation. Since there is no set syllabus to be followed for this class -- rhymes, numbers, languages like English and Bangla are taught using this technology. The programming is done in such a manner that the content is already developed and teachers can teach their students only with a click of a special stylus. An additional benefit of this technology is that it enables the teacher to customise the content. For instance, students who belong to the lower strata might not be familiar with the word 'apple' which is a classic example for the letter 'A', so teachers can use a more culturally apt word for the letter.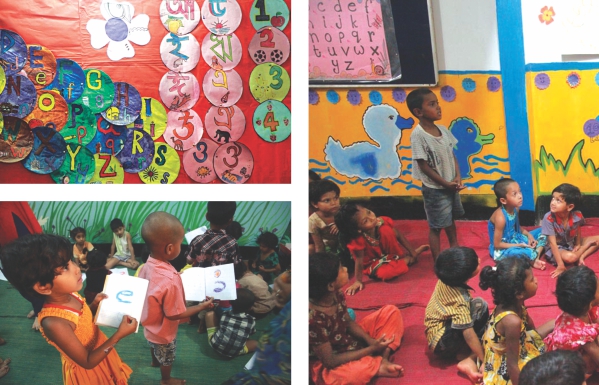 Young students are more keen on learning through the use of technology. Photos: Kazi Tahsin Agaz Apurbo
In a comparative analysis, smart boards are compared to white boards. The initial feedback shows that teachers were reluctant to use smart boards as they were accustomed to traditional learning. But they adapted quickly to this technology and teaching was made easier. On the other hand, students responded positively. They were eager to learn and education was no longer boring. Shahriar Rahman Sabit, from playgroup explains with sparkles in his eyes, "It is more fun to learn English and Bangla using this big device. I can see the letters and then there are words that can be formed with those letters. The other day the teacher showed us 'E'. With E, we can form the word egg, and she showed us the different stages of an egg -- how an egg cracks to form an egg yolk! It certainly is very exciting."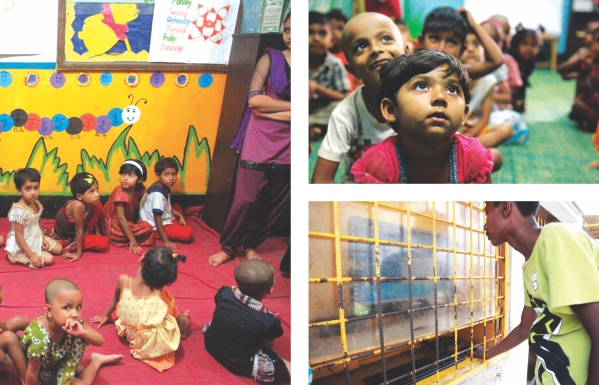 Photo: Kazi Tahsin Agaz Apurbo
Rupa Rajbongshi, another little girl from the school states with equal enthusiasm, "I learned rhymes with visuals on this device. Its like a big television, as if I am watching cartoons. The colours are wonderful. It makes learning easier for us."
According to Korvi Rakshand, the founder of Jaago Foundation, the technology is relatively expensive and not many schools in this region have implemented it, other than a handful of English medium schools. "But if it can be made available, it is excellent," he says. "In most multimedia classrooms, teachers only download pictures from Google, which have very limited elements when it comes to teaching children. Whereas, a smart board is like an Encyclopedia with good visuals, which also help a student to imagine and create a world beyond. In addition, it encourages students to engage in an interactive learning."
Technology has a very positive impact on our nation and it allows us to find new ways to make education fun and informative at the same time. The technological innovations have given us the strength and confidence to stand proud as a nation, making us capable of competing with the rest of the world.