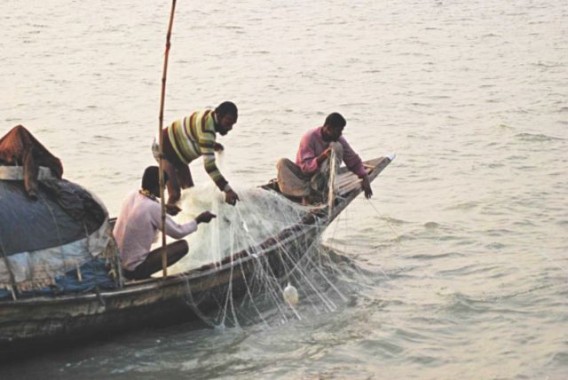 Fishermen netting jatka (hilsa fry) in Ramnabad River under Galachipa upazila of Patuakhali despite a government-imposed ban on catching the young hilsa in the Bay and adjacent rivers in the coastal areas from November to May. Photo: Star
Catching of jatka (young hilsa) has continued in the Bay and adjacent rivers in the coastal areas, ignoring the government-imposed ban for seven months from November to May every year.
A section of fishermen catch jatka at different points of Tetulia, Paira, Lohalia, Ramnabad, Buragourango, Agunmukha, Char Kazal and Char Montaz rivers in Patuakhali district and sell it openly in local markets.
The Ministry of Fisheries and Livestock in 2000 issued a circular, imposing ban on catching hilsa for seven months from November to May every year in the coastal areas to ensure safe breeding and growth of the popular fish, said sources at Patuakhali District Fisheries Office.
But a section of fishermen often net jatka, especially in the evening or at night, dodging the law enforcers.
During a visit on Tuesday, this correspondent saw some fishermen in trawlers and country boats catching jatka in Ramnabad River in Galachipa upazila.
"We live by fishing and we have to catch jatka to run our family as there is no alternative work in this season," said Alamgir Hossain, a fisherman of Amkhola village under Rangabali upazila.
Abul Kalam, another fisherman of Moishadi village under the same upazila, said he is catching jatka to run his five-member family as he is landless but he is not getting any food support under the government's VGF (vulnerable group feeding) programme.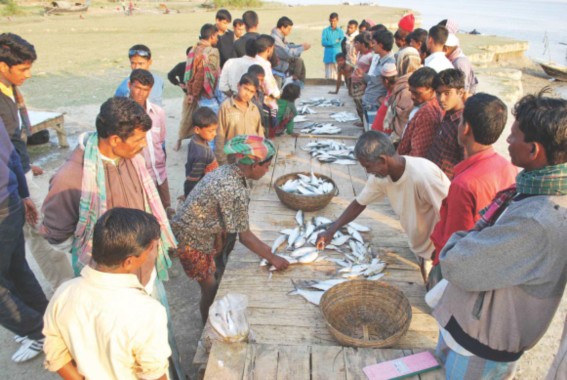 Jatka being sold at Panpotty launch terminal in the upazila. Photo: Star
Contacted, Iqbal Hossain, district fisheries officer (DFO) of Patuakhali, said, "During four and a half months from November 1 to March 15 this year, we conducted 450 drives with the help of law enforcement agencies in different areas of the district and seized 16.28 tonnes of jatka worth Tk 33.56 lakh and 16.26 lakh metres of current net worth Tk 32.77 crore."
During the time, mobile courts realised Tk 46,000 as fine from fishermen for catching jatka, sources said.
Under the government's Jatka Protection Programme, each of the listed poor and seasonally jobless fishermen is supposed to get 30 kg of rice every month from February to May but the rice allocated for this year is yet to be distributed.
"Already 686.55 tonnes of rice has been allocated for distribution among 22,885 hilsa catcher fishermen in Patuakhali district. The UNOs have received their allocated amounts for distribution among local fishermen according to the lists prepared by the union parishads concerned. But the rice is yet to be distributed as the list has not been finalised," said DFO Md Iqbal Hossain.