We all love something that's a little out of the ordinary. This is especially true for the young girl about town who likes to experiment with her outfits. A mismatch of fabrics, colours and patterns are all trends favoured by many.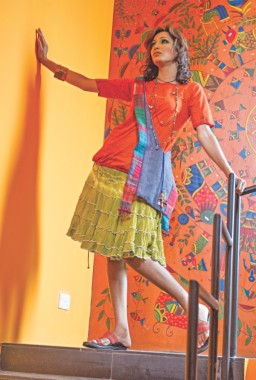 Fusion is apparent in all our outfits these days. Even a decade ago, ladies would either opt for the average shalwar-kameez set, or wear jeans and a t-shirt if they were bored with the usual traditional clothes. But an unknown fashion genius decided to popularise the "fatua" with jeans, hence causing a style revolution of sorts in Bangladesh. Since the beginning of the millennium, both young girls and working women are now seen on the streets wearing long or short tops made in Bangladesh with deshi fabrics paired with jeans or leggings and accessorised with a scarf. A mixture of the cultures of the East and the comforts of the West result in trendy outfits we can feel at ease wearing anywhere.
Once upon a time, when we wanted to modernise traditional outfits we would turn to our neighbouring countries for inspiration, ignoring our own rich heritage. But the good news is that now Bangladeshis are choosing to be their own muse. And why not? From the sights and sounds of the serene villages with their adjoining rivers to the artistic chaos of our busiest cities, all provide adequate inspiration for any aspiring creativity. The modern Bangladeshi fashionista can therefore experiment with a look that is not only truly Bangladeshi, but also comes with a contemporary flavour which has increased its popularity not only here at home but also abroad.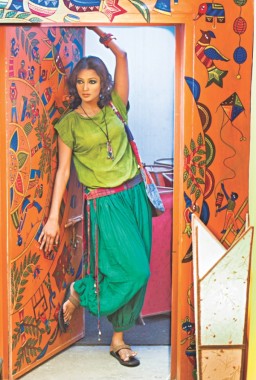 The "ethnic" look features colourful fabrics, lots of jewellery and crafty sandals. Earthy colours are a favourite on khadi, with a little embroidery and possibly a lot of bold prints such as gamcha print or tie and dye. You can stand out from the crowd with your choice of jewellery. Long, beaded necklaces of different colours can be layered with your top. Terra-cotta earrings can be worn with your hair up. Metallic jewellery is also a popular choice, especially when choosing a statement necklace in silver or bronze, or piling up metal bangles on one wrist.
Your handbag and shoes don't have to feel left out. Closed shoes in the traditional nawabi styles called "nagra" have made a comeback. Markets are also full to the brim with sandals featuring beaded work, embroidery and variations in straps; and they all come in a wide spectrum of colours, ready for you to take your pick.
This look can be compared to the "gypsy" or "bohemian" look in Western fashion. Instead of focusing on one piece, the essence of the nomadic look is the mixture of all the pieces together. Interestingly, while we look at international fashion magazines and wish away for the outfits the actresses on TV wear, fashion designers around the world look to countries such as ours for their fashion inspiration. Few countries in the world can boast about their unique fashion statements. But we, with our prints, colours, fabrics, cuts and styles, definitely have a lot to be proud of. The beauty of it is that the ethnic look is one we can pull off at any kind of day, be it a casual or a formal occasion. So the next time you put together an outfit, add a little something special to your look using items that speak of your unique heritage.
Photo: Sazzad Ibne Sayed
Model: Kobita
Wardrobe and styling: Jatra
Make-up: Farzana Shakil
***
BRIGHTER THAN THE SUN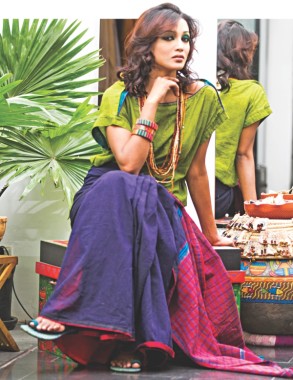 Photo: Sazzad Ibne Sayed
Amidst all the heat waves, the chaos and the everyday drama of our lives, the quest for looking fabulous is one we always embark on. The solution to this problem may be closer than we think. Why not use the chaos as our fashion inspiration?
It might sound strange at first, but imagine the beauty in our everyday chaos: the unique, colourful rickshaw art; the plethora of colours in a Bangla cinema poster; the bright green and orange of an 'amra' stand; the rare glimpses of flowers on our neighbour's balcony … they all have one thing in common. They are bursts of colours, out of the ordinary, in a very ordinary day. They cheer us up and shake us out of the usual trance we are in. They can be part of us as well, reflected in the clothes we wear. This week, we look at earthy shades of our favourite colours, brought to life with the right mix of prints and accessories.