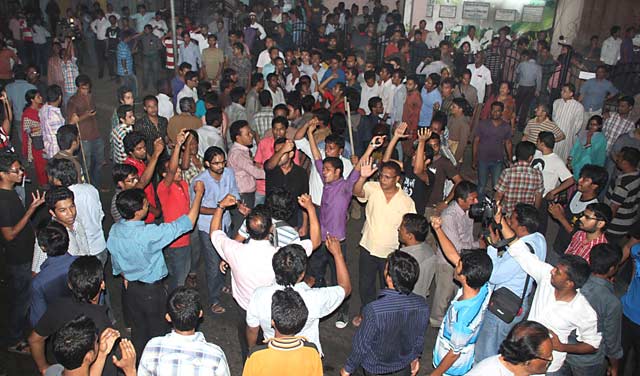 Several hundred youths chant slogans against violence at the Gonojagoron Mancha near Chittagong press club Tuesday evening. Earlier, unidentified criminals exploded three cocktails. Photo: STAR
Hefazat-e-Islam has postponed Wednesday's hartal in Chittagong less than an hour after Gonojagoron Mancha cancelled its grand rally in the city.
Azizul Haque Islamabadi, organising secretary of the Islamist group, told The Daily Star on Tuesday night that they would again declare programmes if necessary, reports our Chittagong correspondent.
Gonojagoron Mancha has cancelled its Wednesday grand rally but declared to stage a rally in the city on Thursday protesting cocktail blasts near the mancha.
At a press briefing in the city on Tuesday evening, Mafijur Rahman, a key organiser of the Chittagong Gonojagoron Mancha, said the grand rally was cancelled showing respect to law.
The administration has imposed Section 144 in the city for Wednesday in the wake of a tense situation after Hefazat-e-Islam, a Kawmi madrasa-based Islamist group, announced it would hold a rally at the same venue, protesting the "anti-Islam activities of the Shahbagh atheist bloggers".
Meanwhile, unidentified criminals exploded at least three cocktails near the Gonojagoron Mancha adjacent to the Chittagong press club on Tuesday evening.
The incident occurred around 8:15pm when the demonstrators were going to hold a press briefing at the press club to announce their decision about holding the rally.
But, things went out of order at the very moment the homemade bombs went off and the whole area became chaotic as demonstrators tried to look for the attackers.
The Mancha leaders, who met in a meeting at Chittagong Press Club in the afternoon to take a decision in this regard, failed to come to any conclusion. They then had decided to meet again at 8:00pm to set their next course of action.
The anti-Shahbagh movement group also called for a dawn-to-dusk hartal in Chittagong to stop the Gonojagoron programme.
During their meeting Tuesday afternoon, the Chittagong Gonojagoron leaders strongly condemned the restriction on gatherings.
They urged Hefazat-e-Islam to withdraw Wednesday's hartals.
Gonojagoron Mancha last week declared to organise a grand rally in the city to press home their six-point demand including awarding death penalty to all war criminals and banning Jamaat-e-Islami.