Photo: Zahedul I Khan
Before arriving, I knew only three things about Calcutta (presently known as Kolkata) – Eden Gardens Cricket Ground, and the famous test match of 2001, Mother Theresa, when I first head the word 'destitute', and finally that it was the home of the British Raj in India for many years. My reason for visiting was cricket. In early April Calcutta would play host to the Opening Ceremony of Indian Premier League Edition 6 as well as the first game between the Kolkata Knight Riders and Delhi Daredevils.
Calcutta is one of the most confronting cities in India for a Westerner to visit. In April it is hot, it is extremely polluted both in the air and with litter on the streets, and it is chaotic, with goats, dogs, rickshaws, antique yellow taxis and middle-aged men all jockeying to get ahead on crowded narrow streets. Yet despite this, or maybe even because of this, I loved my time there, the people and its attractions.
My first day was Easter Sunday, and upon waking early decided to take a walk and stumbled upon St Paul's Cathedral, the largest Anglican church in the city. I entered late, sat patiently through the service and emerged to a polite welcome of tea and biscuits. "How very English", I thought. I ran into a local businessman who invited me to walk the Botanic Gardens with him before inviting me for lunch later in the week, an offer I eagerly took up. The visit to the gardens took me past a variety of subcontinental flora as well as a peek at the widest tree in the world, the famous Banyan tree. Despite losing its central trunk nearly 100 years ago to lightning, its remaining branches sprawl over a 1 kilometre circumference with over 3300 individual roots.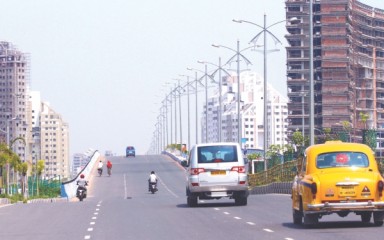 Spacious highways and high rises indicate how much Calcutta has developed. Photo: Zahedul I Khan
The remainder of the day was spent at the splendid Victoria Memorial, an immaculately kept 64 acreen-fenced park holding what Lonely Planet's India guide describes as a cross between the Taj Mahal and the US Capitol building. Apt. Inside were exhibitions and paintings of various Indian leaders, a story of the independence struggle and Calcutta's colonial history. In the grounds outside, young Indian couples held hands and boys snuck kisses from there girlfriends, free of the stifling attention of family back at their homes.
Although the main attraction for me was attending the opening game of the IPL season, I learnt that the night before there was to be an opening concert at Salt Lake Stadium with local performers Shahrukh Khan and Dipika Padukone as well as international star Pitbull. With my second class R2000 ($40USD) tickets in hand, and having convinced two Danish girls who knew nothing about cricket to join me, we took the hour long journey to Salt Lake Stadium.
The streets were chaotic out front with hawkers selling food, team merchandise and other less appropriate fare offered in hushed tones. Our brief walk from a local restaurant to the front gate involved several 'Hey Sir, where you froms' as well as three separate interviews with local television crews. Battling our way through the gates we were frisked, and discovered our plastic seats on the grass.
As impressive as the set looked, whoever designed it hadn't actually thought about what it would be like to watch from 100m away sitting on flat ground on a plastic chair. It was certainly designed to be a TV event. The screens were too low, and too small, and the stage wasn't high enough either. Nevertheless the sense of excitement was palpable as India's cultural deity SRK would soon be appearing. With no other Westerners in sight I tried to sneak into the control tower for a better view but after a while returned to the girls when no one offered me a seat. As I was coming down, a young reporter from the Calcutta Telegraph approached me and asked me: "What has been the craziest thing you have done for cricket?" Without hesitation I answered–  "I flew all the way from Australia to watch the IPL." Reading the Metro section two days later I saw my name, picture and quotes plastered across the middle spread.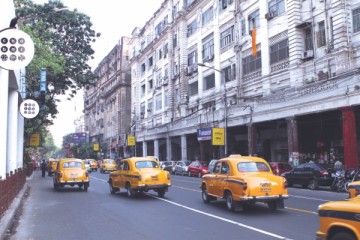 Colonial buildings and Ambassadors are part of Calcutta's old world charm. Photo: Zahedul I Khan
The concert itself began with loud screams when the lights dimmed and the first dancers appeared. Immediately the stupidity of plastic seats became apparent as people began moving them forward taking away and walking path that may have previously been there. Frustrated, we snuck into a better section where we were confronted with a highly amusing scene. Several people had stood up to get a better view at the front fence. I could barely hear the music playing with the shouts and scuffles from behind urging them to sit down. At this point, several other enterprising people stood on their chairs. Even more enterprising people stacked up to half a dozen chairs on top of each other to get an even better view. The immature bickering of otherwise well educated middle class Indians was hilarious to behold; those at the front not considerate enough to sit down.
At this point we walked out and decided that a good vantage point would be to climb into the light towers and see from there. From here we watched SRK dance around in true Bollywood style, admired a white-dressed girl floating across the top of the stadium doing acrobatics under a bunch of balloons and cheered when SRK announced that 'Mr Pitbull' would be joining us to give us some 'International Love'. As the ceremony concluded for the TV audience, Pitbull continued for a further half an hour and all seating barriers and fences were ripped down as older people started packing up and going home, and the young danced into the night. With fireworks, loud music and sweaty backs we left the stadium and sought out a Carlsberg.
The first game of the IPL was at Eden Gardens the following night, what used to be known as the highest capacity cricket stadium in the world until it was 'civilised' in time for the 2011 World Cup from 120,000 to 70,000 capacity. Kolkata, the 2012 IPL champions boasted stars such as Brett Lee, Jacques Kallis and Gautam Gambir whilst Delhi had Dave Warner and former Sri Lankan captain Mahela Jayawardene. I arrived an hour and a half early to soak up the atmosphere and took in the surroundings, the noise and cheering crowd.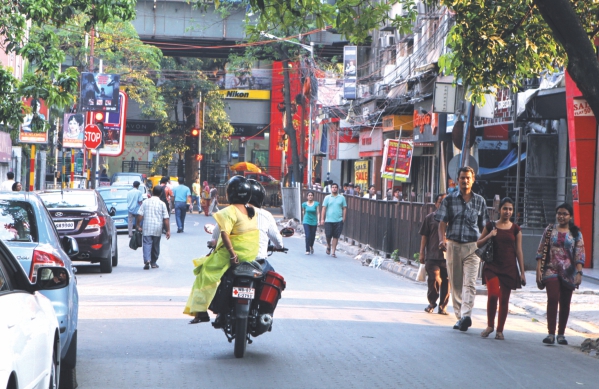 It is chaotic and polluted but Calcutta manages to win every visitors heart. Photo: Zahedul I Khan
Kolkata decided to bowl and with Brett Lee opening the bowling, and took a wicket with the first ball of the match, clean bowling the unfortunate opener. The crowd went wild with loud music, cheerleaders dancing suggestively and people spilling Pepsi all over each other. Each wicket led to the same reaction, before the crowd's attention was distracted by a white-clothed figure waving at the crowd from above. It was SRK, known for advertising juice or cement on every billboard in Calcutta and part owner of the home franchise. I found myself drawn to him, as like everyone else I lost interest in the game to stare at the great man whom Forbes magazine lists as one of the top 50 richest men in the world.
The Delhi innings ended with an insipid total and the expectation was that Kolkata would reach it easily. Throughout the evening there had been announcements and dance music in between overs, however at 10pm an announcement came over the loudspeaker saying that there would be no further music or announcements as noise restrictions were coming into force. Even the mighty IPL couldn't overcome India's famed bureaucracy and regulation. When the next wicket fell, the two dozen cheerleaders scattered around the ground 'pom pommed' and danced to silence. At least the wretched announcer was done.
When Kolkata finally scored the winning runs, SRK, who by now had been joined by the gorgeous Dipika on the second level, climbed up onto the railings and feigned to dive into the crowd, only to be restrained by his two children. A life dream for me had been fulfilled, not only watching cricket at Eden Gardens, but watching a true performer from close range. Walking back to Sudder St, the main tourist district with tens of thousands of joyous Indian cricket lovers, I momentarily forgot my surroundings and the all-too-apparent poverty which continued to persist just beyond the bright, shining lights. Indeed, Calcutta, city of contradictions had won over this jaded traveller as I no doubt knew it would.