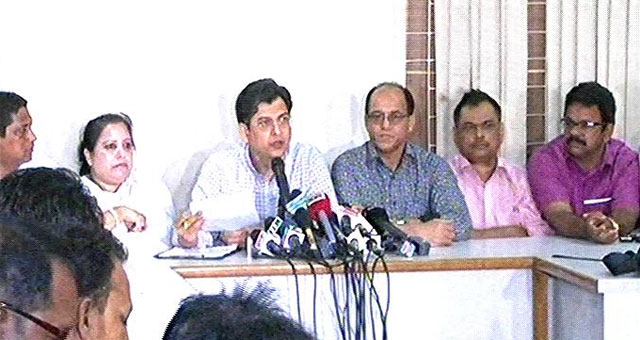 BNP joint secretary general Salahuddin Ahmed (left) announces a 36-hour shutdown from Tuesday at a press briefing at the party headquarters at Nayapaltan Sunday. Photo: TV grab.
Shortly after eight top BNP leaders were sent to jail Sunday, the 18-party opposition alliance called for a 36-hour countrywide shutdown from 6:00am Tuesday.
While announcing the agitation programme, Salahuddin Ahmed, acting joint secretary general of BNP which leads the coalition, said his party was not backing Monday's daylong shutdown called by Hefajat-e Islam.
Though the decision to slap hartal on Tuesday and Wednesday was taken earlier, the announcement came Sunday afternoon minutes after three separate courts in Dhaka sent BNP leaders Mirza Fakhrul Islam Alamgir, Moudud Ahmed, Goyeshwar Chandra Roy, Mirza Abbas, Shahiduddin Chowdhury Annie, Abdullah Al Noman, Moazzem Hossain Alal and Barkatullah Bulu to jail.
The BNP leaders went to courts for extending their bail in eight cases filed in connection with violence in the capital on March 2 and 6.
While announcing the hartal at a press briefing at the party headquarters at Nayapaltan, Salahuddin Ahmed strongly criticised the courts' decision to send the BNP leaders to jail.
Topped by the demand of releasing all opposition men and withdrawing cases filed against them, the BNP demands also include stopping, what the alliance terms, "genocide", reinstating the caretaker government system, and, above all, resignation of the government.
"Hospitals, ambulances, drug stores, restaurants and vehicles carrying newspapers will remain out of the purview of the Shutdown," Salahuddin announced.