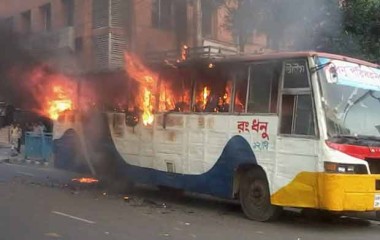 A bus goes up in flames after miscreants set it on fire near the capital's Kakrail intersection on Sunday. Photo: STAR
Unidentified miscreants set fire to six vehicles in different parts of the capital Sunday afternoon on the eve of Hefajat-e Islam called countrywide (shutdown).
The torching took place in front of Rajarbagh Police Lines, near Bangladesh Bank, in front of Buddhist temple in Basabo, in Kakrail intersection and Fakirerpool and Mugda areas, locals and officials of Fire Service and Civil Defence told The Daily Star.
Meanwhile, criminals hurled three cocktails at a bus in Gulistan around 7:30pm, causing panic among passengers.
While desperately jumping out of the bus through its windows, some sustained injuries. One of them is receiving treatment at Dhaka Medical College Hospital, said hospital sources.
To avoid pre-hartal violence, the government deployed Border Guard Bangladesh (BGB) in the capital since Sunday evening.
Deployment of the paramilitary forces began at 7:00pm, Mohsin Reza, BGB public relations officer, told The Daily Star, adding that the forces would remain deployed until issuance of further directives.