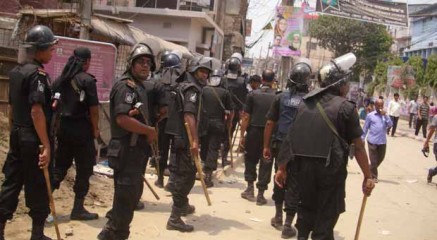 Rab men are on guard at Ganginarpar in Mymensingh town after Hefajat-e Islam activists clashed with ruling Awami League men during the ongoing hartal. 20 people hurt in the clash. Photo: STAR
At least 20 people including two police officials were injured when the Hefajat-e Islam men clashed with the activists of ruling Awami League men in Mymensingh town Monday morning.
Abu Fazlul Karim, officer-in-charge (OC) of Kotwali Police Station, Md Mazed, OC (investigation) of the police station, and Kazi Mostafa, a correspondent of satellite television Gazi TV, were among the injured, reported our correspondent.
The clash ensued when the Hefajat men who were picketing in Ganginarpar area since the morning suddenly swooped on the local Awami League office around 10:45am and vandalised its windowpanes, Fazlul Karim said.
When the news spread, activists of AL rushed to the scene and chased the Hefajat men.
Facing resistance, Hefajat men attacked the AL activists with sticks and hurled brick chips on them, leading to the clash.
On information police rushed to the spot, and fired several rounds of rubber bullets and teargas shells to disperse the clashing people.
Meanwhile, the Hefajat men also ransacked the local office of satellite television ekattor tv at CK Ghosh road and Teletalk office at Ganginarpar road.