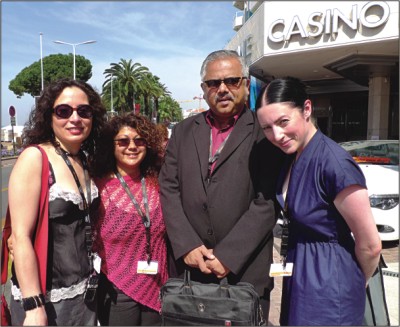 Noted Bangladeshi film critic and activist Ahmed Muztaba Zamal attended the prestigious Cannes Film Festival 2009, where he was jury member for FIPRESCI (The International Federation of Film Critics) Award. This was Zamal's third visit to Cannes.
The film activist shared his experiences at Cannes and more with The Daily Star:
The Daily Star (TDS): Can you amplify on your association with FIPRESCI?
Zamal: My association with FIPRESCI dates back many years. In the course of my involvement (since 1977) with the Dhaka-based Rainbow Film Society, I met H Lechner, the then director general of Goethe Institut, Bangladesh. She provided me with an opportunity to attend the Munich Film Festival in 1991. I was introduced to a group of film critics, including Derek Malcolm and Klaus Eder (general Secretary of FIPRESCI). In 1994, Malcolm suggested that I set up a branch of FIPRESCI in Bangladesh and in 1998 the International Film Critics' Association of Bangladesh (IFCAB) was founded here, with me as the secretary general. I participated as a member of the FIPRESCI jury at Cannes for the first time in 2002. Then again in 2005 and this year, I had the opportunity to attend the film festival.
TDS: What were the high points of the festival?

Zamal: The most significant aspect of the festival is that I could exchange views with film critics from all over the world. This interaction is very important for a film critic/activist. I watched over 30 films with other jury members for the FIPRESCI Award. Most of the films were by young filmmakers from the so-called "third world" countries. We tried to choose films that highlight cultural orientation as well as aesthetic perspectives. Viewing these films was an experience in itself.
TDS: What are Rainbow Film Society's current projects?
Zamal: The Rainbow Film Society has been organising seminars, symposiums, workshops and film screenings regularly. It has extended its activities across the border as well. The 10th Rainbow Film Festival will be held in London from July 5 to17.
TDS: Your personal projects?
Zamal: I have made a documentary on Islam, titled "Truth And Beyond." A production of Impress Telefilms Ltd, the film was screened at the South Asian Film Festival in Goa recently. I have also worked as the editor for a film-based periodical called Celluloid.