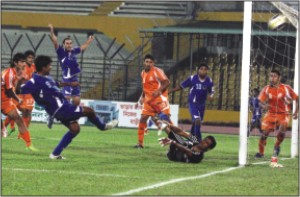 Captain Touati Youness fired a 90th minute winner to help Sheikh Russel reclaim pole position with their fifth win and end Brothers Union's unbeaten run in the Citycell B. League yesterday.
Maksudur Rahman Bulbul opened the scoring in Russel's 2-1 win at the Bangabandhu National Stadium while Moroccan forward Youness, who played as a midfielder, scored a poacher's goal after Brothers looked set to hang on for a draw with Atiqur Rahman Mishu's equaliser.
With 17 points from eight games, Russel who lost to Mohammedan in their previous match, opened up a one-point lead over Abahani who have a match in hand.
Meanwhile, Brothers' maiden defeat in seven rounds endangered their championship hopes as they stuck to the mid-table with ten points.
Brothers coach Wasim Iqbal, however, could only blame his players for throwing away the chance to take lead in the first half which they dominated.
Henry Quaye created a fine opening after ten minutes when the Ghanaian striker drew Russel goalkeeper Azam well out of his line during a corner and set Divine Chibuike with a nice pass. But the Nigerian midfielder, who had only a couple of rival defenders in front and no goalkeeper, failed to keep his volley on target near from the penalty spot.
Mishu then failed to control a pass by Zahid who picked up Divine unmarked minutes later but the Nigerian's weak effort from close gave no trouble to Azam.
The Oranges kept up the pressure but Henry headed a freekick by national captain Matiur Munna just wide of the Russel goal on the half hour.
Having survived a series of threats, an otherwise unimpressive Russel came close to score twice against run of play but Alfaz blasted his first-time shot wide after Bulbul inspired a counter attack from left. Bulbul then forced a fine save by Zia, who palmed away an angled shot six minutes from halftime.
Wajed Gazi's side, like their previous games, got off to a blazing start after resumption but Bulbul fluffed the easiest chance of the day two minutes into the second half when he broke in with a through from Moroccan midfielder Igir Mohamed but Zia parried the weak effort.
The resulting corner broke the deadlock in the 48th minute when Bulbul drove the ball into the roof of the net from handshaking distance after Zia had brilliantly stopped Youness's powerful header on Hassan's flagkick.
Brothers reasserted soon but Zahid, who was fed by Matiur Munna's across-the-field pass eight minutes later, shot into the side netting.
Russel defended doggedly against tremendous pressure but it told when Divine finally chipped a perfect cross from the right for Mishu -- unguarded at the far post -- to nod home the equaliser.
With both the teams waiting for the final whistle, Russel snatched a dramatic late goal when Rajan Mia, who replaced Bulbul a minute earlier, gave a lethal pass to Youness from the left flank. The Moroccan shrugged off a challenge by rival centre-back Ariful inside the area and neatly placed an angled left-footer into Zia's far corner for his fourth league goal.
Yellow card: Youness (Russel)
TEAMS
RUSSEL: Azam, Aminul, Zahirul, Bourdip, Hassan (Parvez Babu), Youness, Monwar, Igir, Tanveer (Mobarak), Alfaz and Bulbul (Rajan).
BROTHERS: Zia, Shuvra, Ariful, Masud Rana, Arup, Divine, Mishu, Zahid (Liton), Matiur Munna (Shakil), Tapu (Roni) and Henry.
Referee: Azad Rahman.