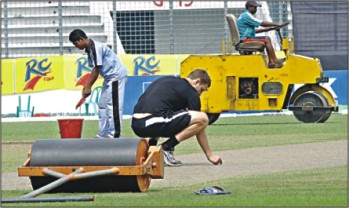 It seemed that under pressure New Zealand tried to understand the trick of the pitch at Mirpur yesterday ahead of their crucial battle against the Tigers in the second match of the three-match series.
Captain Daniel Vettori had a long look at the surface during practice to make sure that his guys will not make the same mistake here to lose the three-match series with a match in hand.
The left-arm spinner had cautioned prior to the start of the series that the Tigers could have been tricky opponents in their own conditions and his words were proven right in the very first match to dash their hope of taking the second place in the ranking after Australia.
The Kiwis had a long meeting yesterday to discuss the mistakes they had made in the first game and Jamie How, who appeared to the press to divulge the sentiment of his side after the shocking seven-wicket loss, confirmed that the visitors are ready to come hard on the home side.
"We are obviously disappointed with the loss but equally we are determined to make the turnaround and win the series," said Jamie while talking with the reporters at the Sher-e-Bangla National Stadium in Mirpur after completion of the practice yesterday.
"I think we were a bit rusty, it's our first game in quite a few months now, and we have been training very hard. I think it took us a while to adjust to the conditions and hopefully we have learnt a lot from the first game and when we come out tomorrow, we will play a lot better.
"Just being smarter in the conditions, bowling a better length and better line, adapting to the slow and sticky nature of the wicket and fielding better as well. So all three departments we have looked at and I am sure tomorrow we will give a better performance," said the right-handed batsman.
Jamie said that the conditions will be more or less same in the second match.
"I think same as yesterday (Thursday). But may be a bit better with the more sun on it, we are expecting similar conditions and hopefully we have learnt a lot form the first game to take it to the second game," he said.
The 27-year old Jamie however said that Mohammed Ashraful's men deserved the victory in the first game as the better side on the day.
"I think they (Bangladesh) were smarter than us. We didn't bat particularly well and Bangladeshi bowlers also did an excellent job…..I think a combination of them playing very well and we played very poorly. They deserved their victory," said Jamie praising the Tigers.