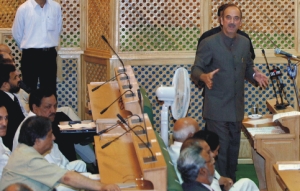 The top elected official in Indian Kashmir announced his resignation yesterday after weeks of violent protests over the transfer of government land to a Hindu shrine in the Muslim-majority region.
Chief Minister Ghulam Nabi Azad said he would resign after a key party in the ruling coalition withdrew its support for the state government over its handling of the land transfer controversy. At least six people were killed and hundreds wounded in the protests.
Azad announced his intention to quit in the state parliament and was expected to submit his resignation to the governor later in the day.
The unrest was sparked when the state government transferred 99 acres of land last month to the Shri Amarnath Shrine Board, a trust running a revered Hindu shrine.
Muslim Kashmiris denounced the land transfer as an attempt to build Hindu settlements in the area and alter the demographics in India's only Muslim-majority state.
Faced with some of the largest protests against Indian rule in nearly two decades, Azad revoked the order a move that led to further unrest, angering Hindus who staged protests in Jammu, a predominantly Hindu area of the state.
Following the protests, the People's Democratic Party said it would no longer support the governing Congress party in the state. After Azad's resignation other parties will be given a chance to form a majority coalition. If negotiations fail, elections scheduled for October will be brought forward.
The Amarnath shrine is a cave that houses a large icicle revered by Hindus as an incarnation of Lord Shiva, the Hindu god of destruction and regeneration. Hundreds of thousands of Hindus are currently visiting the cave on an annual pilgrimage.
In the past, Islamic separatists have targeted the pilgrimage, charging that Hindu-majority India uses the annual religious event as a political statement to bolster its claim over Kashmir, which is divided between Pakistan and India but claimed by both.
About a dozen militant groups have been fighting since 1989 for the independence of Indian Kashmir or its merger with Pakistan. At least 68,000 people have been killed in the conflict.