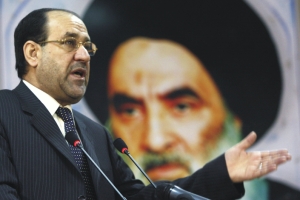 Iraqi Prime Minister Nuri al-Maliki said on Saturday that the country's security forces have managed to save Baghdad from a "siege by terrorists" backed by foreign nations.
"When we took over Baghdad it was under siege, with all roads leading to neighbouring provinces controlled by terrorists. They had surrounded Baghdad from all sides, backed by the bad intentions of other countries," Maliki told a gathering of top Iraqi and US officials including Washington's envoy to Baghdad Ryan Crocker.
"We wanted these nations to support and assist us in stabilising the country but they were thinking of finishing Baghdad," he said, without naming the countries.
"But Baghdad continues to stand," the Shia prime minister said in a speech marking the fifth anniversary of the killing of prominent Shia leader Mohammed Bakr al-Hakim in a 2003 car bombing in the holy city of Najaf.
"Yes, there are still al-Qaeda militants left but they are being chased. We are hunting them. But we have been able to lift the siege of Baghdad."
Baghdad was the epicentre of violence in Iraq when sectarian bloodshed broke out in early 2006.
Daily car bombing, suicide attacks, and militia shoot-outs ripped through the Iraqi capital leaving tens of thousands of people dead, until mid-2007 when violence started to ebb following a US military troop "surge".
The US military claims most of the insurgent attacks in Baghdad and other regions of Iraq have been carried out by al-Qaeda fighters, many of whom are foreigners entering the country from Syria.
It also accuses Iranian-linked groups of arming, funding and training Shia groups to wage attacks against Sunni Arabs and foreign forces operating in the violence-wracked country.
Meanwhile gunmen on a motorcycle assassinated an official of Iraq's biggest Shia party Friday in the southern city of Basra, police said.
Sheik Salim al-Dirraji was gunned down in the Hayania district, which had been a stronghold of the Mahdi Army of anti-American cleric Muqtada al-Sadr until a security crackdown last spring.
Al-Dirraji was a local official of the Supreme Islamic Iraqi Council, the leading rival of al-Sadr's party within the Shia community.
Earlier a car bomb exploded near one of Baghdad's major hospitals on Thursday, killing four people and wounding 10, security officials said.
"Four people have been killed and 10 others wounded," an interior ministry official said.
The explosion took place in front of the morgue of Baghdad's Al-Yarmukh hospital, one of the main medical facilities in the capital, at around 9:00 pm (1800 GMT), an official at the defence ministry said.
Several shops near the hospital were also destroyed by the explosion.
Insurgents have said they will continue bombing Baghdad even though the violence has generally dropped over the past few months.