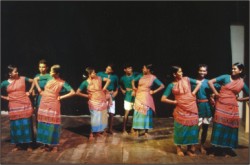 Manwa Drama Organisation (a Santal organisation) staged a play in Santal language titled "Jownum" (meaning "cut") at Kakonhat High School auditorium in Rajshahi to observe the 153rd anniversary of Santal Hul (revolution).
The play is written by Santal dramatist Cornelius Hasda and directed by Professor Moloy Kumar Bhowmik.
The play features the issue of deprivation of fundamental rights that the Santals are subjected to by local influential Bengalis.
The play revolves around a Santal village. The indigenous residents jointly cultivate the land allocated by the government. A local influential named Ramzan tries to take over the land. Ramzan convinces a Santal youth named Somol by offering him land and takes his signature on a blank piece of paper. And that's where the manipulation begins. Soon Ramzan starts harassing the Santals with false documents. The climax of the play sees all the local Santals, including the women, coming together and take a stand against Ramzan to recover their land.
Members of the Santal community including Cornelius Hasda, Dipali Mardi, Jayan Murmu, Mikhail Murmu, Himel Hasda, Tapos Rakan and others performed in the play.