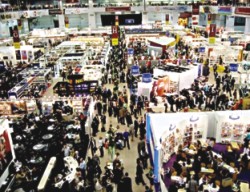 Working in London, connected with Bangladesh via the Internet and dodgy Polish phone cards, one sifts in the evenings through a deluge of e-mails, spam and digital invites to sometimes find the odd interesting message. Thus came Rodney's e-message saying that he was arriving next week, would stay for two days and would like to meet me for lunch or dinner. The fact that he had more than passing acquaintanceship with two family members back in Dhaka, as well as the fact that our meeting place would the annual London Book Fair (14th to 16th April) inspired me to board London's rattling underground train on a weekday. Notwithstanding that the District Line's average speed from Richmond to Earls Court imitates the slow drool with which OAPs (Old Age Pensioners) work through their soup stock at Age Concern.
I arrived at Earls Court, tube-lagged by the system, quite curious about the book fair. A stop at the largest book fair in UK (Frankfurt is the big daddy of them all in Europe) could be an addition to the eclectic socio-cultural scrapbook that I had been assembling during my stay on this isle. Over the last five years, I had become a self-described Troubled Tourist (TT)-- catching an exhibition on Bangladesh's liberation war one day, traipsing through the Tate gallery to gawp at Nigerian cow dung paintings on another, and at other times hoicking the trusty backpack and ambling into Southall's snooker parlour with a samosa in hand. I tended to leap randomly into the city's cosmopolitan pool, and swim in the tide of luminous shows, plays and readings. At times the events failed to deliver, while at other times they did yield unexpected surprises. I treated this variation as part of the game, like the English weather...cheers, old chap, and let's carry on!
The blue-and-white banner above the concrete conference hall declared, "The London Book Fair 2008". A handy blurb outside the doors declared "The London Book Fair is a meeting place for publishing professionals from all four corners of the globe. It has assembled over 23,000 attendees from 109 countries to network with each other, do business and attend seminars to access information about the publishing industry worldwide. It is the global publishing community's leading spring forum for booksellers, publishers, librarians and book production services worldwide. Ideally timed to provide a concentrated 3-day trading and educational platform, it offers access to the world's books, real business contacts and shared knowledge." Like water struggling to fill up a leaky pool, a light began to dawn on me that this was a book fair for everybody but the reader. Though no stranger to the pursuit of balance sheets (I, after all, am an accessory to the global felony of multinational corporations), even I was surprised at the nature of the buzz around the place. It seemed to be not about books as much as publishing, a world where artistic merit played merely a supporting role to an industry's financial goals. This, I thought, should be pursued a little further...
I learned that there are over 100,000 books published each year in the UK. This should not put anybody off writing a book but should give them pause and think of the limited opportunities to catch hold of the heavies of the book brigade, whose attention span can be less than the Bush IQ. Like a futuristic Prisoner of Zenda I strolled through paper tunnels that led to book stalls and meeting places filled with more tables and chairs then an Italian sidewalk in high summer. I realised that books did not emerge from a communion of the soul with the quill, then distributed through civic-minded sellers behind glass counters. Books in the West draw upon the organised resources of a small army of publishers who ranged from small to medium all the way through to very large publishing houses. To see them all wheeling and dealing beneath one vast, chilled, canvas roof was to feel as if some giant had kicked over the publishing ant hill of London and started a controlled scamper amongst its inmates.
I eavesdropped and discovered that behind the visible, interactive face of the publishing industry are groups of production, distribution, technical and creative professionals looking for solutions to suit their business needs, sometimes in preference to the writers' creative ones. They were the ones in suits with briefcases, much in demand, spilling sheaves of double-spaced contracts documented on A4's. Publishing processes were divided into editorial, design, production, marketing (sales and publicity), distribution, contracts and administration - all of which extract their Shylockian percentage. In addition, there are specific types of editors who decide which manuscripts they would like to publish and whether to commission particular books or projects. These are the captains of the industry's ships, steering through the confluence of commerce and creativity. Then there were the more mundane book packagers, content developers and online service providers who wait in the wings. One morbid category within these tribes was "remainder and promotional dealers" whose talent was in dealing and disposing of the unpaid, the unsold, the unpublished ergo the suicidal writers, which are, sadly enough, in the majority. My old, handy book classification (muttering with a book in hand, "So this is fiction, oh no, it's non-fiction, looks trash or good enough for a punt") was obliterated by the range of genres on display: general consumer, children's, educational, academic, reference, scientific, technical, professional, medical, and more. Much more. At the very end of the process were the copy editors and layout planners, supposedly aimed at reconciling the sometimes conflicting demands of author, artist and editor. Only then did books reach all those independent bookshops, retail chains, libraries and information professionals.
Stalls were arranged in geometric, white, alphabetic rows and numbers filled with background posters, throwaway gifts, and dummy books. This was the most irritating aspect - most of the books were for show, not for purchase or a proper read since that had supposedly happened during the draft stage and was not (or never, I thought darkly) the focus. Paper cups were littered on tables; earnest words filled the neon air like locusts. Everywhere the atmosphere breathed contracts and rights, as parties would move from initial agreement between publisher and author, to translation, book club and serial rights. Poker players formed around circular tables, exchanging budgets, cost and profit estimates as all sides haggled over royalties, or else folded. Where, I thought, amidst this literary jostling was Rodney?
He snuck up on me, mobile in hand, speaking into it behind the Penguin India stall, like the urban guerrilla he had once been in his well-spent youth as a member of Germany's revolutionary Baader-Meinhof Group. We sat down for a lunch of casseroles off plastic trays. I listened to his stories of the days when he had been a RAF (the German name for the group was Rote Armee Fraktion) party member in the late 1970s. Rodney had been arrested and then released after a stint in Stuttgart prison. The RAF group, formed in the early '70s, with some its guns given by East Germany's old secret service Stasi and its intellectual arsenal provided by Gramsci and Marcuse, had existed underground for thirty years. They had fought against "class imperialism" until they announced their disbandment in April 1998 with a terse fax to Reuters news agency. Most of the leaders had been arrested or died, and their role model - the Soviet Union - had imploded. Rodney remembered, word for word, that fateful fax, signed "RAF" with its machine-gun red star, declaring the war was over: ("Heute beenden wir dieses Projekt. Die Stadtguerilla in Form der RAF ist nun Geschichte"; "Almost 28 years ago, on May 14, 1970, the RAF arose in a campaign of liberation. Today we end and the urban guerrilla in the shape of the RAF is now history.") Rodney subsequently joined the publishing industry, moving up the echelons, connected and yet removed from the very books that had once inspired him, like some disenchanted explorer seeking the river's earthly source after soaking in the ethereal mist at its mouth.
We finished our lunch and I requested him to write down the RAF fax message for me. Then it was time for goodbyes. Rodney did mention, as we parted, that each book fair had a theme, and that this year's was "Arab publishing, Arab writing". This immediately got my attention and now I was off to find a morsel for my mind, for the glitter of some gold amid the dross...
SI Ahmed in a British-Bangladeshi who lives and works in London. The concluding of this article Replacing the Saracen sword with the pen will be published next week.