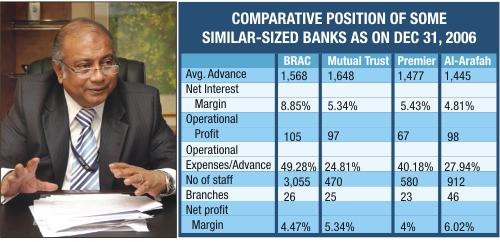 A bank's business depends on the nature of its business. It seems obvious, but according to Muhammad A. Rumee Ali, chairman of BRAC Bank, it's a truism that banking regulators in Bangladesh seem to have missed.
Since early this year Bangladesh Bank, the country's central bank, has been pushing hard for commercial banks to reduce their lending rates which the regulator claims are simply too high.
BRAC Bank Limited (BBL), with interest rates ranging from 17 to 25 percent on some of its products has not been able to escape the scrutiny.
But talking at BBL's head office in Gulshan, Ali, himself a former deputy governor of Bangladesh Bank, crisply puts forward the bank's defence.
Different banks have different models of activities, he explains methodically. These can be divided into retail banking, corporate banking, private banking, investment banking, Islamic banking, merchant banking, SME banking etc.
"Regardless of what the bank's business model is, their earnings come from lending and services. But the income or rate of interest charged is determined by the bank's business model, pricing, risks undertaken, distribution costs and administrative costs" he continued.
"Interest rates of a bank that concentrates on SME or retail banking and interest rates of another bank that focuses on corporate or merchant banking will not be the same. Interest rates of a SME bank will be higher because of their high operational expenses in terms of managing a large portfolio of small accounts," said Ali.
"We cannot just reduce the rates like other banks that carry out corporate banking," said Rumee Ali, who is one of the pioneers of retail banking in Bangladesh. He described the BBL model as perhaps being one of the few private sector banks that generates deposits from the urban centers and redistributes it to the rural areas through their SME programme.
"If the regulator continues to further press us for a rate cut, banks that provide much-needed credit to the small and medium enterprises (SME), will lose interest to continue," he warned. However, he applauded the Bangladesh Bank's recent initiative to allow banks to open SME service centers in places where there are no branches. This will enable banks to provide efficient services through automation.
Operating expenses for an average BBL loan and advance is over 49 percent, which is the highest among all the banks operating here, according to figures taken from the Bangladesh Association of Banks (BAB) for 2006, while operating expenses of other commercial banks hover around 24-35 percent.
"BBL charges interest rates two-thirds more other similar-sized banks, and so our profit should also be substantially high. Interestingly, our operating profits are about the same level as other banks," he highlighted.
He attributed BBL's high operating expenses to the business model, particularly to its labour-intensive procedures and their concentration on rural and semi-urban customer base. "We require five times more staff than other banks of similar size because of our business model," he explained.
BBL's lending is concentrated on the SME sector with most loans being small and collateral-free. The average size of a loan is Tk 5 lakh and the bank has so far disbursed Tk 5,000 crore to more than 100,000 SME customers. Of these clients, 60 percent are semi-urban and rural customers.
BBL collects various loan installment payments and other payments through other banks that have branches in the rural areas. The intermediary banks charge them a certain amount for the services they render. "This adds to the cost of doing SME business," the BBL chairman said.
"If we were to slightly drop margins, the profitability of the bank, maintaining the SME based business, would fall drastically," he said. "The other remaining option would be to change our business model and operate like other private commercial banks and abandon our involvement with the SME sector."
"This move will obviously bring down the bank's operating expenses, but it will trigger a loss of employment and stop small businesses from flourishing," he cautioned.
Ali said BBL could not be compared with other commercial banks that conducted 80 percent of their banking with the corporate sector.
In an attempt to reduce the spread (gap between lending and deposit rates), Ali said they are trying to enhance efficiency of procedures and introduce electronic payment systems so that there will be a positive impact in the market. He suggested that they could expand their distribution network and that would cut costs by eliminating the dependence on intermediary banks to reach their customer base.
BBL has sought permission to open 200 SME service centers to augment their rural banking. "We want to enter rural banking and these SME centers will help us a lot in this regard," he observed.