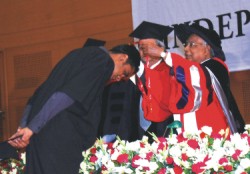 President Iajuddin Ahmed called upon all concerned to help upgrade the standard of higher education and expand job market to provide fresh graduates so the nation could be more benefited by using their talent and potential.
"As we all are aware, a good number of graduates, passing out every year from different universities, are adding themselves to the job market as job-seekers. But they are not getting sufficient room there due to less employment opportunity," he said.
The president made the call while addressing the 12th Convocation of Independent University, Bangladesh (IUB) at Bangladesh-China Friendship Conference Centre yesterday.
Education Adviser Hossain Zillur Rahman, Convocation Speaker Prof Charles L Choguill, Vice-chancellor of the University Prof Bazlul Mobin Chowdhury and its chairman Towhid Samad also spoke on the occasion.
Reminding that Bangladesh is a country of immense potential, the president, also the Chancellor of the University, said the country needs huge capable and efficient human resources for exploring all avenues of its possibilities.
"Therefore, we must have to build a knowledge-based society to make our country prosperous with their knowledge and wisdom," he said.
Iajuddin said a good number of private universities have been established since the Private University Act was enacted in 1992.
But the president observed that the imparting of education being provided by the many private universities could not reach up to the desired level.
"Therefore, time has come to evaluate the standard of education which is imparted by the universities, particularly private universities," he said.
Against this backdrop, Iajuddin called upon all concerned to provide congenial atmosphere of education, including efficient teaching staff, state-of-the-art curricula, sufficient library facilities and extracurricular activities etc in order to ensure quality education.
The president earnestly urged all to uphold the sanctity of the valued institution keeping national interest above.
He pointed out that due to huge fees in the Private Universities, many students of low-income group could not afford the expenses of their higher education.
In this connection, he urged the authorities to create more opportunities for the meritorious but poor students in order to build a caring society.
Reminding graduated students to live up to the expectations of the nation, he said the students must strive to improve their skill at every stage of their life.
"I believe you would uphold moral responsibility and demonstrate the highest degree of personal integrity in your professional arena imbued with the sense of patriotism and obligation to the nation," he said.