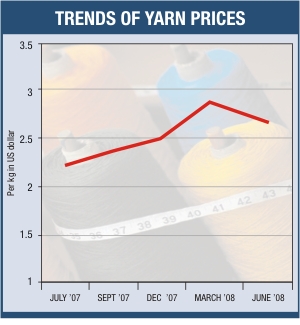 Yarn prices in local market have marked a decline over the last 15 days on a lean production season, industry people said.
The 30-count yarn, widely used as a raw material for knitwear products, is now selling at US$2.75-$2.80 a kilogram (kg), which were between $2.95-$3.0 per kg just two weeks back.
According to market operators, the price of the item started soaring since September last when it reached $2.5 per kg. The rate was $2.75 per kg in December and it reached $3.0 per kg in March of the current year, which remained stable up to May.
The industry people attributed the very recent fall in the prices of yarn to a less demand foreign buyers nowadays show for knitwear. However they consider the present dull season as a very temporary one.
Abdul Hai Sarker, president of the Bangladesh Textile Mills Association (BTMA), said the demand for yarn during a 3-month period--June, July and August--declines as orders from foreign buyers fall.
He thinks the present stock of both yarn and cotton is good as local businessmen bought adequate cotton from the international market earlier, which also contributed to the decline in the prices of yarn.
He also pointed to the fact that the cotton price remained stable at 78 cents-80 cents per pound over the last few months in the international market.
Sarker said Bangladesh imports 4.6 million bales of cotton a year mainly from Uzbekistan and other Commonwealth Independent States (CIS) countries to meet the growing demand of the local industries.
However, the per annum growth in such imports varies between 10-15 percent, he added.
Echoing Sarker's view on the 3-month dull period, Fazlul Hoque, president of the Bangladesh Knitwear Manufacturers and Exporters Association (BKMEA), said although the production of the main knitwear items like T-shits and polo shirts have declined due to the fall in buying orders from foreigners, the sweater production increases tremendously.
T-shirts, polo shirts and sweaters account for 70 percent of the total knitwear production.
"The local manufacturers cover up the fall in buying orders exporting sweaters in this dull season," Hoque pointed out, expecting a peak in production in the sector from September next.
Industry insiders said knitwear makers can buy 80 percent of the raw materials from the domestic market as a considerable number of backward linkage industries have already sprang up over the last few years.
On the fall in export orders, M A Awal, chairman and managing director of Prime Group of Industries, one of the leading yarn and RMG manufacturing groups in the country, said economic recession in the USA and continued hike in the prices of oil might be some other reasons behind it.